Special feature
The Mai-Kai cocktail guide

Okole Maluna Society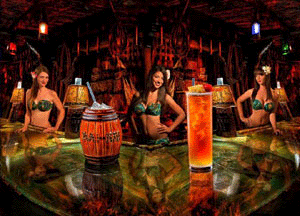 The Atomic Grog reviews and rates more than 50 of The Mai-Kai's amazing tropical drinks from the current menu plus reveals many lost classics. Add your comments and ratings, plus check out more than 90 authentic, ancestor and tribute recipes.
Photo gallery

Hulaween 2014
A ghastly good time at The Mai-Kaiís annual Halloween party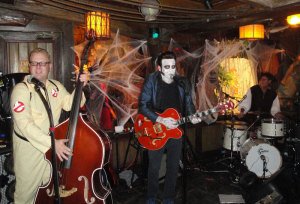 Slip and the Spinouts rocked the house all night as Tiki-inspired costumes filled The Molokai bar on Halloween night during the annual bash that celebrates all things creepy and kooky.
• Photos, recap of Hulaween 2013
Tiki culture
PBS stations say aloha to long-awaited documentary

Filmed at The Mai-Kai and The Hukilau and produced by Miami's award-winning commercial and documentary filmmakers Common Machine, Plastic Paradise has been released to PBS affiliates nationwide.
• Massive Shag volcano bowl released
• Mini Mystery Bowl: Scaled-down version of a classic
• 6 ways to celebrate Tiki all year long
Tiki artists salute The Mai-Kai with one-of-a-kind mugs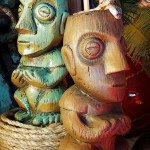 Two of the most acclaimed artists in the Tiki scene have created hand-crafted mugs that pay tribute to The Mai-Kai in Fort Lauderdale and its iconic imagery.
Mixology

Professor Cocktail's Zombie Horde
Zombies regaining critical mass: Book features 86 deadly recipes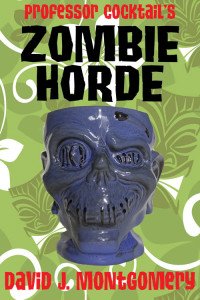 Zombie Horde takes the recipes from some of the world's best bartenders and mixologists from the Zombie's sordid 80-year history and packages them into an easy-read, easy-to-use resource. Our review features recipes, history, analysis, a "Zombie face-off" and more.
• Devotees keep Zombie alive
Need a punch recipe for 200? The Rum Rat Pack has it covered
The experts at The Hukilau's 'Rumposium' showed us how to fill a bowl with 630 ounces of deliciousness (including 240 ounces of rum) with style and flair.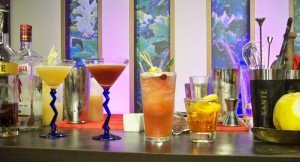 Miami mixologist shows how to jazz up your tired old cocktails
Freddy Diaz of AlambiQ Mixology demonstrated a few tricks (and recipes) with exotic liqueurs Cherry Heering and Xante pear liqueur at a cocktail seminar at the 2012 Epcot International Food and Wine Festival.
Restaurants, nightlife
Dada in Delray Beach embraces rum with new cocktail menu

This eclectic eatery offers a unique experience in South Florida, elevated just a notch higher by the new rums and cocktails.
Review: A Taste Of ... Dada
Innovative watering holes fuel rise of craft cocktails
The craft cocktail scene in Palm Beach County has come a long way in a very short time. From Sweetwater Bar & Grill to Kapow! Noodle Bar to Hullabaloo, there are many choices for wildly creative adult beverages that didn't exist just five years ago. Hullabaloo jazzes up Clematis Street with inventive cocktails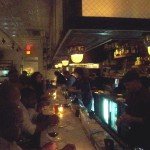 A preview party for the new gastropub and craft cocktail bar in downtown West Palm Beach was the scene of controlled chaos as bartenders, chefs, and staff kept the high-quality food and drinks flowing nonstop.
• Take 5 interview: Rodney Mayo REVIEW: Sweetwater Bar & Grill
A shining beacon of light in a food and drink wasteland

This dark and mysterious speakeasy has with little fanfare become the area's preeminent hidden gem for inventive adult beverages, plus gastropub-style food that's just as decadent and delicious.
• Sweetwater introduces new cocktails, huge spirits menu

Walt Disney World

Epcot International Food and Wine Festival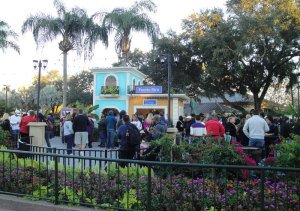 Disney continues to deliver delicious bites, a bounty of booze
As the Epcot Food and Wine Fest approaches its 20th anniversary, it shows no signs of getting stale or losing momentum. Check out reviews of dozens of dishes and drinks at the 2014 event.
Related: 30 years of Epcot magic
Modern Retro Disney World
Enchanted Tiki Room still charms, inspires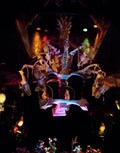 Keeping Walt Disney's vision alive since 1971, this landmark theme park attraction received a welcome refurbishment in 2011 that heralded the return of the vintage show that pays tribute to the original Enchanted Tiki Room at Disneyland.
• Enchanted Tiki Room 50th anniversary
A journey back in time uncovers author's 'Disney side'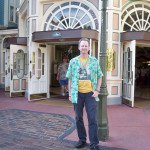 My first visit to the Magic Kingdom in Orlando was in 1972, but it wasn't until decades later that events conspired to make me a fan for life.
Retro Disney World
• Artists shine at 40th birthday party
• Disney World is still cool at 40
About The Atomic Grog
• What is The Atomic Grog?
• Contact us
Special event


The Week in Tiki updates
• May 18: Event mug now on sale, new details announced
• May 4: Event mug and merchandise, more mermaid shows, rum sponsors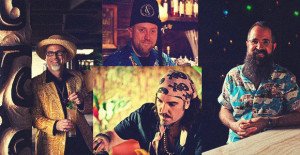 The Hukilau welcomes Tiki's top bartenders, Dawn Wells of 'Gilligan's Island'
The East Coastís largest annual gathering of Polynesian Pop enthusiasts has announced full details and tickets for its two signature events for 2015: A one-of-a-kind gathering of the countryís most acclaimed tropical drink barmen, plus a special "Three Hour Tour" Cruise with Mary Ann from iconic TV show Gilliganís Island.
Previous coverage:
• The Hukilau announces six historic symposiums, ticket sales
• The Hukilau is movin' on up .... to the landmark Pier 66
Event recaps
The Art of Tiki: A Cocktail Showdown
Emeril brings Tiki to South Beach during cocktail showdown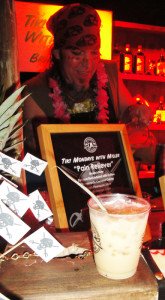 The South Beach Wine & Food Festival was hit by a Tiki tornado when more than 700 people packed the Shore Clubís poolside patios for a whirlwind event hosted by celebrity chef Emeril Lagasse. Brian Miller and The Broken Shaker were the big winners. See our reviews, photos and a new Mai-Kai recipe.
The Hukilau 2014, Fort Lauderdale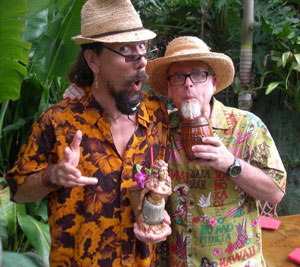 After Ďmagicalí 2014, Tiki event has big plans for 2015, beyond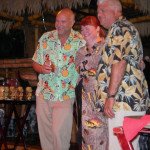 Everything you ever wanted to know about The Hukilau 2014 with more than 60 photos, plus an exclusive interview with organizer Tiki Kiliki about the past, present and future of the world's most authentic Tiki event.
A deep dive into the history of porthole cocktail lounges and their mysterious mermaids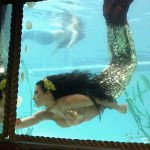 If you've ever wondered about the origins of the porthole lounge, or where you can still find one inhabited by live mermaids, then "Cocktails & Fishtails" was a must-see among The Hukilau's symposiums.
• Full coverage of The Hukilau 2014
Missing The Hukilau and The Mai-Kai? Limited edition Tiki mugs are the next best thing
For many, the one piece of merchandise most closely associated with Tiki culture is, of course, the Tiki mug. Every year, The Hukilau has produced one of the most distinctive (and valuable) mugs on the market, designed by noted artists and produced in limited editions by the top mug manufacturers.

Music

South Florida scene: Gold Dust Lounge
Band sets sail on adventurous journey with Lost Sunset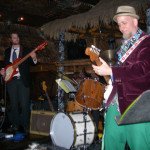 A week after performing a sold-out show at The Mai-Kai during The Hukilau, the eclectic Miami band celebrated the release of the Kickstarter-funded Lost Sunset album.
Concert photos
Laramie Dean and Jimmy Dale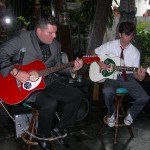 The 2013 summer tour featuring surf guitarist Laramie Dean and drummer Jimmy Dale made three stops in South Florida in July, including shows at Churchill's in Miami and The Mai-Kai's Molokai bar (above). See photos from both concerts.
• Interview with Laramie Dean
Dick Dale exclusive interview & photos
Cancer survivor and rock legend: 'I had both feet in the grave'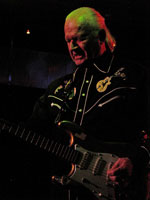 Rock 'n' roll icon Dick Dale is in the midst of a career resurgence at age 76, despite battling cancer and other serious health issues that would have derailed musicians half his age. Check out our exclusive interview and photos from his 2013 concert in Miami.
• See the interview | Photos
Album review
Los Straitjackets soar again with the release of 'Jet Set'

Those masked marvels of instrumental rock have launched a high-flying comeback after being dealt a paralyzing blow that would have pinned lesser bands. Jet Set is perhaps the band's best release ever.


Eclectic podcasts broadcast the soundtrack to the Tiki revival
Sorting through 50 years of exotic and underground music can be daunting. Luckily, we have very capable podcasters to do the work for us. Ian Burrell, the global ambassador of rum
There's nobody better suited to represent rum than the globe-trotting Ian "Rum Ambassador" Burrell, a UK native of Jamaican descent who seems to have the fun and lively spirit running through his veins. Otto von Stroheim, pioneering promoter and Tiki tastemaker
One cannot imagine what the modern Tiki revival would be like without Otto von Stroheim. A much less festive place, that's for sure. Check out our interview with the founder of Tiki Oasis.

Martin Cate, rum and cocktail maestro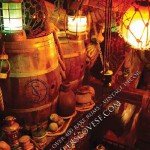 The owner of Smuggler's Cove in San Francisco talks about his favorite drinks, a possible future project and why every city should have a great Tiki bar. Plus, bonus recipes for two of his most acclaimed cocktails.
Jeff 'Beachbum' Berry, Tiki cocktail historian extraordinaire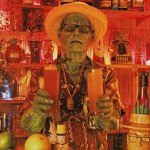 We caught up with the author in his natural habitat (The Mai-Kai gardens) and got his take on time travel, his new book, and his most loved (and loathed) drinks.
Archives
Past stories of note
• Wayne Coombs of Mai Tiki dies at 62
• Take 5: Artist Mike "Pooch" Pucciarelli
Special feature
The Week in Tiki - May 18-24, 2015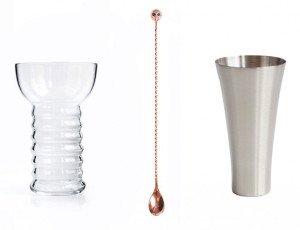 New Beachbum Berry barware, The Hukilau 2015 merchandise now on sale
Get the latest news and info on the Polynesian Pop revival and wide world of retro-themed entertainment. Every week, look for a new blog post that previews what's coming up and recaps last week.
• Weekly features: Artist | Band/music
Bar | Rum | Cocktail | Website | Events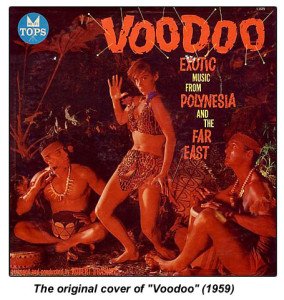 • May 11: Robert Drasnin, master of exotica, dead at 87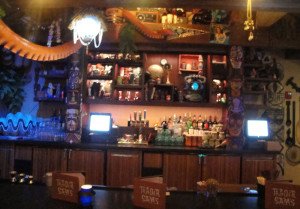 • April 27: Trader Samís Grog Grotto grand opening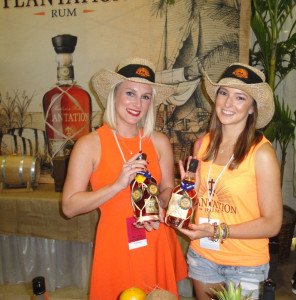 • April 20: Rum fest invades Miami, S. Fla.ís underwater Easter Island, Shag goes to ĎThe Twilight Zoneí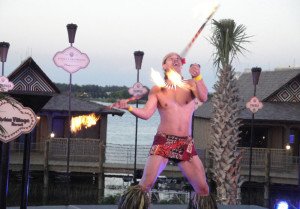 • April 6: Disney's Polynesian Villas & Bungalows open
• The Week in Tiki archive
Culture
Book review
Book makes waves, gives state's rich surfing history its due

When you examine the sport of surfing and its surrounding culture, Florida is sometimes overlooked while hot spots such as California and Hawaii grab the spotlight. A new book released in May could go a long way toward changing that perception.
Past coverage
• Florida at forefront of surf rock's contemporary renaissance
History, culture
Tiki Pop book release

10 reasons why you need Sven Kirstenís new book, Tiki Pop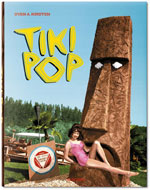 The third hardcover opus from acclaimed Tiki urban archaeologist Sven Kirsten puts many pop culture historians to shame, exploring in rich and colorful detail the uniquely American phenomenon that permeated fashion, music, eating, drinking, and architecture for decades.
Spirits, cocktails
Navy Rum and Black Tot Day
When men were men, and sailors drank Daiquiris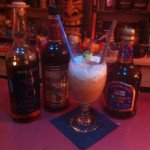 No other spirit has as deep and rich a legacy as rum, best exemplified by the fascinating story of the 300-year history of the daily ration given to members of the British Royal Navy. More than drunken revelry, they should be acknowledged for pioneering the fine craft of blending rums.
New recipe: Atomic Painkiller
National Tequila Day
Spice up your tequila cocktails with fiery gourmet syrups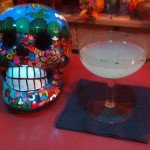 A great margarita never goes out of style and has been embraced and elevated by the craft cocktail movement, with great results. One tasty sub-genre is the spicy cocktail, typically infused with hot peppers and myriad spices.
Reviews and recipes:
Habanero Lime Margarita | Ghost Host
Tales of the Cocktail
Signature drink packs a wallop, but can it tame a Hurricane inspired by The Mai-Kai?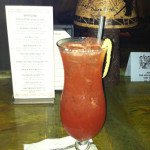 The official cocktail of 12th annual festival that draws tens of thousands of people to New Orleans is not some highbrow cult classic or trendy new concoction. It's the mighty yet maligned Hurricane.
Reviews and recipes: Hurricane Caesar vs. The Mai-Kai Hurricane
Navy Grog ice cone: Lost art is revived by cocktail enthusiasts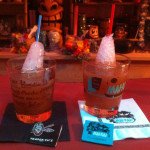 Author and cocktail historian Jeff "Beachbum" Berry solidified his standing as the "Indiana Jones" of Tiki mixology with his first branded product, unearthing a long-lost gadget from the catacombs of mid-century bar culture: Beachbum Berry's Navy Grog Ice Cone Kit.
Related stories
• Jeff Berry proves heís never too busy to be a 'Beachbum'
• Potions of the Caribbean: Cruise back to the birthplace of Tiki drinks

Review: Ice sphere molds
Home mixologists can get crafty with ice molds, modern cocktails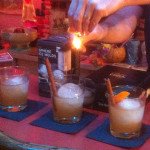 We put two new products to the test, proving that you don't need to be an ice sculptor to join the craft cocktail bandwagon. Plus: A bonus recipe for a new orginal concoction.
99 bottles of rum on the wall
Rating the top cane spirits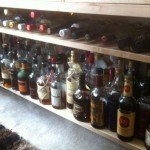 The Atomic Grog recently reached a landmark by acquiring a 99th bottle of rum. The occasion provided even more reason to literally take stock of this booty.
• Check out our Top 50 ratings
Summer of rum: South Florida hotspots give cool spirit a chance to shine

Culture & travel

Stretching the limits
of the imagination
The Dali Museum in St. Petersburg is a surreal experience in its own right.
• Mermaids alive, well at Weeki Wachee