SPECIAL FEATURES
Outside The Mai-Kai: Artistic flourishes set stage for reimagination, early 2024 reopening NEW



The final phase of the multimillion-dollar renovation kicks off as artists and craftsmen restore and transform the signature porte-cochère.
>>> LATEST NEWS, PHOTOS, INSIDE INFO
Detailed updates: Porte-cochère photos | Parking lot project starts | Updated reopening timeframe | Beam extensions restored | New AC units installed
MORE MAI-KAI COVERAGE: Latest news, photos, video | All past stories
Inside The Mai-Kai: Detailed restoration advances amid total infrastructure overhaul NEW



Work is progressing on the historic South Florida restaurant's guest areas alongside a near total rebuild of the back-of-house facilities.
>>> EXCLUSIVE NEWS, PHOTOS, INSIGHTS
Detailed recaps: Samoa Room meticulously restored | Lamps & lights get detailed revamp | Molds reshape vintage decor | Woodworkers set stage for artists | New back-of-house taking shape
EXCLUSIVE: The Mai-Kai Restoration Guide



Check out our new page for all the latest news, photos, video and deep details on the refurbishment and reopening of South Florida's Polynesian Palace.
>>> COMPLETE COVERAGE FROM THE ATOMIC GROG
NEW & UPDATED BLOGS
UPDATED: The Tiki Times: Exclusive events guide


Check the calendar for all of the major happenings around the world, from Tiki weekenders to rum festivals to marketplaces and music fests.
>>> SEE ALL OF THE TOP 2023 EVENTS
Lost Cocktails of The Mai-Kai: Classic Daiquiri lost favor when Cuba fell, but influence endures



Revisit The Mai-Kai's version of a classic, including a recently unveiled recipe that links back to Don the Beachcomber.
>>> UPDATED HISTORY & REVIEW | NEW: AUTHENTIC RECIPE
* The Mai-Kai Cocktail Guide: Ratings, reviews, history of all the drinks
The Derby Daiquiri: The Mai-Kai's '$100,000 drink' is worth its weight in gold



A deep dive into the fascinating history of the cocktail that made The Mai-Kai and its head mixologist famous.
>>> UPDATED HISTORY, REVIEW AND MORE
NEW: Tribute recipe | The Derby Daiquiri on Spike's Breezeway Cocktail Hour
The Mai-Kai and The Atomic Grog at Tiki Oasis



We were proud to present two special seminars at the world's original Tiki weekender in San Diego:
* The Derby Daiquiri and Beyond: How to Create Your Own Classic
* Tiki History Reimagined: The Restoration and Reopening of The Mai-Kai
>>> FULL INFO ON THE SEMINARS
SOCIAL MEDIA UPDATES: Latest event coverage, photos
THE MAI-KAI UPDATES: Latest news, photos, video of the restoration
The Mai-Kai renovations, May-June 2023: Historic restaurant's new infrastructure begins to take shape EXCLUSIVE



Crucial work was completed over the past two months in the multimillion-dollar restoration project.
>>> LATEST NEWS, PHOTOS AND OFFICIAL INFO
Detailed updates: Chronology of work | Timeline and permits
MORE MAI-KAI COVERAGE: Latest news, photos, video | All past stories
Meticulous attention to detail is hallmark of The Mai-Kai restoration project (May-June 2023 update)



When guests re-enter the Polynesian palace, it will be like stepping into a time machine set for 1973 thanks to a talented team of artists and craftspeople.
>>> EXCLUSIVE NEWS, PHOTOS AND INSIGHTS
Detailed updates: May-June chronology | Design projects in depth
Previous coverage
* Bora Bora building comes down as restoration efforts pick up steam
* Behind the scenes at The-Mai-Kai as restoration ramps up in 2023
* The Mai-Kai officially begins work on first phase of $8.5 million renovation projects
The Hukilau highlights: Photos and memories from Tiki weekender



The 21st annual event featured four days of nonstop music, cocktails and education on modern and historic Polynesian Pop at the oceanfront Beachcomber Resort in South Florida.
>>> IMAGES FROM THE HUKILAU 2023
RELATED: The Hukilau 2023 live coverage, photos and video from social media

UPDATED REVIEWS AND RECIPES
As featured at The Hukilau 2023
Cobra's Kiss: An exotic taste explosion guaranteed to strike your fancy
Barrel O' Rum: The Rodney Dangerfield of tropical drinks

The Mai-Kai renovations, April 2023: Bora Bora building comes down as restoration efforts pick up steam



The structural footprint of the historic South Florida restaurant changed dramatically with the demolition of a long-dormant building. Meanwhile, work accelerated restoring the vintage dining rooms and rebuilding the back of house.
>>> EXCLUSIVE NEWS, PHOTOS AND VIDEO
Detailed recaps: Bora Bora Room removed
Dining rooms return to vintage glory | Work begins on new bar and kitchen
UPDATES: Latest news, photos, video of the restoration
Previous coverage: Behind the scenes at The-Mai-Kai as restoration ramps up in 2023
The Mai-Kai officially begins work on first phase of $8.5 million renovation projects
Take a wild ride on the Tropical Thunder Express from Pooch and Tiki Farm


An ambitious four-mug set brings the surrealistic world of lowbrow artist Mike "Pooch" Pucciarelli to life.
>>> SEE THE STORY BEHIND THE MUGS
Exclusive cocktail recipes: Pooch Punch | Tropical Thunder Express
EXCLUSIVE PHOTOS: Behind the scenes at The-Mai-Kai as restoration ramps up in 2023


With work accelerating on the exterior, craftsmen meticulously restore the historic South Florida restaurant's elaborately themed interior guest areas in exacting detail.
The Mai-Kai officially begins work on first phase of $8.5 million renovation projects



With three key building permits in hand, the new ownership group is finally moving full-steam ahead on major construction projects that will restore and reshape the historic Polynesian restaurant.
>>> GET THE LATEST INSIDE INFORMATION
New Don the Beachcomber locations launching in Florida, up to 15 planned across Southeast


A Tampa-based hospitality company will begin rolling out a chain of new Tiki-themed restaurants featuring the Don the Beachcomber branding in 2023, the first two in Central Florida.
>>> Get the latest updates on the expansion plans
>>> Info on the first two locations, including renderings and video
Bonus cocktail recipe: Don's Beach Planter cocktail
Top 10 Tiki stories of 2022 include legends lost, hope for the future


Join us in paying tribute to the influential figures we lost and reflect on their great impact. Let's also give thanks for the positive news that made it into our annual list of the most impactful stories of the year.
>>> The Atomic Grog's picks for the year's top news stories
Bonus cocktail recipes: Harry Yee's Tropical Itch | Stephen Remsberg's Planter's Punch
EXCLUSIVE: New details on The Mai-Kai renovations, new merchandise revealed at Inuhele 2023 in Atlanta



New images and renderings of the historic restaurant's multimillion-dollar refurbishment unveiled during presentation at Tiki weekender. Attendees also got a sneak preview of new mugs and other merchandise along with a new signature rum. >>> FULL COVERAGE
UPDATES: Latest coverage of the renovations and reopening
Modern rum revolution hits the beach for Miami Rum Congress



The year's first major spirits festival returned to balmy Miami Beach for a fourth time on Feb. 10-12.
Social media recap: Photos, coverage of Miami Rum Congress 2023
>>> See the full schedule of 2023 rum events
Historic preservation board approves The Mai-Kai's renovation plans, clearing way for project to move forward


Landmark Polynesian restaurant allowed to remove old building, make other enhancements in sweeping plan to reimagine 66-year-old, 2.7-acre property.
>>> FULL COVERAGE, EXCLUSIVE IMAGES
The Mai-Kai turns 66 as work progresses on multiple renovation projects


There are many reasons to be hopeful that the 67th anniversary in 2023 will be the first since 2019 when we'll once again be able to gather inside the historic South Florida restaurant to appreciate its grandeur and beauty.
>>> Get the inside scoop on the refurbishments at The Mai-Kai
The Year in Tiki 2022: Take a trip back to the year's top events


Relive the year's top happenings with photos and video, social media posts, plus promotional artwork and links to official sites.
>>> CHECK OUT THE FULL 2022 EVENT ARCHIVE
Support Tiki bars: Visit their online stores, buy merchandise


Check out our guide for links to dozens of establishments with online stores.
>>> ORDER YOUR MERCH NOW
Miami festival fills weekend with rum seminars, tastings



Event includes two full days featuring some of the world's best spirits, premiere industry experts, and a friendly gang of easy-going rum enthusiasts.
UPDATES: Social media highlights
PAST COVERAGE: 2021 photos, recap | Rum fest history, memories
The Mai-Kai's deadly Zombie is resurrected for Halloween, along with its mysterious legend


The iconic cocktail is available for the first time since the historic restaurant closed after an October 2020 storm, and for the first time in takeout quarts and gallons.
HISTORY: 5 greatest moments in Zombie lore
>>> The Mai-Kai Cocktail Guide: Ratings, reviews, history of all the drinks
The Hukilau 2022: Daily recap, photos and video


The 19th Tiki weekender featured four days of live music, educational seminars, cocktails and rum tastings, plus lots more.
>>> FULL DAILY COVERAGE
The Mai-Kai's new owner reveals renovation plans during The Hukilau


Tiki enthusiasts get preview of refurbishment of the 65-year-old landmark during discussion at annual event in June.
FULL COVERAGE OF THE PRESENTATION
Mai-Kai updates: Latest news on the reopening plans
The Hukilau 2022: Daily recap, photos and video
The Mai-Kai's renovation plans include reimagined entryway, new event space



When The Mai-Kai completes a multimillion-dollar renovation, guests of the historic restaurant will be treated to several major enhancements, including a more immersive arrival experience and a new banquet hall.
SEE THE FULL STORY, PLUS PLANS AND RENDERINGS
Roof project: Crucial work underway to shore up historic structure
Entrance experience: Flow of parking lot to be reimagined
New event space: Banquet hall planned next to reconstructed kitchen
Behind the scenes: The Mai-Kai interior intact with exciting additions in the works
What's next? New owner promises continued effort to restore and upgrade
>>> Latest coverage of the reopening plans
Miami Rum Congress 2022 kicks off full schedule of worldwide rum events



Industry VIPs and rum enthusiasts gathered for seminars, tastings and special events at the Hilton Cabana Miami Beach.
Social media recap: Photos, coverage of Miami Rum Congress 2022
>>> See the full schedule of 2022 rum events
The Mai-Kai sale, Oceanic Arts closing among top Tiki stories of 2021



It was a landmark year thanks to all the talented people in the Tiki community.
>>> See The Atomic Grog's picks for the highlights of 2021
Bonus cocktail recipe: The Tiki Lover
The Year in Tiki 2021: Take a look back at the year's top live and virtual events



Recap the year's top happenings, including official artwork and links plus photos and video.
>>> Full list of past events
Photos, recap: Miami festival reunites rum family for tasting event



Quick takes and highlights from the 2021 Rum Renaissance event, including photos and our favorite sips.
>>> CLICK HERE FOR THE RECAP AND PHOTO GALLERY
PAST COVERAGE: 2021 preview | 2019 recap, photos | Rum fest history, memories
RECIPES: French, Haitian Zombies reflect true roots of deadly cocktail's namesake legend


Savor the complex flavors and stories behind the original deadly cocktail as we present two new Zombie recipes that feature the flavors and spirits of France and Haiti.
FULL STORY: History, mythology and cultural significance of the zombie
New original cocktails: LE ZOMBI | VODOU ZONBI (Haitian Zombie)
Hulaween on hiatus: Relive 12 years of madness at The Mai-Kai


With the Tiki temple closed for refurbishment, the annual Halloween bash isn't happening this year. But that won't stop us from taking a look back at 12 years of madness at the signature event.
>>> SEE PHOTOS FROM ALL THE PAST EVENTS
The Mai-Kai fans rejoice as new partnership paves way for reopening


Full coverage of the historic restaurant's joint ownership deal, announced in September 2021.
>>> CHECK OUT OUR IN-DEPTH REPORT
Exclusive photos: The Mai-Kai through the eyes of The Hukilau villagers


See images from the annual Tiki weekender shared by loyal fans.
>>> BROWSE THE PHOTOS NOW
The Hukilau 2021: Daily recap, photos and video


The Hukilau returned to the picturesque Fort Lauderdale area oceanfront for an 18th time Sept. 16-19 for four days of Polynesian Pop paradise in America's vacationland.
>>> SEE PHOTOS & VIDEO, NEWS FROM SOCIAL MEDIA
A new Zombie becomes final challenge for The Hukilau villagers



Upon completion of The Hukilau, villagers had one Final Destination: the "Hereafter Party at Death or Gory in Hellray Beach." To bring the theme full circle, The Atomic Grog presents a Zombie to end all Zombies.
>>> Event overview | Photos, recap
RECIPE: The Final (Destination) Zombie
Tiki Marketplace offers a taste of The Mai-Kai



The July 18 event featured vintage art and collectibles, food trucks, authentic Mai-Kai cocktails and entertainment.
>>> CHECK OUT THE PHOTOS AND VIDEO
The Mutiny is a worthy foe in the battle of the tropical titans



A companion to the Black Magic, this tropical drink created by Mariano Licudine is a classic in its own right.
>>> See the history, review and recipes
NEW: Tribute to The Mai-Kai's Mutiny, version 3.0
VIDEO: The Mutiny on Spike's Breezeway Cocktail Hour
Take a trip down the Tiki Trail for a lethal new Zombie recipe


It was a honor mixing up an original cocktail on the longest-running weekly online gathering of Tiki enthusiasts.
>>> Check out and order the special merchandise featuring new Zombie artwork
RECIPE: Tiki Trail Zombie from The Atomic Grog
The Atomic Grog 10th anniversary: Beware! Deadly Zombies ahead



After 10 years and more than 1 million page views, we take a look back at the blog's best posts and most popular cocktails. A special anniversary Zombie kicks off 10 months of deliciously dangerous drinks.
>>> RECAP: A decade of The Atomic Grog
>>> Tiki Top 10: Most popular blogs | More blog posts worth reading
Most popular cocktails | More drinks worth trying
NEW RECIPE: Revenge of the Atomic Zombie Cocktail
Zombie hunters: Beachbum Berry, Ed Hamilton join forces on rum blend


Two of the spirits and Tiki cocktail world's most respected figures are putting their names on the label of an exciting new release: Beachbum Berry's Zombie Blend from Hamilton Rum.
>>> FULL REPORT AND INTERVIEWS
NEW RECIPE: Hamilton Zombie by The Atomic Grog
The Mai-Kai hosts first Tiki Marketplace featuring vendors, entertainers, cocktails, rum tasting and more



The historic restaurant may be closed for repairs, but a new event took advantage of the large parking lot for a safe and fun-filled day featuring the generous spirit of 'ohana.
>>> PHOTOS, COVERAGE
The classic Demerara Float rises again … and again



Check out the updates to our review of The Mai-Kai's Demerara Float, plus complete back-story of this classic.
>>> HISTORY, RECIPES AND MORE
Demerara Float featured on Spike's Breezeway (video)
Cocktail recipe: Toast St. Patrick's Day with Alloa Aloha



While we all enjoy traditional St. Patrick's Day libations, there's always room for something new.
>>> Check out our Irish-tropical mash-up
Thousands of fans unite to show support for The Mai-Kai during closing



More than 10,000 signed a petition and thousands flooded social media channels as the historic restaurant sought potential partners in the wake of devastating storm damage.
>>> CLICK HERE FOR THE FULL STORY
Mai-Kai cocktail review: The Black Magic emerges from the darkness as a true classic



Inspired by one of The Mai-Kai's Gallons To Go, we've mixed up a new version of this classic Tiki cocktail.
>>> See the full story
>>> Tribute to The Mai-Kai's Black Magic, version 3.0
The Atomic Grog on Spike's Breezeway Cocktail Hour
>>> The Black Magic goes viral on social media
Year in the rearview: The Top 9 Tiki stories of 2020



Not all the news was negative in a year many would rather forget.
>>> See The Atomic Grog's picks for the news highlights of 2020
Bonus cocktail recipe: The Urban Archaeologist
The Year in Tiki 2020: Recap the top virtual and in-person events



Take a look back at the top happenings, featuring artwork and links plus photos and video. SEE THE FULL LIST
Photos: Remembering Dawn Wells at The Hukilau


Lucky villagers cherished the memorable chance to meet the actress at the Tiki weekender in June 2015.
>>> Photos of Dawn Wells at The Hukilau
The Mai-Kai celebrates 64th anniversary under the moon as challenges loom


Check out all the details on The Mai-Kai's sold-out 64th anniversary party on Dec. 28. FULL STORY
Photos: The Mai-Kai's Polynesian Islander Revue
News: Extent of flooding damage, closing detailed
Previous coverge: Fundraisers, online sales aid The Mai-Kai
Rum Spotlight: Ed Hamilton brings new West Indies blend to Florida


Importer Ed Hamilton has announced the arrival of a new blend bottled for the Florida Rum Society.
>>> GET THE FULL REPORT
>>> 15 things you need to know about Ed Hamilton and Hamilton Rum
>>> Recipe: Hamilton Navy Grog, as served at The Mai-Kai
The Mai-Kai celebrates Hulaween 2020 with drive-in movie party after closing for renovations


The historic Polynesian restaurant transported revelers to a socially-distanced celebration like no other, including an appearance by Appleton Rum's Joy Spence. FULL EVENT RECAP
News: Latest on the temporary closing
Photos: Hulaween Drive-In Movie scene, costumes
Tribute recipe: Blood Island Green Potion #2
Daiquiris of Hope: Keeping the spirit of our favorite bars and bartenders alive


A salute to our favorite industry professionals in their time of need.
Daiquiri of Hope #2: Beachbum's Special Daiquiri (Dedicated to Jeff "Beachbum" Berry)
Daiquiri of Hope #1: Martiki's Merchant Daiquiri (Dedicated to Martin Cate)
Contributed: The Underground Cardamom Daiquiri (Dedicated to Tiki Underground)
RECENT COCKTAIL REVIEWS & RECIPES
Even landlubbers can appreciate a strong ration of Yeoman's Grog



We've updated our Mai-Kai cocktail review to include more rich history of the ancestor cocktail, the Navy Grog, as well as a new contenporary recipe. See the full story
>>> Navy Grog from Beachbum Berry's Latitude 29
Mai-Kai cocktail review: Jet Pilot soars over its ancestors with flying colors



This latest and greatest version of The Mai-Kai's Jet Pilot should be approached with caution. It's big, bold and bad to the bone.
See the full story
RECIPE: Tribute to The Mai-Kai's Jet Pilot, version 5.0
The Atomic Grog serves the Jet Pilot on Tiki Trail Live
More on The Mai-Kai's takeout menu
SPECIAL FEATURES
Okole Maluna Society: The Mai-Kai Cocktail Guide



Hurricane Hayward reviews and rates the historic restaurant's current and past tropical drinks, plus reveals a treasure trove of ancestor and exclusive tribute recipes.
>>> A DEEP DIVE INTO THE COCKTAILS OF THE MAI-KAI
>>> List of all 100+ recipes
Atomic Grog Cocktail Recipes, A through Z



A comprehensive list of every recipe we've posted on the site since 2011.
>>> COMPLETE LIST OF DRINKS
The Atomic Grog joins The Trader Brandon Transmissions


VIDEO, RECIPE: Watch the live interview, see the new Barrel O' Rum recipe
* Check out our Tiki Tuesday chat with Brandon Kleyla on his Instagram page
* Go to TraderBrandon.com and browse all his cool merch
Hurricane Hayward on Inside the Desert Oasis Room



Listen to the "Covid Chronicles" episode recorded live with Adrian Eustaquio as The Atomic Grog blogger made his way to The Mai-Kai to pick up Gallons to Go.
Also available on iTunes, Spotify and Google Play.
The Atomic Grog blog has a new look


Check out the latest version of our blog, featuring a clean new design and all the same great features.
>>> GO TO THE BLOG NOW What is The Atomic Grog?
RECENT & RELEVANT BLOGS
South Florida gets double dose of exotic music with Jake Shimabukuro, Mr. Ho's Orchestrotica



Two unique concert tours make their way to the Sunshine State to put a modern spin on traditional styles. Check out our preview of this week's concerts.
>>> SUNDAY: Shimabukuro in Fort Lauderdale, Orchestrotica in West Palm Beach
Skinny Jimmy's Picks: 5 underappreciated surf bands of the first wave


The first wave of instrumental surf (late '50s through mid-'60s) included many bands that remained under the radar and lack the notoriety they deserve.
>>> AUDIO: See and hear Jimmy's top 5
VIDEO & PHOTOS: Skinny Jimmy Stingray talks classic surf, performs at The Mai-Kai


Skinny Jimmy Stingray and his band rocked The Molokai bar during December's Retro Rekindled community gathering. The live set followed a Q&A with The Atomic Grog about the guitarist's journey from punk to instro surf.
>>> See new video and photos from the event
Skinny Jimmy's Picks: The all-time top 5 Dick Dale songs


Dick Dale uncovered something special in Southern California's sandy beaches that, like a powerful wave, could not be contained. In this second in a series of top 5 lists, Skinny Jimmy Stingray picks his favorite Dick Dale songs.
>>> AUDIO: See and hear Jimmy's top 5
Gone but not forgotten: Surf guitar pioneer Dick Dale, 1937-2019


We knew him as the "King of the Surf Guitar," but he was so much more than that. Check out our tribute featuring South Florida remembrances and photos plus obituaries and social media reaction.
>>> Dick Dale's discography and top YouTube videos
The living dead came to party at The Mai-Kai's Hulaween 2019 luau

After 10 years, we know what to expect from The Mai-Kai's infamous Hulaween party: Kooky costumes, rockin' tunes and many cocktails consumed in The Molokai bar. The 2019 bash lived up to those standards.
>>> Full recap and photo gallery
Eerie and evil tunes for your Halloween shindig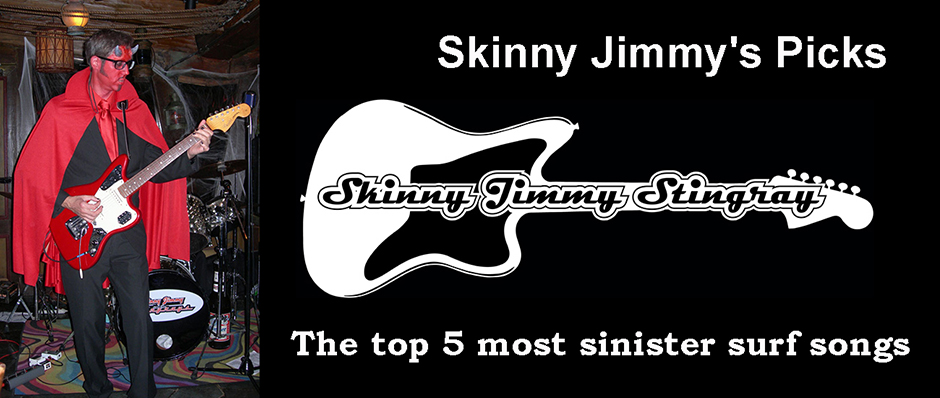 In this first in a series of special features on instro surf music, Skinny Jimmy Stingray gives us his picks for the most sinister surf songs. "Nothing echoes quite as ghoulishly as the sound of a reverb-soaked electric guitar."
>>> AUDIO/VIDEO: See and hear Jimmy's top five
Mai-Kai cocktail review: If you're 'Passionate' about tropical drinks, this one's for you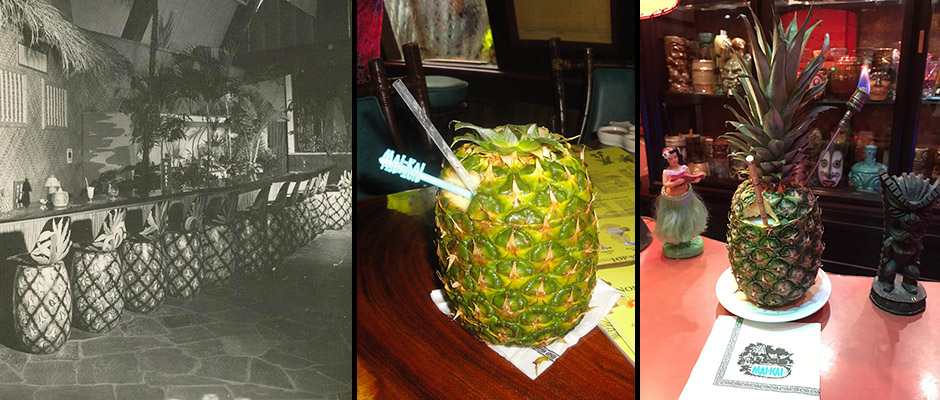 Check out our updated review of the Piña Passion, including a new tribute recipe and history of iconic drinks served in pineapples. Learn about this symbol of hospitality and mainstay at The Mai-Kai since 1956.
What we learned at Appleton master blender Joy Spence's rum tasting


What could be better than an Appleton rum tasting at The Mai-Kai? How about the first-ever such event at the historic Polynesian palace hosted by Joy Spence, the longtime master blender for the venerable Jamaican brand.
>>> CHECK OUT OUR FULL recap AND PHOTOS
>>> Recipe: Joy Spence's favorite rum cocktail
PAST BLOGS OF INTEREST
The Atomic Grog presents new class and symposium at The Hukilau 2019



Hurricane Hayward of The Atomic Grog took guests on an virtual journey to the Caribbean to learn about the key rums and styles that have dominated The Mai-Kai's acclaimed cocktails for more than 60 years. He was joined by rum expert Stephen Remsberg for an Okole Maluna Cocktail Academy class at Pier Sixty-Six hotel on June 8, and by Cocktail Wonk writer Matt Pietrek for an on-stage symposium at The Mai-Kai Grand Finale on June 9.
>>> HEAR THE SYMPOSIUM: Inside the Desert Oasis Room podcast
>>> Full preview plus last year's recap and photos


COMING SOON: Exclusive news on a new replacement for Kohala Bay rum at The Mai-Kai, plus more!
More on the rums of The Mai-Kai
* The history of the potent, funky flavors from Guyana and Jamaica
* Demerara rum - The Mai-Kai's secret weapon
The Hukilau 2019 rewind: Photos and video from social media


The Hukilau careened through Fort Lauderdale for its 18th annual Tiki weekender with an exhaustive schedule of events at the Pier Sixty-Six Hotel, B Ocean Resort and the historic Mai-Kai restaurant.
>>> SOCIAL POSTS FROM THE ATOMIC GROG AND VILLAGERS
The Hukilau 2019: Women of Tiki take over the tower



The signature Tiki Tower Takeover cocktail party included eight of the world's top female Tiki bartenders. Between sampling all the delicious drinks, hanging out with friends and enjoying the gorgeous views from the 17th-floor Pier Top Lounge, we managed to snap a few photos.
>>> FACEBOOK PHOTO GALLERY
Tiki Tower Takeover: Preview, photos and complete history
More on The Hukilau: Last party at Pier Sixty-Six? | Final preview, updates
Mai-Kai Walking Tour on Marooned: A Texas Tiki Podcast


It was an honor to participate in The Mai-Kai history tour with carver Will Anders and manager Kern Mattei. It's a real Tiki museum audio walking tour.
>>> CLICK HERE TO HEAR THE PODCAST
>>> Previous Marooned podcast: Hurricane Hayward talks Mai-Kai cocktails
Related stories on The Atomic Grog
* The Mai-Kai is here to stay: 10 reasons why we love the historic restaurant
* New giant carved Tiki added to outdoor garden for 60th anniversary
* 'King Kai' leads procession of new Tikis into The Mai-Kai
* Tour of The Mai-Kai's mysterious bars and kitchen (with photos)
Mai-Kai cocktail review: Drink like a native with the deadly Shrunken Skull


Take a deep dive into the history of a deadly classic cocktail with our fully enhanced review with a brand new tribute recipe and the true ancestor recipe from Don the Beachcomber.
>>> CLICK HERE FOR THE FULL STORY
New cocktail books, magazine prove Tiki underground is alive and thriving



Is the printed word is dead? The appearance of several new cocktail and recipes books, along with a quarterly magazine devoted to the revival of Polynesian Pop and mid-century culture, would indicate otherwise.
PAST NEWS & EVENT COVERAGE
Photos: 10 highlights from The Hukilau 2019 in Fort Lauderdale

Take a look back at last year's festivities with dozens of photos and 10 memorable moments.
>>> SEE THE PHOTO RECAP
Bonus cocktail recipes:
Passion Fruit West Indies
(Pagan Idol) |
Playboy
(Tiki Underground)
The Year in Tiki 2019: A look back at all the top events

Check out photos and video plus links and coverage of top happenings around the globe, including Miami Rum Congress, Inuhele in Atlanta, Arizona Tiki Oasis, Tiki Caliente in Palm Springs, Miami Rum Renaissance Festival, The Hukilau in Fort Lauderdale, Tiki Kon in Portland, the Surf Guitar 101 Convention in California, Tiki Oasis in San Diego, the Hi-Tide Summer Holiday: Asbury Park, plus more!
>>> BROWSE ALL THE PAST EVENTS
Sippin' Santa comes to town: Beachbum Berry interview, plus recipes

We caught up with Tiki historian, author and bar owner Jeff "Beachbum" Berry to ask him about his growing family of Sippin' Santa surf shacks, the delicious drinks, and what makes holiday pop-up bars so popular.
Bonus recipes: Tribute to Christmas Eve of Destruction | Nutty Old Fashioned
Previous story: Another holiday Miracle: Sippin' Santa locations double
Surprise winner, new spirit of aloha at fifth annual Art of Tiki in South Beach



Find out how an unassuming chef beat out Miami's top mixologists in the South Beach Wine & Food Festival's tropical bartending competition.
>>> Full event coverage, cocktail reviews, exclusive photos and history
VIPs, connoisseurs of fine spirits flock to first Miami Rum Congress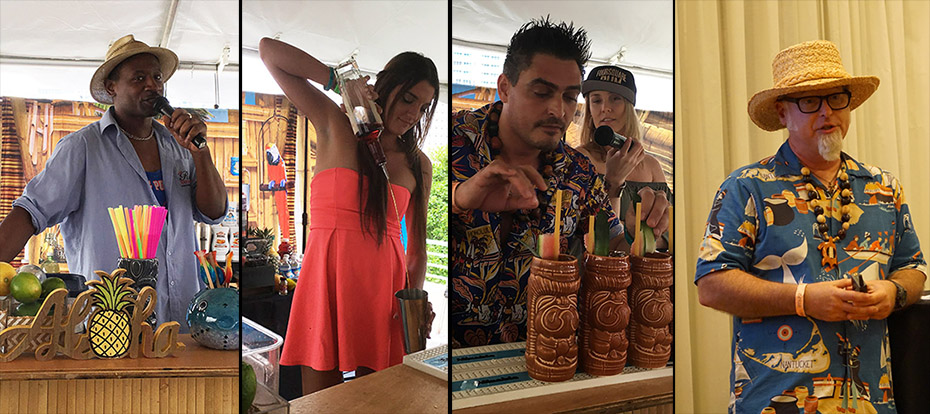 The inaugural Miami Rum Congress was an unqualified success, a star-studded gathering of rum industry experts that sold out the cozy and picturesque Shane Center in Miami Beach.
>>> Photo gallery and event recap
Special event: 'Demerara Rum - The Mai-Kai's Secret Weapon'



The Atomic Grog was pleased to present a special happy-hour talk during The Mai-Kai Takeover event, presented by the Magical Tiki Meet-Up and Retro Rekindled.
>>> Full event recap and photos
* See also: Rums of The Mai-Kai include potent, funky flavors
Epcot's Native American exhibit includes Hawaiian, Polynesian artifacts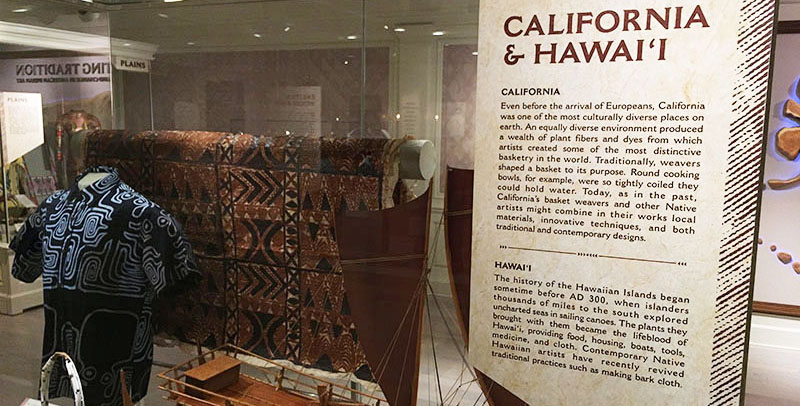 The Hawaii and California display spotlights one of seven geographic regions of art, both historical and modern, in the American Heritage Gallery.
The Year in Tiki 2018: Recap all the top events with photos and video



What did you attend in 2018? Take a look back at the top happenings in the Tiki, rum and surf music worlds.
Florida bartender wins Chairman's Reserve Mai Tai Challenge


Gregory Schutt pulled off an upset victory in the regional finals to earn a trip to the global finals in St. Lucia.
Hulaween turns 10 with another ghoulish gathering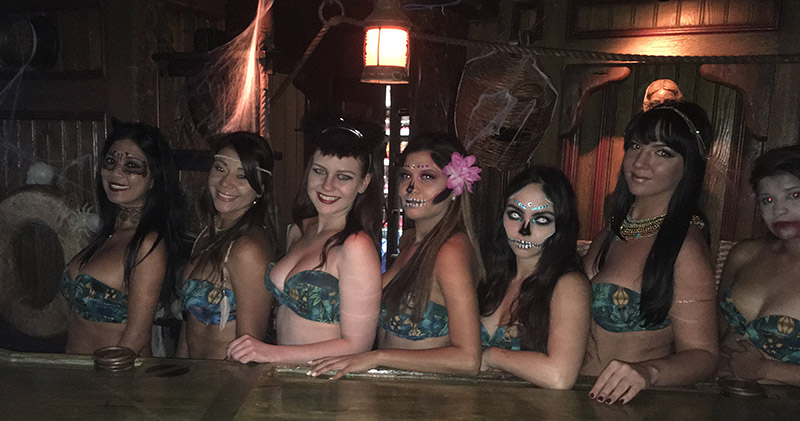 The Mai-Kai in South Florida was overrun by a lively crowd of undead revelers who returned from the grave for a 10th time in search of a rockin' good time with Slip and the Spinouts.

The Atomic Grog on Marooned: A Texas Tiki Podcast

Listen to Hurricane Hayward and podcaster David Phantomatic as they discuss (what else) the historic tropical drinks and influence of The Mai-Kai.
* Check out the new tribute recipes for a Mai-Kai classic, the Mutiny
Okole Maluna Cocktail Academy: How to Mix Like The Mai-Kai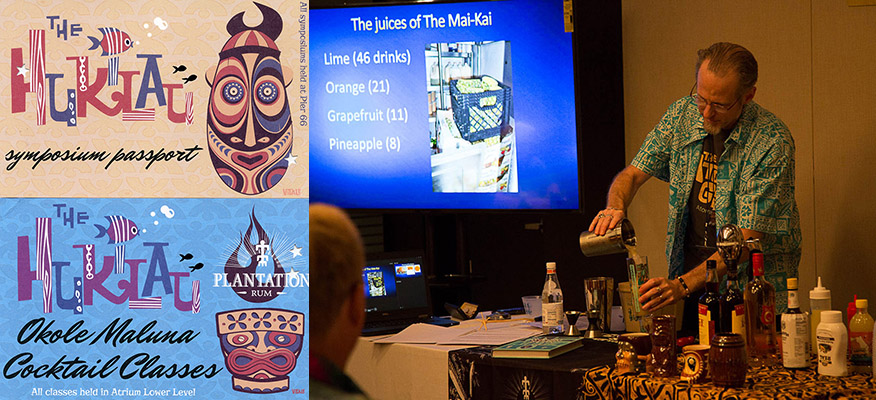 Tips and techniques from The Atomic Grog's Hurricane Hayward for turning your home bar into a Tiki paradise.
>>> Check out highlights from the sold-out class at The Hukilau 2018
The Hukilau 2018 recap: Photos and video from social media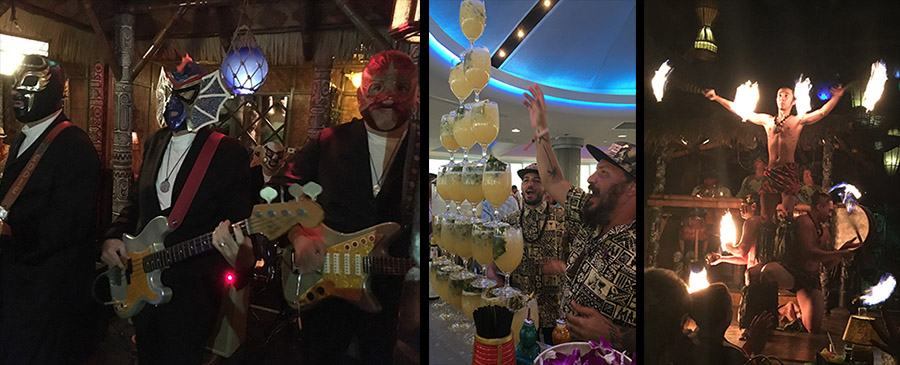 Check out a compilation of images from the whirlwind Tiki weekend in Fort Lauderdale.
The Mai-Kai updates bar menu, adds classic 'lost' cocktail


A new cocktail menu made its debut in May 2018 in The Molokai bar at The Mai-Kai, marking first update to the classic tropical drink lineup since 2014.
The Okole Maluna Society: The Mai-Kai Cocktail Guide
New monorail fleet in the works? Disney World denies rumors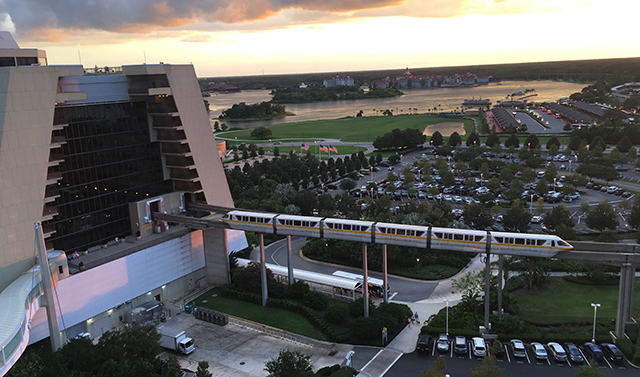 Disney World may soon be getting replacements for its aging fleet of monorails, says the retired imagineer who designed the original iconic trains. But officially, theme park officials say there presently are no such plans.
TAKE 5: INTERVIEWS WITH MOVERS & SHAKERS


August 2014: Otto von Stroheim, pioneering event promoter and Tiki tastemaker
April 2014: Ian Burrell, global rum ambassador and organizer of the UK RumFest
September 2013: Martin Cate, owner of Smuggler's Cove in San Francisco and rum cocktail maestro
June 2013: Jeff "Beachbum" Berry, Tiki cocktail author and historian extraordinaire
June 2012: Rodney Mayo, guiding light of South Florida's indie entertainment scene
November 2011: Mai-Kai General Manager Kern Mattei
September 2011: Artist Mike "Pooch" Pucciarelli
FROM THE ARCHIVES: OUR FAVORITE BLOGS
Exotic cocktails at Altered State Tattoo's 20th anniversary party


We were pleased to serve up drinks for special guests of artist Mike "Pooch" Pucciarelli at the 20th anniversary party for his South Florida shop that has gained him a worldwide following for his highly creative ink.
>>> Get the recipes: Altered State Zombie | Mai Ta-IPA
'Boozy' blog hosts birthday bash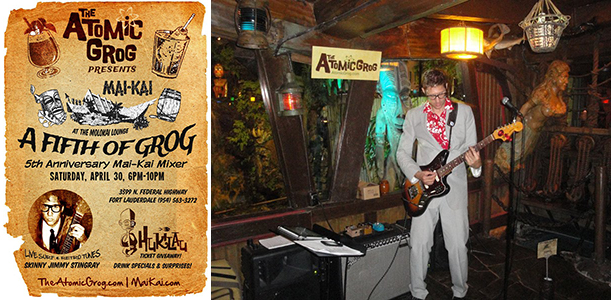 The Atomic Grog celebrated its fifth anniversary with a cocktail party in The Molokai lounge at The Mai-Kai featuring live instrumental surf music from Skinny Jimmy Stingray, drink specials, giveaways, and more.
10 reasons why you need Sven Kirsten's Tiki Pop

The third hardcover opus from the acclaimed Tiki urban archaeologist explores in rich and colorful detail the uniquely American phenomenon that permeated fashion, music, eating, drinking, and architecture for decades.
Jeff Berry proves he's never too busy to be a 'Beachbum'


Author and cocktail historian Beachbum Berry solidified his standing as the "Indiana Jones" of Tiki mixology with his first branded product, unearthing a long-lost gadget from the catacombs of mid-century bar culture: Beachbum Berry's Navy Grog Ice Cone Kit.
A journey back in time uncovers 'Disney side'


My first visit to the Magic Kingdom in Orlando was in 1972, but it wasn't until decades later that events conspired to make me a Disney World fan for life.
>>> Related: Celebrating 30 years of Epcot magic
Potions of the Caribbean: Cruise back to the birthplace of Tiki drinks


Beachbum Berry's sixth book on tropical drinks and the fascinating stories behind them could be considered the sequel to Sippin' Safari, both in style and substance.
Need a punch recipe for 200? The Rum Rat Pack has it covered


The experts at The Hukilau's 'Rumposium' showed us how to fill a bowl with 630 ounces of deliciousness (including 240 ounces of rum) with style and flair.
Florida at forefront of surf rock's contemporary renaissance



Just as Florida surfers have played second fiddle to California, so have the Sunshine State's surf bands.
But it's surely not due to lack of talent or effort.
>>> Related: Book makes waves, gives state's rich surfing history its due
>>> Album review: Los Straitjackets soar again with the release of Jet Set
Enchanted Tiki Room still charms, inspires



Keeping Walt Disney's vision alive since 1971, this landmark attraction received a welcome refurbishment in 2011 that heralded the return of the vintage show that pays tribute to the Disneyland original.
>>> Related: Enchanted Tiki Room 50th anniversary merchandise
Artists shine at Magic Kingdom's 40th birthday party



For many of us, celebrating Disney World means celebrating all the great artists and imagineers without whom none of the magic would be possible.
>>> An appreciation: Disney World is still cool at 40 thanks to retro artists Shag, Kevin & Jody
>>> Related: Cocktails come of age at Epcot Food and Wine Festival
Stretching the limits of the imagination


The Dalí Museum in St. Petersburg is a surreal experience in its own right.
We be Jammin: Rum Renaissance Zombie fest at The Mai-Kai



The kickoff party for the 2011 Rum Renaissance Festival was a Tikiphile's dream, featuring a Jeff "Beachbum" Berry cocktail seminar followed by a deadly mixology competition.
Click here for our first-person recap
>>> MORE: Zombie Jam photo gallery | Event preview | Rum Renaissance recap
>>> ORIGINAL RECIPE: Wake the dead, it's time for the Atomic Zombie Cocktail
>>> Zombie alert: 5 crucial things you need to know about the deadly cocktail
>>> Mai-Kai Cocktail Guide: The theory of evolution of the Zombie
MORE ON RUM & COCKTAILS
* Navy Rum and Black Tot Day: When men were men, and sailors drank Daiquiris
* Spice up your tequila cocktails with fiery gourmet syrups
* Miami mixologist shows how to jazz up your tired old cocktails

PLEASE DRINK RESPONSIBLY!
(c) 2011-2021, The Atomic Grog - All rights reserved