Special features
The Mai-Kai cocktail guide

Exclusive preview of the 2014 tropical drink menu


The first major redesign of the Tiki palace's iconic cocktail menu in more than 30 years was announced at a customer celebration party that also recognized the restaurant's recent historic designation.
Okole Maluna Society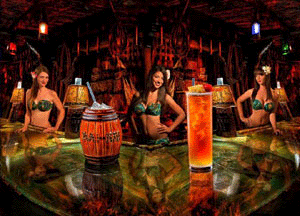 The Atomic Grog reviews and rates more than 50 of The Mai-Kai's amazing tropical drinks from the current menu plus reveals many lost classics. Add your comments and ratings, plus check out more than 80 authentic, ancestor and tribute recipes.

Restaurants, nightlife

Innovative watering holes fuel rise of craft cocktails

The craft cocktail scene in Palm Beach County has come a long way in a very short time. From Sweetwater Bar & Grill to Kapow! Noodle Bar to Hullabaloo, there are many choices for wildly creative adult beverages that didn't exist just five years ago.
Hullabaloo jazzes up Clematis Street with inventive cocktails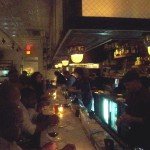 A preview party for the new gastropub and craft cocktail bar in downtown West Palm Beach was the scene of controlled chaos as bartenders, chefs, and staff kept the high-quality food and drinks flowing nonstop.
• Take 5 interview: Rodney Mayo

A Taste Of ... Dada in Delray Beach
Popular eatery serves up events, music, art, cocktails, culture

Imagine yourself at a secret house party with you hippest friends, freshly made cocktails, eclectic music and a great chef. Dada makes that happen.
Sweetwater introduces new cocktails, huge spirits menu
One of South Florida's premiere spots for craft cocktails has raised the bar again with the debut of some long-awaited new concoctions plus a monster spirits menu that runs a whopping 70 pages. REVIEW: Sweetwater Bar & Grill
A shining beacon of light in a food and drink wasteland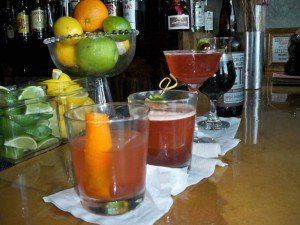 This dark and mysterious speakeasy has with little fanfare become the area's preeminent hidden gem for inventive adult beverages, plus gastropub-style food that's just as decadent and delicious.

Behind the bar


Take 5 with Martin Cate
Q&A with rum cocktail maestro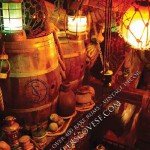 The owner of Smuggler's Cove in San Francisco talks about his favorite drinks, a possible future project and why every city should have a great Tiki bar. Plus, bonus recipes for two of his most acclaimed cocktails. 99 bottles of rum on the wall
Rating the top cane spirits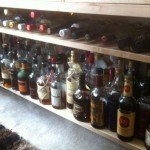 The Atomic Grog recently reached a landmark by acquiring a 99th bottle of rum. The occasion provided even more reason to literally take stock of this booty.
• Check out our Top 50 ratings

Cocktails


Need a punch recipe for 200? The Rum Rat Pack has it covered

The experts at The Hukilau's 'Rumposium' showed us how to fill a bowl with 630 ounces of deliciousness (including 240 ounces of rum) with style and flair.
Miami mixologist shows how to jazz up your tired old cocktails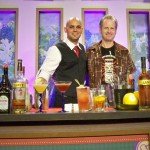 Freddy Diaz of AlambiQ Mixology demonstrated a few tricks (and recipes) with exotic liqueurs Cherry Heering and Xanté pear liqueur at a cocktail seminar at the 2012 Epcot International Food and Wine Festival.

About The Atomic Grog
• What is The Atomic Grog?
• Contact us


Like us on Facebook
Special event
The Hukilau, June 11-15
New band, symposium added
With tickets rapidly selling out and Tikiphiles flocking from around the world for the 13th and final edition of The Hukilau, organizers could certainly rest on their laurels. Instead, the annual Tiki event in Fort Lauderdale is getting an injection of new entertainment to add even more value (and fun) to the festivities.

Schedule announced for the 'Final Aloha,' tickets selling fast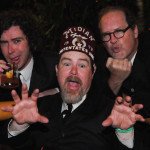 Tikiphiles from around the world will flock to Fort Lauderdale for The Hukilau's 13th and final celebration of authentic mid-century Polynesian Pop culture in June. If you want to join the party, you might want to act fast.

Lineup set for The Hukilau's farewell event in Fort Lauderdale

The East Coast's largest annual festival dedicated to Polynesian Pop culture will feature The Left Arm of Buddha, The Smokin' Menehunes, The Intoxicators, Marina the Fire Eating Mermaid, Jeff "Beachbum" Berry and much more.
• 2014 will be 'The Final Aloha'
• Event changes hotels, expands to 5 days Photos and memories from 2013

From the Disasternauts to Ìxtahuele, from the Wild West Indies to lost cocktails at The Mai-Kai, check out The Atomic Grog's Top 10 memories from The Hukilau.
• Full coverage of The Hukilau 2013

Recent event
Hulaween 2013 at The Mai-Kai


Skinny Jimmy & the Stingrays raise hell at The Mai-Kai

Browse photos from the fifth annual Halloween party in The Molokai lounge at The Mai-Kai in Fort Lauderdale, featuring Skinny Jimmy & the Stingrays, a costume contest and more.
Tiki culture
Plastic Paradise: A Swingin' Trip Through America's Polynesian Obsession
PBS stations say aloha to long-awaited documentary

Filmed at The Mai-Kai and The Hukilau and produced by Miami's award-winning commercial and documentary filmmakers Common Machine, Plastic Paradise has been released to PBS affiliates nationwide.
• Mini Mystery Bowl: Scaled-down version of a classic
• 6 ways to celebrate Tiki all year long
Music
South Florida scene: Gold Dust Lounge
Band kick starts new album with online fund-raising campaign

With a goal of raising $15,000, Miami's Russell Mofsky turned to crowd-funding Web site Kickstarter to fund the upcoming album from his retro-inspired band, Gold Dust Lounge. The gutsy move by this former DIY punk-rocker was a rousing success.
Concert photos
Laramie Dean and Jimmy Dale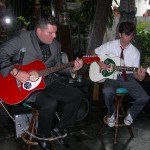 The summer tour featuring surf guitarist Laramie Dean and drummer Jimmy Dale made three stops in South Florida in July, including shows at Churchill's in Miami and The Mai-Kai's Molokai bar (above). See photos from both concerts.
• Interview with Laramie Dean
Dick Dale exclusive interview & photos
Cancer survivor and rock legend: 'I had both feet in the grave'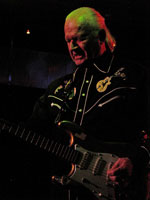 Rock 'n' roll icon Dick Dale is in the midst of a career resurgence at age 76, despite battling cancer and other serious health issues that would have derailed musicians half his age. Check out our exclusive interview and photos from his April 25 concert in Miami.
• See the interview | Photos
Album review
Los Straitjackets soar again with the release of 'Jet Set'

Those masked marvels of instrumental rock have launched a high-flying comeback after being dealt a paralyzing blow that would have pinned lesser bands. Jet Set is perhaps the band's best release ever.

Florida at forefront of surf rock's contemporary renaissance

Since it's birth in the early 1960s, surf music seems to arrive in waves every 15 years. And just as Florida surfers have played second fiddle to California, so have the Sunshine State's surf bands. But it's surely not due to lack of talent or effort.

Eclectic podcasts broadcast the soundtrack to the Tiki revival
Sorting through 50 years of exotic and underground music can be daunting. Luckily, we have very capable podcasters to do the work for us.
News
Walt Disney World's Polynesian Resort
Refurb schedule announced, but no word on Trader Sam's

With construction on the 42-year-old iconic hotel's timeshare additions in full swing, work appears to be moving forward on the resort's nerve center, the Great Ceremonial House.
Previous stories
• Trader Sam's could be key part of Polynesian Resort refurb
• Many changes likely coming to Polynesian Resort
Upcoming event
Miami Rum Renaissance Festival
Rum festival expands, introduces Miami Cocktail Week in 2014

As distillers and brands expand their offerings to meet the public's ravenous appetite for rum, the Miami Rum Renaissance Festival continues to grow exponentially. Now entering its sixth year, the festival is adding an exciting new feature – Miami Cocktail Week – to its list of events that cater to both industry reps and consumers.
2013 recap: Fest showcases never-ending variety of rums
Culture & cocktails
Beachbum Berry book release
A cruise back to the birthplace of Tiki cocktails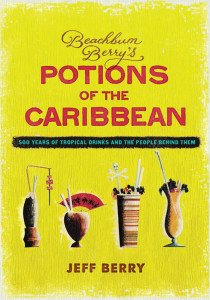 Potions of the Caribbean: 500 Years of Tropical Drinks and the People Behind Them, the sixth and most epic of Jeff "Beachbum" Berry's tropical drink recipe and history books, is being savored to the last drop by a growing legion of fans.

Take 5
5 questions with ...

Jeff 'Beachbum' Berry, Tiki cocktail historian extraordinaire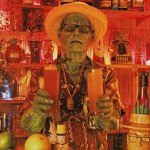 We caught up with the author in his natural habitat (The Mai-Kai gardens) and got his take on time travel, his upcoming book, and his most loved (and loathed) drinks.

Book review
Professor Cocktail's Zombie Horde

Zombies regaining critical mass: Book features 86 deadly recipes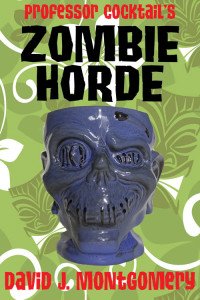 Zombie Horde takes the recipes from some of the world's best bartenders and mixologists from the Zombie's sordid 80-year history and packages them into an easy-read, easy-to-use resource. Our review features recipes, history, analysis, a "Zombie face-off" and more.
• Devotees keep Zombie alive
Art
Mai Tiki gallery closing

Gallery founded by the late Tiki carver Wayne Coombs bids adieu
A year after the tragic death of artist and famed Tiki carver Wayne Coombs, his Mai Tiki gallery in Cocoa Beach is closing.
• Wayne Coombs of Mai Tiki dies at 62
Art & culture
Enchanted Tiki Room 50th anniversary
Parties, merchandise celebrate 50 years of enchantment

Disney pulled out all the stops for the the iconic attraction's birthday, hosting special events and releasing a dizzying selection of special merchandise.
• Massive Shag volcano bowl released
Walt Disney World
30 great ways to celebrate
30 years of Epcot magic

Here are The Atomic Grog's favorite things to do at this eclectic combination of futuristic playground and food and beverage smorgasbord.
Modern Retro Disney World
Enchanted Tiki Room still charms, inspires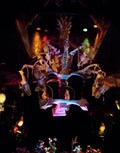 Keeping Walt Disney's vision alive since 1971, this landmark theme park attraction received a welcome refurbishment in 2011 that heralded the return of the vintage show that pays tribute to the original Enchanted Tiki Room at Disneyland.

Disney World 40th anniversary
• Artists shine amid copious crowds
• Disney still cool thanks to retro artists
Culture & travel

Stretching the limits
of the imagination
The Dali Museum in St. Petersburg is a surreal experience in its own right.
• Mermaids alive, well at Weeki Wachee
Take 5
5 questions in 5 minutes

Artist Mike "Pooch" Pucciarelli


We ask five fast-paced questions of this renaissance man in the world of lowbrow culture, the tattoo and fine artist Pooch.