Click here or the banner above for the latest blogs SOCIAL MEDIA: Facebook | Instagram | Twitter | Pinterest
200+ Atomic Grog Cocktail Recipes, A through Z The Mai-Kai Cocktail Guide and 100+ recipes
Photos: 10 highlights from The Hukilau 2019 in Fort Lauderdale
NEW

For a taste of what you can expect during this year's whirlwind Tiki weekender in June, take a look back at last year's festivities with dozens of photos and 10 memorable moments.
>>> SEE THE PHOTO RECAP
Bonus cocktail recipes:
Passion Fruit West Indies
(Pagan Idol) |
Playboy
(Tiki Underground)
UPDATE: The Hukilau returns to historic hotel for 19th annual Tiki weekender June 3-7, 2020


Rooms at the B Ocean Resort on Fort Lauderdale Beach are filling up fast following the late December announcement that The Hukilau would be returning to the former Yankee Clipper property for its 19th annual Tiki weekender in June. Check out our update, including details on the history of the famous hotel. >>>> Click here for the latest info on the blog
UPDATE: The Tiki Times: Exclusive 2020 events guide

Check out The Atomic Grog's annual calendar for all the major events across the world of Tiki culture. This list also includes rum events, plus modernism, surf and rockabilly music, Disney and other happenings of interest to the Tiki community. Continually updated, along with past events archive and recaps. >>> PREVIEW THE 2020 EVENTS
The Year in Tiki 2019: A look back at all the top events

Check out photos and video plus links and coverage of top happenings around the globe, including Miami Rum Congress, Inuhele in Atlanta, Arizona Tiki Oasis, Tiki Caliente in Palm Springs, Miami Rum Renaissance Festival, The Hukilau in Fort Lauderdale, Tiki Kon in Portland, the Surf Guitar 101 Convention in California, Tiki Oasis in San Diego, the Hi-Tide Summer Holiday: Asbury Park, plus many more! >>> BROWSE THE PAST EVENTS
Sippin' Santa comes to town: Exclusive Beachbum Berry interview, plus festive cocktail recipes

We caught up with Tiki historian, author and bar owner Jeff "Beachbum" Berry to ask him about his growing family of Sippin' Santa surf shacks, the delicious drinks, and what makes holiday pop-up bars so popular.
Bonus recipes: Tribute to Christmas Eve of Destruction | Nutty Old Fashioned
Another holiday Miracle: Beachbum Berry's Sippin' Santa locations double, expand to Florida

The explosion of festive Christmas pop-up bars continues this season with the always popular Miracle concept now topping 100 locations. Meanwhile, Tiki enthusiasts have even more holiday cheer in store for them as Beachbum Berry's Sippin' Santa, a sister concept to Miracle helmed by the esteemed tropical cocktail guru, has quickly doubled its nationwide reach.
FULL PREVIEW: Sippin' Santa menu and locations, Miracle updates
Retro Rekindled: Skinny Jimmy Stingray to talk classic surf, perform at The Mai-Kai

South Florida guitarist Skinny Jimmy Stingray will be joined by The Atomic Grog's Hurricane Hayward for a lively discussion about his winding road from punk to instrumental surf at a special Retro Rekindled monthly community gathering at The Mai-Kai on Fort Lauderdale on Sunday, Dec. 15. >>>> Click here for full details on the event
Skinny Jimmy's Picks: The all-time top 5 Dick Dale songs


Dick Dale uncovered something special in the sandy beaches of Southern California that like a powerful wave could not be contained. His sound was like the roar of an ocean washing across all lands and cultures, leaving in its wake a gift of music that transcends time and moves people. In this second in a series of special features on instro surf music, Skinny Jimmy Stingray gives us his picks for his all-time top 5 Dick Dale songs. AUDIO: See and hear Jimmy's top five
Gone but not forgotten: Surf guitar pioneer Dick Dale, 1937-2019


We knew him as the "King of the Surf Guitar," the 1960s rocker whose version of Miserlou in the film Pulp Fiction revived both his career and the entire instrumental surf genre in the 1990s. But he was so much more than that. Check out our tribute featuring South Florida remembrances and photos plus obituaries and social media reaction.
* Dick Dale's discography and top YouTube videos
The living dead came to party at The Mai-Kai's Hulaween 2019 luau

After 10 years, we know what to expect from The Mai-Kai's infamous Hulaween party: A night of kooky costumes, rockin' tunes and many cocktails consumed in the legendary Polynesian restaurant's Molokai bar. The 2019 bash lived up to those standards.
Full recap and photo gallery
Eerie and evil tunes for your Halloween shindig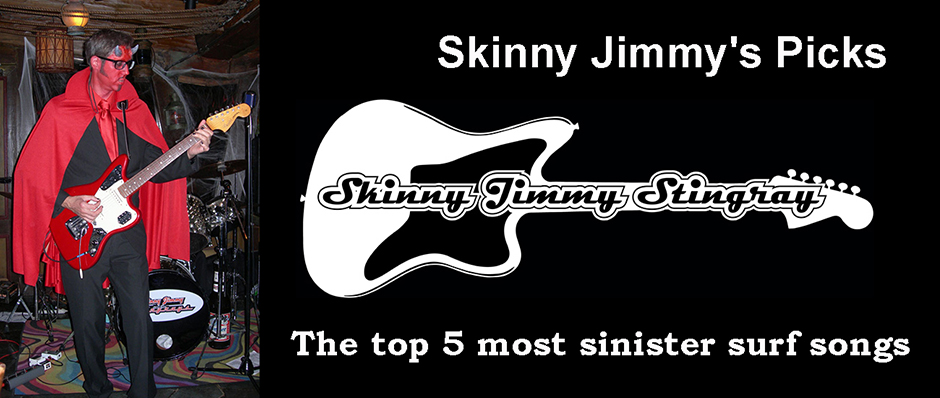 In this first in a series of special features on instro surf music, Skinny Jimmy Stingray gives us his picks for the most sinister surf songs. As Jimmy points out, "Nothing echoes quite as ghoulishly as the sound of a reverb-soaked electric guitar."
AUDIO/VIDEO: See and hear Jimmy's top five
The Mai-Kai cocktail review: If you're 'Passionate' about tropical drinks, this one's for you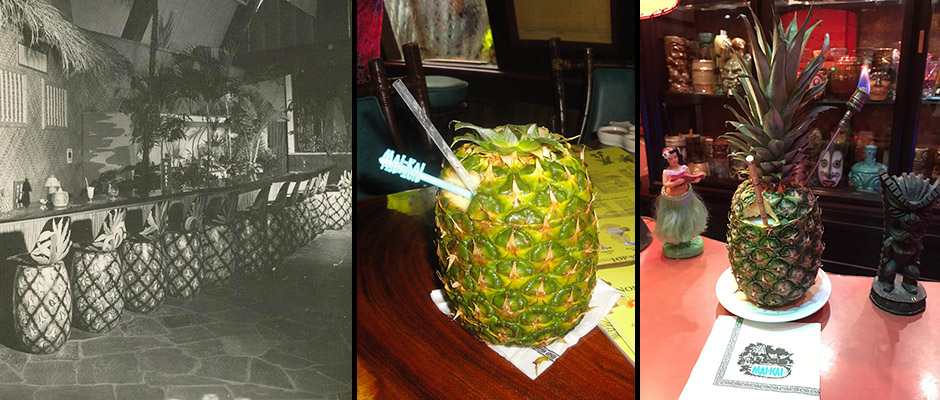 Check out our newly updated review of the PiŮa Passion, including a brand new tribute recipe and history of iconic drinks served in fresh pineapples. Learn about this symbol of hospitality and delicious mainstay at The Mai-Kai since 1956.
What we learned at Appleton master blender Joy Spenceís rum tasting at The Mai-Kai

What could possibly be better than an Appleton Estate rum tasting at The Mai-Kai? How about the first-ever such event at the historic Polynesian palace hosted by Joy Spence, the longtime master blender for the venerable Jamaican brand synonymous with pure premium rum. Check out our full recpap and photos, including 5 things you might not know about Joy Spence, 12 things we learned about how Appleton rum is made, and how she wants you to experience Appleton Estate rums.
Recipe: Joy Spence's favorite rum cocktail
The Atomic Grog presents new class and symposium at The Hukilau 2019



Hurricane Hayward of The Atomic Grog took guests on an virtual journey to the Caribbean to learn about the key rums and styles that have dominated The Mai-Kaiís acclaimed cocktails for more than 60 years. He was joined by rum expert Stephen Remsberg for an Okole Maluna Cocktail Academy class at Pier Sixty-Six hotel on June 8, and by Cocktail Wonk writer Matt Pietrek for an on-stage symposium at The Mai-Kai Grand Finale on June 9.
Hear Sunday's symposium on the Inside the Desert Oasis Room podcast
See the full preview plus last year's event recap and photos | Full 2019 recap coming soon!
* Get detailed reports and photos on Tiki Central


COMING SOON: Exclusive news on a new replacement for Kohala Bay rum at The Mai-Kai, plus more!
More on the rums of The Mai-Kai
* The history of the potent, funky flavors from Guyana and Jamaica
* Demerara rum - The Mai-Kai's secret weapon
The Hukilau 2019 rewind: Photos and video from social media


Like the daily thunderstorms that didn't seem to dampen anybody's spirits, The Hukilau careened through Fort Lauderdale on June 5-9 for its 18th annual Tiki weekender with an exhaustive schedule of events at the Pier Sixty-Six Hotel, B Ocean Resort and the historic Mai-Kai restaurant. Here's a quick look back at all the fun via social media posts.
>>>> SOCIAL POSTS FROM THE ATOMIC GROG AND VILLAGERS
LISTEN: Stream our Spotify playlist to hear all the music
The Hukilau 2019: Women of Tiki take over the tower



Thursday, June 6, was tropical cocktail heaven during the opening festivities of The Hukilau at Pier Sixty-Six Hotel & Marina in Fort Lauderdale. The signature Tiki Tower Takeover cocktail party included eight of the world's top female Tiki bartenders. Between sampling all the delicious drinks, hanging out with friends and enjoying the gorgeous views from the 17th-floor Pier Top Lounge, we managed to snap a few photos. Coming soon, a blog recap featuring more photos plus cocktail reviews and ratings.
>>>> CLICK HERE FOR THE FACEBOOK PHOTO GALLERY
Tiki Tower Takeover: Preview, photos and complete history
More on The Hukilau: Last party at Pier Sixty-Six? | Final preview, updates
The Mai-Kai Walking Tour on Marooned: A Texas Tiki Podcast


It was an honor to participate in The Mai-Kai history tour with carver Will Anders and manager Kern Mattei. Itís a real Tiki museum audio walking tour. CLICK HERE TO HEAR THE PODCAST
The podcast is also available on all major podcasting platforms: Apple Podcasts, Google Podcasts, Spotify, and Stitcher.
Previous podcast: Hurricane Hayward talks Mai-Kai cocktails with Marooned
Related stories on The Atomic Grog
* The Mai-Kai is here to stay: 10 reasons why we love the historic South Fla. restaurant
* New giant carved Tiki added to The Mai-Kaiís outdoor garden for 60th anniversary
* 'King Kai' leads procession of new Tikis into The Mai-Kai
* Tour of The Mai-Kai's mysterious bars and kitchen (with photos)
Atomic Grog Cocktail Recipes, A through Z


When The Atomic Grog launched in late April of 2011, the second post was a Tiki cocktail recipe. Now, more than 400 posts and 200 recipes later, we've put all those drinks into an alphabetical list for easy access as a treat to all of you who've supported the blog for the past eight years. CLICK HERE TO SEE ALL THE RECIPES
INTRO & MAHALOS: Recipe list marks eighth anniversary of blog
Drink like a native with the deadly Shrunken Skull
A deep dive into the history of a deadly classic cocktail

The Mai-Kai cocktail review: Fully enhanced with a brand new tribute recipe and the true ancestor recipe from Don the Beachcomber. Includes rich detail including info on all the mugs, the potent rums and the story behind those real shrunken skulls on display in one of the The Mai-Kai's secluded dining rooms. CLICK HERE FOR THE FULL STORY
The Hukilau 2019: Tiki Tower Takeover cocktail party sold out - Preview, photos and complete history


For the fifth year in a row, the signature event at The Hukilau has sold out months in advance. The Tiki Tower Takeover, held every June in the 17th floor rooftop ballroom at Pier Sixty-Six in Fort Lauderdale, will have added significance in 2019. The festive cocktail party that spotlights some of the worldís top Tiki bartenders will celebrate Women Who Tiki with eight female mixologists serving their own special creations. With the hotel closing for a massive refurbishment immediately after The Hukilau, it will also be the last Takeover in the tower for at least two years. >>>> Preview and bartender profiles
Plus more special features:
ē History: Event recaps and photos, 2015-2017
ē Photos: Recap and new images from last yearís Tiki Tower Takeover
ē Recipe: Cotton Mouth Killer from Trailer Happiness
Event spotlight: Arizona Tiki Oasis brings Polynesian Pop party to the desert
Arizona Tiki Oasis featured all the hallmarks of the original event in a mid-century desert setting,
from a vintage hotel to some of the biggest names in the Tiki revival.
>>>> Atomic Grog preview and social recap
New cocktail books, magazine prove Tiki underground is alive and thriving



This year marks the publication of several new cocktail books along with continuing releases of a new quarterly magazine devoted to the revival of Polynesian Pop and mid-century culture. Who says social media and the Internet have killed off the printed word?
Bonus cocktail recipe: Lost Treasure by Syd Thomas of Tonga Hut
Surprise winner, new spirit of aloha at fifth annual Art of Tiki in South Beach



Find out how an unassuming chef beat out Miami's top mixologists in the South Beach Wine & Food Festival's tropical bartending competition. >>> Check out our review of the event and all the cocktails, plus exclusive photos and history of the event.
Photos, bonus recipe: Blue Bayou, served by Brian Miller at the 2019 SoBeWFF

100 Days to The Hukilau: Weekend events at The Mai-Kai to feature The Surfrajettes, preview party


The 18th annual Tiki weekender known as The Hukilau will not invade Fort Lauderdale until June, but local Tikiphiles got an early taste of the rum-fueled festivities March 2-3 when two special events kicked off the 2019 countdown at The Mai-Kai.
* Event preview of both events, plus video of The Surfrajettes at The Hukilau 2017
PHOTOS: VIPs, connoisseurs of fine spirits flock to first Miami Rum Congress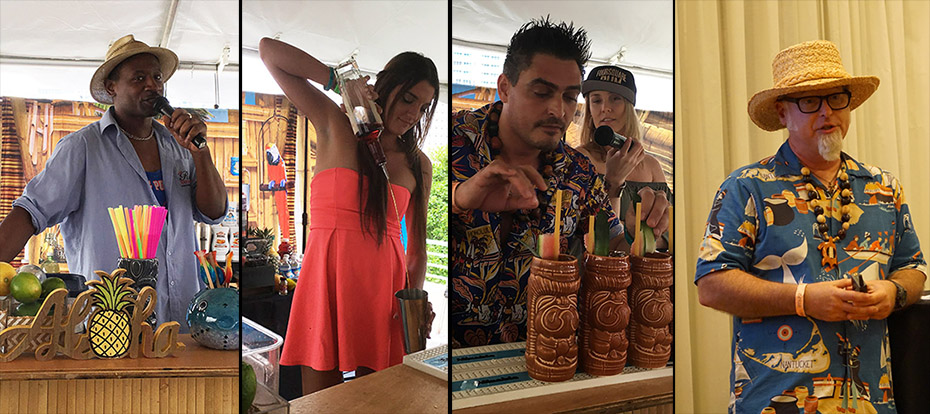 The inaugural Miami Rum Congress was an unqualified success, a star-studded gathering of rum industry experts that sold out the cozy and picturesque Shane Center in Miami Beach. >>> Photo gallery and event recap
* Atomic Grog preview and social recap
Inuhele celebrates Atlantaís meteoric rise as Tiki destination

Now, in just its second year, the Tiki weekender known as Inuhele greatly expanded to include three days of bar-hopping, panels, vendors, bands, demos and more geared to the area's burgeoning scene. >>> Full preview and live coverage
Cocktail recipe: Makani Pahili by Skipper Mickey of Trader Samís Grog Grotto, one of the Iron TikiTender competitors at Inuhele
Special event: 'Demerara Rum - The Mai-Kai's Secret Weapon'


The Atomic Grog was pleased to present a special happy-hour talk during The Mai-Kai Takeover event
on Jan. 19, presented by the Magical Tiki Meet-Up and Retro Rekindled.
Click here to check out our full event recap, including photos and highlights of our Demerara rum discussion.
See also: Rums of The Mai-Kai include potent, funky flavors from Guyana and Jamaica
Epcot's Native American art exhibit includes Hawaiian and Polynesian artifacts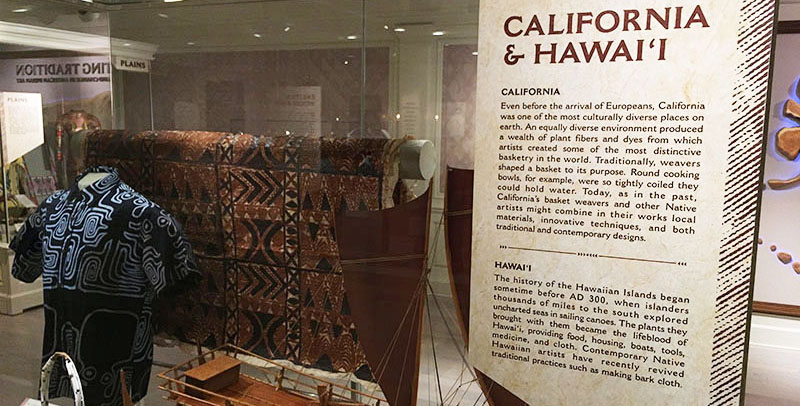 The Hawaii and California display spotlights one of seven geographic regions of Native American art,
both historical and modern, in the American Heritage Gallery.
The Year in Tiki 2018: Recap all the top events with photos and video


Which events did you attend in 2018? Take a look back at the top happenings in the Tiki, rum and surf music worlds: Modernism Week, Inuhele: Atlanta Tiki Homebar Tour, Chicago Rum Festival, Viva Las Vegas, Tiki Caliente, The Hukilau, Rum Renaissance Festival, Surfer Joe Summer Festival, Ohana: Luau At The Lake, Tiki Kon, Tales of the Cocktail, Surf Guitar 101 Convention, Tiki Oasis, The Hula Hop, Asbury Park Surf Music Festival, Huka Pele Tiki Weekender, California Rum Festival, Makahiki: A Night of Tiki, New York Rum Festival, Circa Caliente, Malihini Tiki Festival, The UK RumFest, plus many more!
Florida bartender wins Chairman's Reserve Mai Tai Challenge at The Mai-Kai, earns trip to St. Lucia

UPDATE: Bartender Gregory Schutt pulled off an upset victory on Oct. 30 in the regional finals
of the Chairmanís Reserve Mai Tai Challenge, edging several fellow Floridians and seasoned competitors
from cocktail hotbeds New Orleans and Chicago to earn a trip to the global finals in St. Lucia in 2019.
New Atomic Grog Mai Tai recipes: Oh Mai Darling | Atomic Mai Tai Cocktail
Hulaween 2018: Back from the Dead - 10th Anniversary Reunion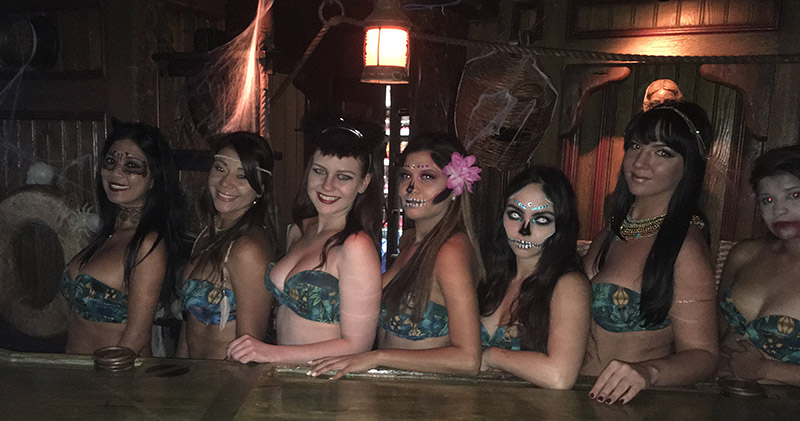 On Oct. 26, The Mai-Kai in Fort Lauderdale was overrun by a lively crowd of undead revelers who returned
from the grave for a 10th time in search of a rockin' good time with Slip and the Spinouts.
Photos on Facebook: The Atomic Grog's gallery | The Mai-Kai's gallery
The Atomic Grog on Marooned: A Texas Tiki Podcast

Listen to Hurricane Hayward and Texas Tiki and cocktail podcaster David Phantomatic in the Samoa Room at The Mai-Kai as they discuss (what else) the historic tropical drinks and influence of South Florida's Polynesian Palace.
* Check out the new tribute recipes for a Mai-Kai classic, the Mutiny
Okole Maluna Cocktail Academy: How to Mix Like The Mai-Kai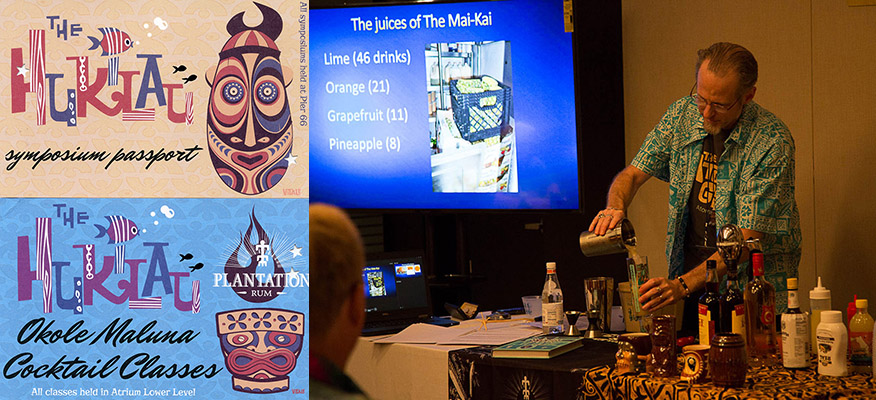 Tips and techniques from Hurricane Hayward of The Atomic Grog for turning your home bar into a Tiki cocktail paradise. Check out highlights from the sold-out class at The Hukilau 2018. Photo galleries: Facebook | Flickr
Updated reviews, recipes Big Bamboo | Bora Bora | K.O. Cooler | S.O.S.
The Hukilau 2018 recap: Photos and video from social media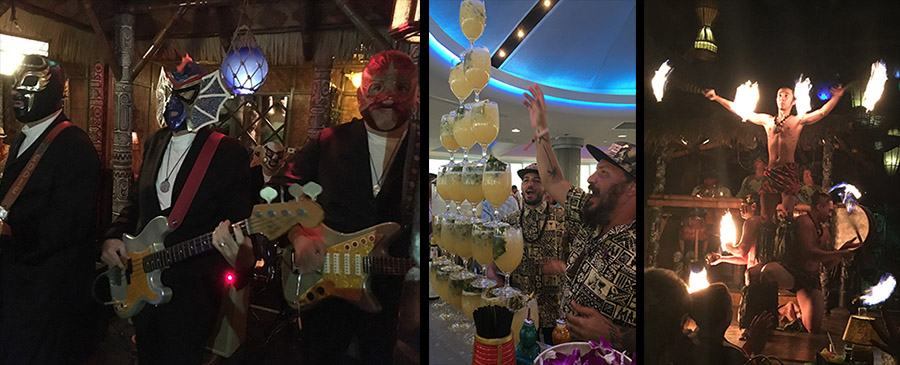 Check out a compilation of images from the whirlwind Tiki weekend in Fort Lauderdale
Photos: The Mai-Kai updates bar menu, adds classic Ďlostí cocktail


A new cocktail menu made its debut on May 17 in The Molokai bar at The Mai-Kai,
marking first update to the classic tropical drink lineup since 2014.
The Okole Maluna Society: The Mai-Kai Cocktail Guide
Suffering Bastard tribute | See all 100+ recipes
Rums of The Mai-Kai include potent, funky flavors from Guyana and Jamaica
New monorail fleet in the works? Disney World denies rumors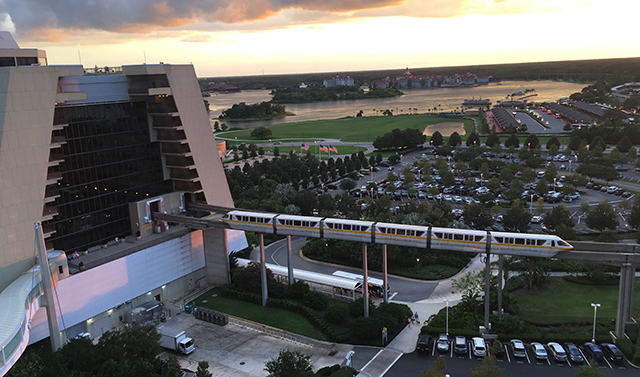 Disney World should soon be getting replacements for its aging fleet of monorails,
says the retired imagineer who designed the original iconic trains for Disneyland and the Magic Kingdom.
But officially, theme park officials say there presently are no such plans.
****************************** PAST BLOGS AND FEATURES ******************************