Updated January 2015
See below: Our Shrunken Skull review | Ancestor recipe | Tribute recipe
Related: Mai-Kai cocktail guide
Our expedition through the mysterious tropical drink selection at The Mai-Kai takes a dangerous turn with another mid-century classic from the menu's "STRONG!" offerings.
Tongue-in-cheek drinks lionizing primitivism were not uncommon during Tiki's golden age, and the ominous Shrunken Skull and its variations were among the most infamous. The idea was to conjure up a sense of danger lurking in your local tropical getaway. Classic Tiki bars offer the ultimate escape from the mundane day-to-day existence, and every island adventure needs a little bit of macabre yet kitschy risk-taking.
In this case, the danger lies in the strong rums that permeate this deadly concoction. The Shrunken Skull (see photos at right and below) is one of only two Mai-Kai drinks that feature a rum floater (a shot of rum added to your drink as it's served). Not coincidentally, the other also comes with an element of danger attached to its name: the Shark Bite.
The Shrunken Skull is also one of only a handful of Mai-Kai cocktails to come in its own custom mug, originally a vintage shrunken head design that can fetch more than $100 on the open market. It was replaced by a modern version that is not quite as rare but still reach $100 or more.
The above links and info come courtesy of Ooga Mooga, the premiere Web site for Tiki mug collectors. This highly recommended resource lets users track their mug collection while showing it off to others. Loaded with photos of great vintage mugs, it's worth checking out even if you don't register as a collector.
The drink also often comes in an Abelam mug (average price: $30), which features a mask-like design of the Abelam people who live in the East Sepik province of Papua New Guinea. A vintage Abelam mug is typically priced in the $100 range.
All of the above mugs have a handle, which is atypical of most Tiki mugs. It's usually an indication that the mug does double-duty on the dessert menu as a vessel for hot coffee drinks. At The Mai-Kai, the current Abelam mug also can be enjoyed with an after-dinner classic, the flaming Kona Coffee Grog. The shrunken head mug is also used for the Tahitian Coffee.
I picked up my mugs (see below) in The Mai-Kai gift shop. I'll be monitoring their prices on Ooga Mooga like any good mug investor.
The official menu description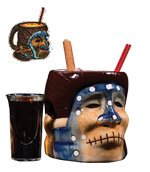 SHRUNKEN SKULL

Dangerous and deadly.
Okole Maluna Society review and rating
Size: Medium
Potency: Strong
Flavor profile: Strong and rich rums, grenadine, cinnamon.
Review: High-octane and potent, yet also fruity and dry. Has all the hallmarks of a great strong tropical cocktail.
Rating: 4 out of 5 stars
(see how it ranks)
Ancestry: The Shrunken Skull (or one of its variations) was a mainstay on mid-century Tiki bar menus, with most following the simple recipe that Jeff "Beachbum" Berry later published in his 1998 tropical drink bible, Grog Log (see below). Known as the Skull & Bones, it was also a staple of Don the Beachcomber, the Tiki bar torch-bearer whose menu served as a template for The Mai-Kai. So it's no surprise that the Shrunken Skull has been on The Mai-Kai's cocktail menu since the Fort Lauderdale restaurant's 1956 debut.
Bilge: As Beachbum Berry points out, classic Tiki drinks have begun to inspire a new generation of musicians, such as The Hangmen, who penned the catchy Shrunken Skull Stomp. Crank up this deadly ditty while you indulge in the following recipes.
Agree or disagree? Share your reviews and comments below!

ANCESTOR RECIPE
Shrunken Skull
(From Beachbum Berry's Grog Log and Remixed)
* 1 ounce fresh lime juice
* 1 ounce pomegranate grenadine
* 1 ounce gold Puerto Rican rum
* 1 ounce Demerara rum
Shake vigorously with ice cubes, then pour everything into a skull mug.
January 2015 update
While I have not seen an official recipe for Don the Beachcomber's Skull & Bones, it seems likely that it was an inspiration for The Mai-Kai's Shrunken Skull, as well as other Shrunken Skull recipes like the one above. Though it was not as popular as tropical drink pionner Donn Beach's other classics, such as the Zombie and Navy Grog, it can be found on old menus such as this one from 1963.
That menu comes from the Don the Beachcomber location in Chicago, where Mariano Licudine worked until he came to Fort Lauderdale in 1956 to be the head bartender at The Mai-Kai. Many of the drinks on the menu he helped create, along with owners Bob and Jack Thornton, were based on Don the Beachcomber recipes. They re-worked and improved a great number of them, tweaking many of the names as they went (see story).
Further evidence that the Skull & Bones and Shrunken Skull are related lies more than 2,000 miles west of Fort Lauderdale, at the only other Tiki bar in the world still serving Donn Beach's original, secret recipes. The legendary Tiki-Ti in Los Angeles was opened in 1961 by Ray Buhen, an original Don the Beachcomber bartender in the 1930s. It's still operated by family, including Buhen's son and grandsons. The Buhens' impressive menu of 92 tropical drinks dwarfs The Mai-Kai's total of 47, and it also includes the Skull & Bones.
While it doesn't feature a special mug, the drink's menu description and photo are strikingly similar. It's touted as including grenadine, lime juice and dark rum. Also refer to the mini review by Trader Vince, a Tiki blogger who completed an awe-inpiring challenge in 2010 by sampling every drink on the Tiki Ti menu, and living to write about it.
Tropical mixology has a long history of reverently borrowing classic recipes, and this trend came full circle as it relates to the Skull & Bones/Shrunken Skull when Hale Pele opened in Portland in August 2012 with a version of The Mai-Kai cocktail on its outstanding menu of classics, old and new. Hale Pele's owner and chief mixologist, Blair Reynolds (also proprietor of B.G. Reynolds' Syrups), confirms that his drink was inspired by and follows a very similar recipe as our tribute below, first posted in August 2011. Hale Pele's Shrunken Skull features "aged demerara rum with a touch of pomegranate and cinnamon, served with extra rum on the side." Mahalo Blair!
Tribute to The Mai-Kai's Shrunken Skull
By The Atomic Grog
* 1 ounce fresh lime juice
* 1/2 ounce cinnamon syrup
* 1 ounce strong pomegranate grenadine
* 1 ounce premium gold Puerto Rican rum (such as Bacardi Select, Bacardi 8, or Bacardi Anejo)
* 1 ounce dark 151 rum (see below)
Pour the 151 rum into a standard 1-ounce shot glass. Pulse blend everything else with 1 cup of crushed ice for 4-5 seconds. Pour into a skull mug and garnish with a cinnamon stick. Serve and add the 151 as a floater. Stir with the cinnamon stick.
January 2015 update
With the unfortunate removal of Lemon Hart 151 Demerara rum from U.S. distribution in 2014, The Mai-Kai was forced to adjust and now uses Gosling's Black Seal 151 rum (see photos above and story here). I revisited the Shrunken Skull and have to admit that the change had little effect. The cocktail remains very strong, yet rich and flavorful with a punch of spicy and tart notes to balance.
The only other major adjustment made above is the direction to pulse blend instead of shaking the drink. Since posting the original recipe, we've learned that all of the The Mai-Kai's drinks are either pulse blended in a top-down mixer (see photo) or, in the case of the smooth and icy drinks (Derby Daiquiri, et al.), blended in a conventional blender. By "pulse," I mean to hit the blend button and release in rapid succession.
Notes and tips for home mixologists
* The shrunken head mug pictured at right is quite a bit larger than the Abelam mug (12 ounces vs. 8 ounces), which explains why it hasn't been used lately for this already strong cocktail. To fill this mug, just increase the measurements by 50 percent (1 1/2 ounces lime juice, 3/4 ounce cinnamon syrup, etc.). Just be forewarned that it packs a wallop.
* Like some other Mai-Kai cocktails, one of the keys to this drink is an intense cinnamon flavor from the great in-house syrup. I recommend a full-bodied syrup such as the one lovingly made by B.G. Reynolds. If using a lighter syrup, increase the proportion a bit. Beachbum Berry's books include a nice recipe for a homemade syrup that I have always used, and there are many others online. If you like this spicy flavor, check out these other drinks that feature it at The Mai-Kai.
* Another dominant flavor in the Shrunken Skull is a very potent pomegranate grenadine, also most likely made in-house. You'll notice The Mai-Kai drink is very red, like its ancestors. A standard grenadine, even the excellent all-natural pomegranate syrup made by Sonoma Syrup Co. isn't up to the task. Then I discovered a great recipe in the resource guide in the appendix of Ted "Dr. Cocktail" Haigh's Vintage Spirits and Forgotten Cocktails: Simply combine the Sonoma syrup with an equal portion of Pama liqueur. The result is a very vibrant syrup that's perfect in this cocktail and others that call for a more up-front pomegranate flavor. If you're looking for a simpler option, Fee Brothers makes several flavorful and recommended grenadines (American Beauty and Fee Junior). Finally, advanced users may want to try making their own grenadine. Try this recipe from A Mountain of Crushed Ice or this one from Jeffrey Morgenthaler.
* Last but not least, the rums: Feel free to experiment with different premium gold rums. All those mentioned above work well. Until Lemon Hart returned to The Mai-Kai in late April 2012 after a 15-year absence, I suspect that a gold 151 rum (such as Bacardi) was used as the floater. With Lemon Hart unavailable again (see above), Gosling's 151 is a much better choice. But if you have access to Lemon Hart, by all means use it. There are more 151 options hitting the ever-expanding rum market, so we're hopeful for a bright future for this creepy classic.
Okole maluna!