Passes and tickets for The Hukilau 2020 are selling briskly after last week's announcement of the full entertainment lineup for the 19th annual Tiki weekender June 3-7 at the B Ocean Resort and The Mai-Kai restaurant in Fort Lauderdale.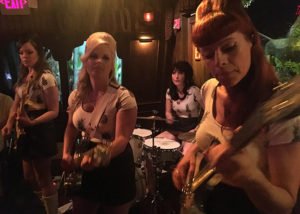 Our previous report hinted at many of the headliners and new participants while offering up key details on the East Coast's largest and longest-running gathering of Polynesian Pop culture enthusiasts. Now, with the launching of The Hukilau's updated website, we can run down the full list of bands, symposium presenters, guest pop-up bars and more.
THE MUSIC
The biggest news was the reveal of the musical headliners. Returning for their second appearance at The Hukilau are The Surfrajettes from Toronto, Canada. Rising stars on the instrumental surf circuit, these four women have lived up to the hype after exploding onto the scene in 2015. Viral videos propelled their popularity, but their subsequent live performances and signing with Hi-Tide Recordings have proved that this band is more than just an Internet sensation. We were treated to their blend of classic surf, unique covers, and their own originals at The Hukilau 2018, followed by a special appearance at The Mai-Kai last March. Appearances last year at such high-profile events as Nashville Boogie, the Surf Guitar 101 Convention, and Tiki Oasis solidified their place as an event headliner. Look for a new single on Hi-Tide in April.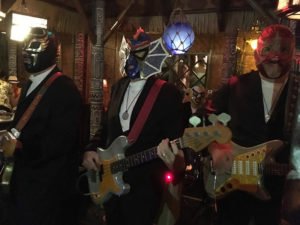 Perhaps the best known and most popular band to ever play The Hukilau is Los Straitjackets, who graced the festival in 2009 and 2018. While the masked marvels of instrumental rock won't be returning in 2020, two of its key members will jam out this June in Fort Lauderdale. Guitarist Eddie Angel, who co-founded Los Straitjackets in 1988, also played The Hukilau with two other bands, The Martian Denny Orchestra and The Neanderthals. The Nashville-based guitarist has also had a longtime career as a sideman and solo artist, appearing on dozens of albums by some of the retro rock scene's greats, dating back to 1978. At The Hukilau 2020, he'll perform a solo set at Friday's High Tide Party, backed the The Hi-Risers. On Saturday at The Mai-Kai, he'll sit in as a fourth member of the roots rock band from Rochester, N.Y., for a few songs.
The Hi-Risers were formed by guitarist Greg Townson, a member of Los Straitjackets since 2010, and bassist/vocalist Todd Bradley back in 1998. The three-piece band will join forces with Los Straitjackets guitarist Eddie Angel for their first appearance at The Hukilau. For 20 years, the band has been constantly touring, recording and releasing rock 'n' roll records with a retro spin. Hi-Tide dropped a new single, Christmas with The Hi-Risers, in December and plans another record before June.
Another Hi-Tide band, Argentina's Los Freneticos, is making its first appearance at The Hukilau. Founded in 2008, this foursome went against the grain of what was popular in their home country to establish a worldwide following with their mash-up of instrumental rock, surf, spaghetti western, and even a bit of punk. A 2012 debut album, El Playa, was followed by another album and global touring. Hi-Tide put out a third record, Teletransportación, in 2019, propelling the band through a full summer of U.S. festival dates. Another recording is due this spring.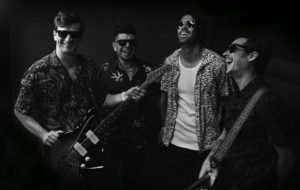 Also new for 2020 is a recently formed "surfxotica" combo, The Manakooras from Charlotte, N.C. Featuring members of surf stalwarts The Aqualads, The Intoxicators, The Penetrators and Satan's Pilgrims, the band combines their love of exotica, surf, and Hawaiian music by employing distinctive instrumentation including lap steel guitar. The band is joining forces with Hi-Tide to release a record by the time The Hukilau rolls around.
Previously announced bands who will be performing at the B Ocean and The Mai-Kai during the rocking five days of festivities are The Intoxicators, The Disasternauts, Gold Dust Lounge, and Skinny Jimmy Stingray. Once again, King Kukulele will emcee the festivities while DJs spinning eclectic tunes will include Brother Cleve, Vincent Minervino and Magdalena O'Connell from Hi-Tide, Spike Marble of The Hula Girls, and Hukilau favorite James Brown's Sweat from South Florida.
The bands and DJs can be found at the B Ocean on Thursday through Saturday during daily Rum Island pool parties and Friday's High Tide Party in the hotel's distinctive Point Room. The Mai-Kai hosts performances during Wednesday's pre-party, Saturday's main event, and Sunday's finale. Performance times will be announced Feb. 15.
More below: Symposiums, classes and pop-up bars
Previous story: Passes and tickets for The Hukilau: 10 things you need to know

The Hukilau 2020 will be held June 3-7 at the B Ocean Resort and The Mai-Kai restaurant in Fort Lauderdale. Featuring live music and retro-themed performances, educational symposiums, vendor marketplace, rum and Tiki cocktail classes, plus 20 top Tiki bars and bartenders from around the world.
Go to The Hukilau.com for tickets, event passes and complete info
* Social media: | Facebook page and Group | Instagram
While the live performances keep the party rocking, there's more to The Hukilau for attendees thirsty for "edutainment" covering everything from rum cocktails, to Tiki history, to vintage clothing. A new symposium, Alfred Shaheen: Iconic Hawaiian Textiles ($10), will offer a deep dive into the largest and most innovative mid-century aloha wear manufacturer. Pull Your Head Out of Your Glass! Secret Treasures of Tiki Bars Hiding in Plain Sight ($10) will offer a deep dive "to uncover the wild, weird and wonderful artifacts found in Tiki bars."
Previously revealed were presentations by music and Tiki historian Brother Cleve (Exotica! The Sound of Tiki, $10), rising New York City bartender Garret Richard (New Traditionalist – Can Cutting-Edge Science Revive Tiki's Forgotten Cocktails?, $59), and The Atomic Grog's Hurricane Hayward (How The Mai-Kai Perfected the Modern Tiki Cocktail, $59).
For the fourth straight year, The Hukilau will offer hands-on cocktail classes as part of its Okole Maluna Cocktail Academy. Students will be treated to an all-new slate of courses, such as Where's the Proof? with bartender and Tiki ambassador Oriol Elias of Spain. Death or Glory owner Ayme Harrison will join forces with Tiki TNT owner Todd Thrasher for Punch Up Your Party – Less Work, More Fun. The most ambitious new class is My Zombie Is Killer!, a "cage match" featuring four bars competing to see who has the best Zombie cocktail. Expanding beyond rum is a new class titled Waiter! What is This Tequila/Whiskey/Gin Doing in My Tiki Cocktail? Tickets for all classes are $59. The symposiums by Richard and Hayward will also count as credit toward a diploma from the academy.
Continue reading "The Surfrajettes, Eddie Angel, The Hi-Risers to headline The Hukilau 2020"