The 10th anniversary Hukilau – featuring four days of music, art, cocktails, vendors, symposiums on Tiki culture and much more – takes place Thursday through Sunday, June 9-12, in Fort Lauderdale. Go to TheHukilau.com for the full schedule and more information on all the performers and guests.
* Related: Hukilau 2010 video preview | A decade of The Hukilau (video)
Rum luminaries to judge annual cocktail contest
In 2010, The Hukilau introduced the Master Mixologist Cocktail Challenge, a high-octane bartending contest in which participants raced the clock to create unique tropical drinks using sponsor rums and exotic mystery ingredients. A panel of Tiki drink experts including artist Josh "Shag" Agle helped crown the first Hukilau Master Mixologist and awarded unique prizes such as custom-sculpted, hand-carved muddler.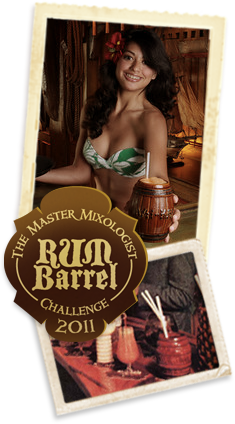 In 2011, the most intimate Tiki gathering in the world honors its 10th anniversary and the 55th anniversary of the historic Mai-Kai restaurant with an epic contest featuring an iconic tropical drink and a panel of acclaimed rum experts. Competitors in "The Master Mixologist Rum Barrel Challenge" will take center stage at Fort Lauderdale's Bahia Cabana Beach Resort on Thursday, June 9, with the task of making a contemporary version of The Mai-Kai's beloved "Barrel O' Rum".
Sponsors of the event represent the new and the old of the booming craft cocktail movement: Montanya Rum, a 3-year-old Colorado micro-distillery that hand crafts award-winning rum in the Rocky Mountains; and Fee Brothers, a four-generation-old, family-owned manufacturer of top quality cocktail mixes, bitters and flavoring syrups since 1863.
Judging the contest will be a who's who of modern Tiki mixology and rum aestheticism: Tiki drink revivalist and author Jeff "Beachbum" Berry ("Beachbum Berry Remixed," "Sippin' Safari"), UK Rumfest founder and global "rum ambassador" Ian Burrell, San Francisco bar owner Martin Cate (Smuggler's Cove), journalist and author Wayne Curtis ("And a Bottle of Rum: A History of the New World in Ten Cocktails"), and New Orleans rum historian Stephen Remsberg. The Rum Barrel Challenge judges (aka the Rum Rat Pack) will also be participating in Beachbum Berry's "Rumposium" special event on Saturday, June 11, at The Mai-Kai. Click here for more on the judges.
Continue reading "The Hukilau challenges mixologists: Can you build a better Barrel?"