Updated July 2015
See below: Our Yeoman's Grog review | Ancestor recipe | Tribute recipe
Related: Navy Grog ice cone: Lost art is revived by cocktail enthusiasts, handy gadget
Mai-Kai cocktail guide
It goes without saying that The Atomic Grog is a big fan of any traditional "grog," and the Yeoman's Grog at The Mai-Kai is one of the best. But where exactly does the the term "grog" come from? And what's the story behind the Yeoman's Grog?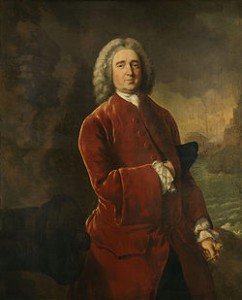 In the British Navy, it became tradition in the mid-1600s to grant all seamen a daily half-pint ration of rum. In 1740, seeking to cut down on rampant drunkenness, Admiral Edward Vernon, nicknamed "Old Grog" because of the cloak made of grogram (a silk fabric) that he always wore, ordered the rum mixed with a quart of water. Some years later, when it was proven that citrus fruit prevented scurvy, lime juice was added to the mix. The world's first proper tropical drink was born, named the "Navy Grog" after Old Grog himself.
Roughly 200 years later, when tropical drinks were all the rage, a greatly enhanced version of the Navy Grog was popularized by Donn Beach (aka Don the Beachcomber) and Victor Bergeron (aka Trader Vic). When The Mai-Kai opened in 1956, mixologist Mariano Licudine created the Yeoman's Grog, based heavily on Donn Beach's version, which he knew well from his years working at Don the Beachcomber in Chicago.
But Licudine took the Yeoman's Grog to the next level by lifting the best element of Trader Vic's Navy Grog – allspice liqueur, aka pimento dram. This is one of those special, subtle ingredients we've noted in past reviews (see the Deep Sea Diver and Rum Julep), but it really takes a starring role here. But, as usual, Lucudine gave it his own special touch (see tribute recipe below).
Continue reading "Mai-Kai cocktail review: Even landlubbers can appreciate a strong ration of Yeoman's Grog"