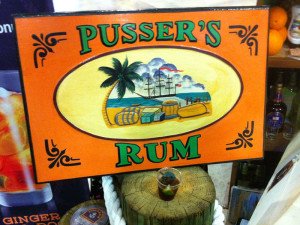 No other spirit has as deep and rich a legacy as rum, best exemplified by the fascinating story of the 300-year history of the daily ration given to members of the British Royal Navy.
It's a tasty tale that involves much more than the stereotypical swashbuckling pirates and drunken sailors who prowled the Caribbean. These intrepid seamen were arguably the first rum connoisseurs, creating blends centuries before Scotch and other sipping spirits. They also created the Grog, arguably the world's first cocktail.
See below: Recipe for the Atomic Painkiller, an Atomic Grog take on the classic
Related: Summer of rum: South Florida hotspots give cool spirit a chance to shine
There's no better person to share this story than rum expert Paul McFadyen, co-owner of the Trailer Happiness bar in London and brand manager for Plantation Rum in the United Kingdom. McFadyen presented his Navy Rum seminar in April 2013 at the annual Miami Rum Festival, which had another successful run in 2014 and will return for its seventh year in 2015.
Continue reading "Rum and the British Navy: When men were men, and sailors drank Daiquiris"