Updated Oct. 18
Since the coronavirus pandemic descended upon the world like a horror movie come to life, bars and restaurants have been forced to adapt in new and creative ways. Rather than cancel its traditional Halloween party, The Mai-Kai in Fort Laudedale reached back into the past for inspiration.
True to its roots as a mid-century icon, the historic Polynesian restaurant will reanimate its parking lot as a drive-in monster movie theater, complete with a big screen showing an infamous 1960s-era horror film. The 12th annual Hulaween promises to be one of most devilishly distinctive holiday events to grace the South Florida calendar.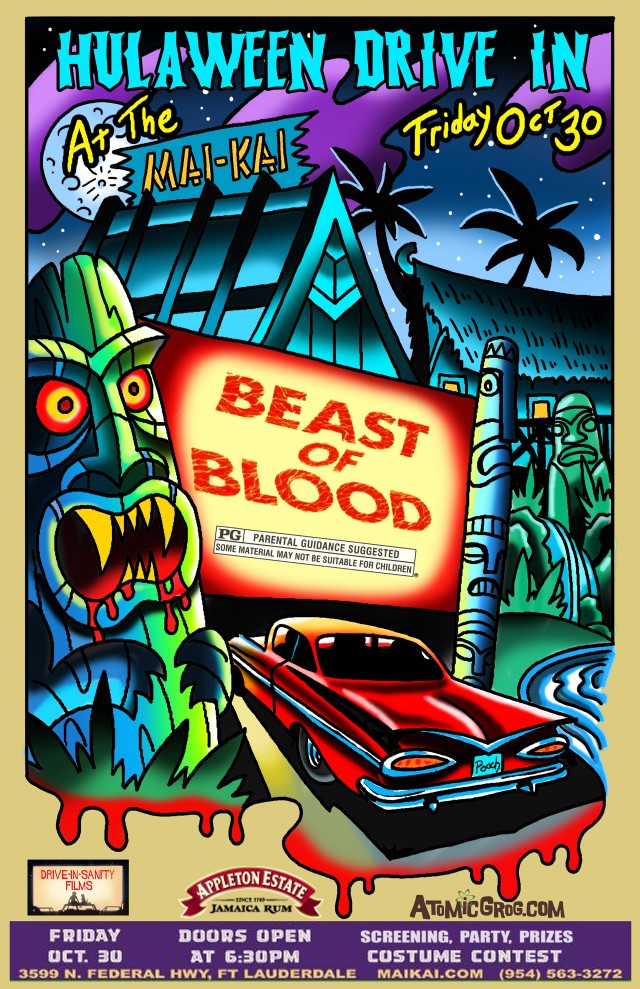 Artwork by Mike Pucciarelli (
aka Pooch
)
*** Friday, Oct. 30 – Hulaween Drive-In Movie at The Mai-Kai featuring a screening of Beast of Blood, costume contest and prizes, food and drink specials, plus more. Times: Event starts at 6:30, movie at 8 p.m. Cost: $30 per vehicle. Sponsored by Appleton Rum and Drive-In-Sanity Films.
UPDATE: This event is sold out! | Facebook event
The 63-year-old restaurant and its Molokai lounge have been open with limited capacity and social distancing since early June, following an extended closure due to the pandemic. And while business is slowly returning to normal, management decided that the only way Hulaween could reawaken in 2020 was to think outside the box.
A relationship with Drive-in Sanity Films owner David Sehring and the Fort Lauderdale International Film Festival led The Mai-Kai's longtime events guru, Pia Dahlquist, to propose something new and exciting.
This socially-distanced drive-in theater event, complete with a kitschy B-movie, is sure to please anyone seeking a safe but scary thrill for Halloween. Vehicles will fill most of The Mai-Kai's expansive back lot, but parking will be staggered and spaced out to allow a comfortable viewing experience. The film festival will provide a 33-foot screen along with staffing and technical assistance that will include streaming the movie soundtrack (along with a special pre-movie block of music videos) to the FM radio airwaves.
An extensive menu of food and adult beverages will be available from The Mai-Kai's takeout menu for Hulaween guests. Pre-ordering is suggested to avoid a wait. Your order will be delivered to your car window when you arrive. The bar and restaurant will be open as usual, so popping into The Molokai is always an option, especially during happy hour (5-7 p.m.). There will also be specials announced exclusively for Hulaween guests.
Mai-Kai takeout menus: Food | Tropical drinks | Wine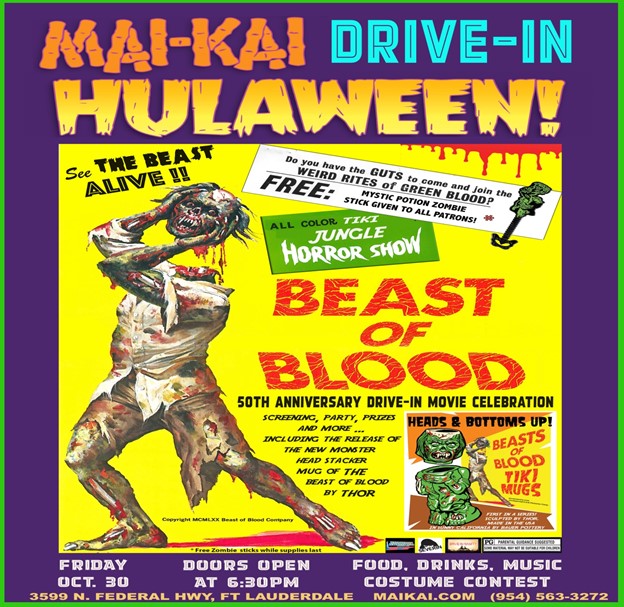 Continue reading "Safe and scary fun: Hulaween Drive-In Movie at The Mai-Kai on Oct. 30"