Updated July 2015
See below: Our Special Planters Punch review | Ancestor recipe | Tribute recipe
Related: This Planters lacks the punch of it's special cousin | Mai-Kai cocktail guide
The prototype of the Planter's Punch dates back 200 years and could be considered the template for every tropical drink that followed. The Mai-Kai's strong Special Planters Punch is an overlooked classic on a cocktail menu full of classics. Just don't confuse it with the medium-strength (and much less flavorful) Planters Punch.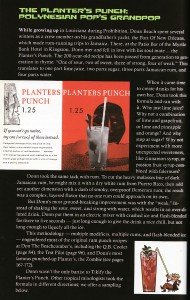 In his 2010 book, Remixed, Tiki cocktail historian Jeff "Beachbum" Berry theorized that Donn Beach discovered the Planter's on one of his rum-running trips to Jamaica during Prohibition. Click on the article at right for Berry's excellent research on how the Planter's Punch influenced nearly every 20th century Tiki drink, from the Q.B. Cooler to the Zombie.
Of course, Donn Beach went on to open the world's first Tiki bar, Don the Beachcomber, in 1934 in Los Angeles. He had five versions of the Planter's Punch on his 1930s bar menu, Berry writes in Remixed. Of those, Don's Own Planter's (see recipe below), is most likely the version that inspired The Mai-Kai's Special Planters Punch. If you've been following these reviews, you'll know that The Mai-Kai's original mixologist Mariano Licudine was privy to Donn Beach's recipes during his 16 years working at Don the Beachcomber restaurants in L.A. and Chicago.
Continue reading "Mai-Kai cocktail review: Special Planters Punch is tropical drink history in a glass"