The inaugural Miami Rum Congress was an unqualified success, a star-studded gathering of rum industry experts that sold out the cozy and picturesque Shane Center in Miami Beach.
GALLERY: Scroll down to see the photos
Hosted by Federico Hernandez of The Rum Lab and global rum ambassador Ian Burrell, the event spotlighted many of the world's top boutique brands while presenting serious discussion of today's hottest industry issues. The tasting room featured new and exclusive bottles from a number of the most acclaimed producers and distillers, such as Foursquare's Richard Seale of Barbados.
Other brands and distillers in attendance included Appleton and Wray & Nephew, Banks, Bounty, Caliche, Damoiseau, Deadhead, Don Q, English Harbour, Gosling, Habitation Velier, Hamilton, Hampden Estates, Mezan Rum, Montanya, Monymusk, Mount Gay, Plantation, Pusser's, Rhum Clément, Rhum J.M., Ron Abuelo, Ron Barceló, Ron Brugal, Ron Centenario, Ron del Barrilito, Ron Diplomatico, Rum Fire, Rum-Bar, Saint Benevolence, Smith & Cross, Santa Teresa, The Scarlet Ibis, Tanduay, and Worthy Park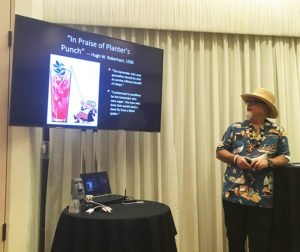 In addition to the wonderful Foursquare "Exceptional Cask" rums, I was intrigued and excited to get my first taste of outstanding spirits from Plantation (including the elusive Xaymaca), Jamaica's Monymusk (coming soon to the U.S. market), Hamilton (the rebranded West Indies blend), Venezuela's Ron Diplomatico (look for the new Distillery Collection), Saint Benevolence (a Caribbean blend that directs all profits to the needy island of Haiti), and Martinique's Rhum J.M. (the 1996 vintage was perhaps the best rhum agricole I've ever had the pleasure of tasting).
I caught several informative seminars, capped off by the South Florida return of author and Latitude 29 barkeep Jeff "Beachbum" Berry, regaling us with "Brigands, Barons & Beachcombers – The Many Faces of Planter's Punch." Meanwhile, importer and Ministry of Rum founder Ed Hamilton followed up his first-ever rum tasting at The Mai-Kai on Thursday with a no-holds-barred look at changes in the rum market over the past 25 years. We'll be posting expanded coverage of both of these talks soon.
Continue reading

"Photos: VIPs, connoisseurs of fine spirits flock to first Miami Rum Congress"