Tiki and bingo: Two things that go great together. The South Florida chapter of the Fraternal Order of Moai has proven that to be true over the past five years with a popular and ongoing series of monthly charity events at The Mai-Kai. The non-profit Tiki fraternal group kicks off its 2019 season tonight.
Jan. 17 – Tiki Bingo at The Mai-Kai in Fort Lauderdale hosted by the Gumbo Limbo Chapter of the Fraternal Order Of Moai. A fund-raising event featuring an extended happy hour.
The Tiki Times: See all the upcoming events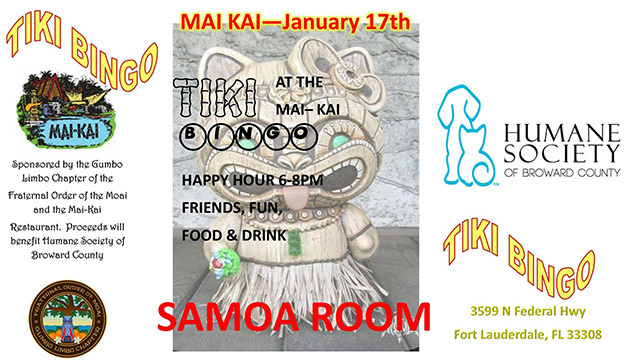 About Tiki Bingo at The Mai-Kai
The Fraternal Order of Moai (aka the FOM) has long been a proponent of fun social events that also raise money for its favorite charities. While the annual Ohana: Luau At The Lake in Lake George, N.Y., is the group's major flagship event, the nine active chapters across the country also hold regular, more intimate gatherings for the general public as well as members. One such event is Tiki Bingo at The Mai-Kai, which will celebrate its fifth anniversary in May.
Held nearly every month on a Thursday in one of The Mai-Kai's most historic and secluded dining rooms, Tiki Bingo gives locals a chance to socialize and have a good time while raising a few bucks for those in need. The Samoa Room was part of the restaurant's original structure built in 1956 and most famously contains shadowboxes featuring what are reported to be actual shrunken heads from the South Pacific. It seats around 50 people and is the perfect spot for a small group.
Continue reading

"Event preview: 2019 Tiki Bingo season kicks off at The Mai-Kai"