There's nobody better suited to represent rum than the globe-trotting Ian "Rum Ambassador" Burrell, a UK native of Jamaican descent who seems to have the fun and lively spirit running through his veins. If you live anywhere on this planet, he's likely been at an event nearby, spreading the gospel of cane spirits. Last year, he amazingly made appearances on all seven continents.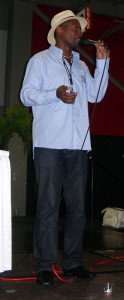 This week, he's back in South Florida for the annual Miami Rum Festival, where he always puts on an informative and entertaining show, whether it's at a seminar (this year, he's presenting "The Wonderful NEW World of Tiki Cocktails: 10 Reasons Why It's Here to Stay"), or just hanging out and tasting rums. We caught up with Ian at last year's rum fest directly after his spirited debate with Jeff "Beachbum" Berry over who was the true rum ambassador, and we posed the five questions you'll find below.
2014 Miami Rum Festival recaps:
* Upstart spirits share spotlight with major players
* Cocktails reach new heights of creativity
Interview with Ian Burrell by Jim "Hurricane" Hayward – April 20, 2013
1. What's the best thing about being rum ambassador?
"Free rum. No really, the best thing about being rum ambassador is traveling and meeting people. And learning from people around the world: Industry, rum lovers. That's the best thing."
Continue reading "Take 5: Ian Burrell, global rum ambassador and organizer of the UK RumFest"