Updated April 2, 2013
See below: Our Island Queen review | Ancestor recipe | Tribute recipe
Related: Mai-Kai cocktail guide | More "lost cocktails"
Over the course of more than 50 years, the outstanding tropical drinks at The Mai-Kai restaurant have proved to be both enduring and mysterious. And some of the biggest mysteries involve those "lost classics" that no longer appear on the menu, such as the Island Queen.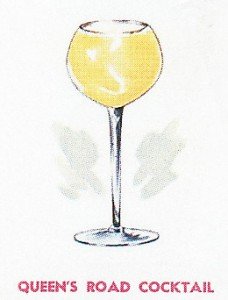 I thought I had this mystery solved, posting this review last week declaring the drink a rare original concoction by the late, great Mai-Kai mixologist Mariano Licudine. But it appears I was out-sleuthed by another master, Tiki bar historian and author Jeff "Beachbum" Berry. As the Bum correctly pointed out soon after I published the original Island Queen review, it bears a striking resemblance to Don the Beachcomber's Queen's Road Cocktail, which appears in his excellent 2007 book, Sippin' Safari. (Be sure to read the chapter on Licudine and The Mai-Kai.)
So after further research (see ancestor recipe below), the genealogy of the Island Queen has been updated to include it on the long list of Mai-Kai cocktails that are retooled versions of classics created in the 1930s and '40s by Tiki bar pioneer Donn Beach, aka Don the Beachcomber. The updated Mai-Kai family tree now lists a total of 40 drinks (including 31 on the current menu) that can be traced back to Beach, who originally hired Licudine at his Hollywood, Calif., flagship restaurant back in 1939. Prior to that, Licudine spent five years as a private chauffeur and personal mixologist for the legendary Laurel and Hardy comedy team.
Continue reading "Mai-Kai cocktail review: True origins of a lost classic, the Island Queen, are revealed"