Updated Aug. 27, 2019
What could possibly be better than an Appleton Estate rum tasting at The Mai-Kai? How about the first-ever such event at the historic Polynesian palace hosted by Joy Spence, the longtime master blender for the venerable Jamaican brand synonymous with pure premium rum.
Quick links below
* 5 things you might not know about Joy Spence
* 12 things we learned about how Appleton rum is made
* How Joy Spence wants you to experience Appleton Estate rums
Recipe: Joy Spence's favorite rum cocktail
* Event preview, Joy Spence biography and Appleton rum overview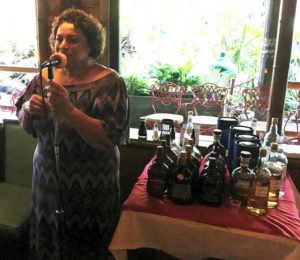 The 50 or so enthusiasts who were lucky enough to score a ticket to the sold-out presentation on Aug. 14 were in for a treat. In addition to four delicious Appleton rums, we enjoyed a complimentary Mai Tai and happy-hour prices on The Mai-Kai's extensive cocktail and pupu menus.
But the most valuable take-away was undoubtedly the fascinating first-hand information provided by the world's first female master blender. Her articulate and straightforward delivery, sprinkled with entertaining and whimsical anecdotes, made the rum-tasting experience a true Joy.
Here are some of the many insights we learned from Spence during her hour-long appearance in the Fort Lauderdale restaurant's Tahiti dining room:
5 things you might not know about Joy Spence
* In her youth, she went to an all-girls catholic school and originally wanted to become a nun. "But I'm an only child, and when I told my mother I wanted to become a nun she marched down to the school and told the principal that she needs grandchildren." Luckily for Appleton Estate and Jamaican rum devotees worldwide, she never joined the convent.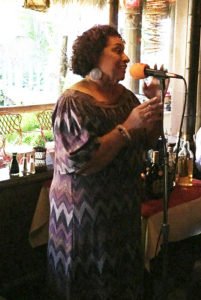 * Spence went to college to become a doctor, but she ended up concentrating on her passion for chemistry. When it came time to get some industry experience, she joined Tia Maria as a research chemist. At this time, the company that makes the dark Jamaican liqueur was located right next to J. Wray & Nephew, which makes Appleton Rum.
* She was bored at Tia Maria and always noticed the action at the "happening place" across the road, so in 1981 she sent a resume and set up an interview. "They told me right up front that there were no vacancies," she said, but two weeks later they offered her a new position as chief chemist because they were so impressed with her resume. Despite the salary being less than her current job, she left Tia Maria and the rest is rum history.
* As chief chemist, Spence worked closely with the master blender, Owen Tulloch. "I became very fascinated with what he was doing in his private room," she said, and her curiosity led her to knock on his door and find out. Spence recalled: "He started to test me and said 'you have amazing sensory skills. You'll become an excellent blender one day.' So he took me under his wing and I studied with him for 17 years. When he retired, my bosses took a very bold move to appoint me as the master blender. No other woman had ever been given that position in the entire spirits industry. They actually got a lot of flack for it, but they knew what they were doing. My whole life changed after that."
* The first rum she oversaw as master blender was the Appleton Estate 250th Anniversary release in 1999. She said her knees where shaking during the process. She wasn't sure how it would be received, "but I got an excellent reaction" and "that gave me the strength and courage to continue and make the other blends that we now have in our portfolio."
12 things we learned about how Appleton Estate rum is made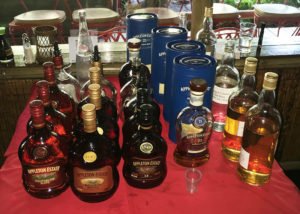 * Appleton Estate, est. 1749, is located in the lush and tropical Nassau Valley. "Believe it or not, it rains every day at 2 p.m., so we don't have to worry about irrigation," Spence said. This rainfall feeds the limestone springs beneath the ground, as well as the robust sugar cane crop.
* The estate grows 10 varieties of sugar cane year-round. The crop is harvested between January and May and crushed to yield juice. The juice is then boiled, resulting in crystals of sugar suspended in molasses. A massive centrifuge separates the two. The sugar is sold, and the leftover molasses is pumped over to the distillery, becoming the starting material for the rum.
* The limestone springs – which produce a distinctive turquoise blue water with "a nice soft, sweet taste" – are Spence's favorite part of the estate. "When I'm feeling depressed and down, I take a glass of Appleton Estate Reserve, drive over to the water source, sit on a rock, and enjoy the beauty of the springs. I sip the Reserve, and by the time my glass is finished, all my troubles have been washed away and I'm ready to go back and face the problems of the distillery." This unique spring water is added to the molasses.
Continue reading "What we learned at Appleton master blender Joy Spence's rum tasting at The Mai-Kai"