Updated on Sept. 22
Since its release last December, Beachbum Berry's Potions of the Caribbean: 500 Years of Tropical Drinks and the People Behind Them has set a new standard for cocktail history books. Chock full of vintage photos and artwork, detailed research and stories, not to mention 77 recipes, the 317-page hardcover opus was recognized in July as Best New Cocktail/Bartending Book at the annual Spirited Awards during Tales of the Cocktail in New Orleans.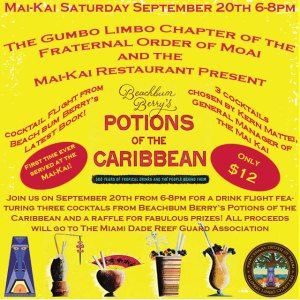 While critics raved, fans devoured the cocktails along with the stories, creating a unique drinking and reading experience. At Fort Lauderdale's famous Mai-Kai, which is featured in the the book, general manager Kern Mattei was so impressed with the classic recipes he decided to feature some of them during a one-night-only event on Saturday, Sept. 20.
See below: Virgin Island Kula recipe
From 6 to 8 p.m. in the restaurant's Molokai bar, Mattei and his staff presented a flight of three cocktails straight from the pages of Potions of the Caribbean. It was the first time ever that these drinks were served in the nearly 58-year history of The Mai-Kai. And at just $12, it was a great bargain. The bar's regular happy hour started at 5 and revelers stayed well past 8 as they enjoyed many of The Mai-Kai's nearly 50 acclaimed tropical drinks. Tables were also filled with Pupu Platters and other small plates as a crowd of more than 50 filled the back section of the bar.
Continue reading "Special event at The Mai-Kai takes guests on a flight back to classic 'Potions of the Caribbean'"