Updated June 2018
See below: Our Tiki Swizzle review | UPDATE: Official recipe
Related: New cocktail menu unveiled at anniversary party | Mai-Kai cocktail guide
NEW: The Mai-Kai updates bar menu, adds classic 'lost' cocktail
In 2014, when The Mai-Kai rolled out the first major update of its classic menu of tropical drinks in decades, it also made the rare introduction of a new cocktail. The Tiki Swizzle also held the distinction of being the only drink on the menu to feature spiced rum.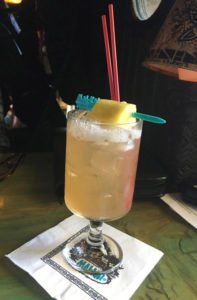 Unfortunately, the Tiki Swizzle's a run on the menu didn't last long. It was removed during the next major menu update in May 2018, replaced by the iconic Suffering Bastard.
While four years may be a long run on a menu at a modern craft cocktail bar, it's merely the blink of an eye at The Mai-Kai. Most of the drinks have been on the menu for decades, and a majority date back more than 60 years to the restaurant's 1956 inception.
The Tiki Swizzle now joins a small group of "lost cocktails" that were removed from the menu over the years. While certainly not as iconic as the Demerara Float or Liquid Gold, it does have a back-story and history that connects it to the current Tiki revival.
The drink was introduced at The Hukilau in June 2013, created by The Mai-Kai for Kahakai Tiki rum. It was promoted in the months that followed on special table cards in The Molokai bar and proved to be so popular that it made its way onto the revamped menu.
Continue reading "Mai-Kai cocktail review: Tiki Swizzle bows out, joins list of 'lost cocktials'"