Recaps and photos – Updated June 16, 2012
* 'Mai-Kai Mixer' shakes up South Florida with rockin' retro cocktail party
* Cocktail flights soar at Mai-Kai Mixer, reveal revolutionary use of rums
Event preview:
Join The Atomic Grog on Saturday, June 9, for a special party featuring exclusive flights of Mai-Kai cocktails, live surf music, and a DJ spinning retro tunes all night long. The event runs from 6 to 11 p.m. in The Molokai bar.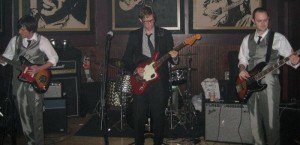 This first "Atomic Grog Mai-Kai Mixer" will mark the completion of 52 weeks of cocktail reviews, covering the entire menu of renowned tropical drinks at the legendary Polynesian palace in Fort Lauderdale. The flights, featuring three sample versions of these classic cocktails, will spotlight the recently reintroduced Lemon Hart Demerara rum. Click here for the full story.
But that's not all. There's a full evening of entertainment on tap. The party gets into high gear after happy hour with DJ Mike "Jetsetter" Jones and two sets of live surf music from South Florida's Skinny Jimmy & The Stingrays. If you caught this authentic instrumental surf band opening recently for Dick Dale in West Palm Beach and Miami, you'll know you're in for a treat. And the Jetsetter will mix things up with his eclectic blend of surf, lounge, exotica, reggae, ska, classic punk and more.
Continue reading "'Mai-Kai Mixer' on June 9 serves up cocktail flights, live music and DJ dance party"