Updated July 2018
See below: Suffering Bastard review | UPDATED: Tribute recipes
NEW: The Mai-Kai updates bar menu, adds classic 'lost' cocktail
Related: Trade in Vic's Mai Tai for this classic | Mai-Kai cocktail guide
More "lost cocktails" | Tropical drink family tree
Three classic 'lost cocktails' drop in for a night of flights at The Mai-Kai
When The Mai-Kai updated its cocktail menu in May 2018, a decision was made to revive one of the classic "lost cocktails" from the notebook of original mixologist Mariano Licudine, who led the bar program from 1956 to 1979. There were nearly a dozen to choose from, many of them ionic drinks that Licudine had brought with him from his days working for Don the Beachcomber in the 1940s and '50s.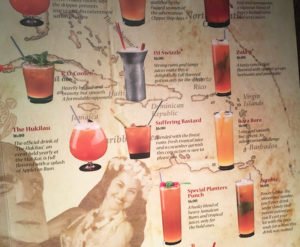 Over the past five years, these lost cocktails have been featured at multiple special events, from The Hukilau to The Mai-Kai's 60th anniversary party. In 2017, a special "Flashback Friday" promotion gave guests the opportunity to sample a different retired cocktail each month on that designated day. While many were popular, one stood out and earned a spot on the main menu, even though it was never on the menu to begin with.
The Suffering Bastard was de rigueur at mid-century Tiki bars. Like many other popular tropical cocktails of the era, it was bastardized (pun intended) and retooled to fit the needs of each particular establishment. The Trader Vic's version was perhaps the most well-known, instantly recognizable by the iconic Suffering Bastard mug.
The Mai-Kai was no exception, but for reasons unknown it never appeared on the menu. Taking a cue from Trader Vic, Licudine created his Suffering Bastard as an alternative take on the Mai Tai. Of course, The Mai-Kai's Mai Tai is nothing like Vic's, and neither is the Suffering Bastard. Licudine did appropriate one distinctive touch from Vic: A large slice of cucumber as garnish. As odd as it seams, it really does work.
The original Suffering Bastard, sans cucumber, was created in 1942 at Shepheard's Hotel in Cairo by mixologist Joe Scialom, a fascinating story uncovered by tropical drink historian and author Jeff "Beachbum" Berry. Scialom's recipe – which includes gin, brandy, Rose's lime juice, Angostura bitters and ginger beer – was revealed in the 2010 book, Beachbum Berry Remixed. An entire chapter is devoted to Scialom in Berry's 2013 epic hardcover, Potions of the Caribbean: 500 Years of Tropical Drinks and the People Behind Them.
Before Berry and other Tiki revivalists came along in the 1990s, many of these classic cocktails were long forgotten. Without a slot on the menu at The Mai-Kai, it's possible that the Suffering Bastard languished for decades in Licudine's notebook before being rediscovered. The latest version includes a few new tweaks, so we've added a new tribute recipe below.
Continue reading "Mai-Kai cocktail review: Suffering no more, this Bastard finally gets a chance to shine"