MODERN RETRO DISNEY WORLD
This is the first in a series that will spotlight The Atomic Grog's picks of the top "modern retro" features at the world's top tourist mecca. Disney World is a vast ocean of fun and frolic for all ages, but it's easy to overlook the classic, timeless elements that make the massive resort special. It can be enjoyed on many levels – from the totally immersive, escapist experience in the theme parks to the many unique restaurants, bars and hotels. But what makes the fantasy complete is the incredible innovation, artistry and attention to detail that spans more than 40 years. The Atomic Grog is dedicated to celebrating and preserving cool mid-century kitsch, and there's much of this to admire and embrace in "the happiest place on earth." Is Disney World hip? Hardly. But it can still be enjoyed by geeky hipsters (and hipster geeks) with not a shred of irony. We hope you enjoy the ride with us.
Related: Disney World is still cool at 40 thanks to retro artists Shag, Kevin & Jody
July 2013 update: Tiki Room celebrates 50 years of enchantment
WALT DISNEY'S ENCHANTED TIKI ROOM
Photos: Jump to the gallery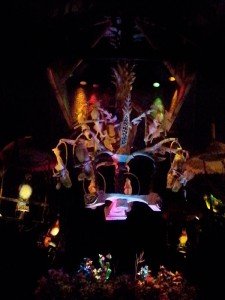 Location: Adventureland in the Magic Kingdom theme park.
What is it? An indoor attraction themed to a Polynesian paradise featuring a colorful menagerie of flowers, Tikis and 200 performing Audio-Animatronic birds.
Origins: An opening-day attraction On Oct. 1, 1971, the Enchanted Tiki Room was originally known as Tropical Serenade. It was re-imagined and re-opened in 2011 under its current name with a show that pays tribute to the original Enchanted Tiki Room in Disneyland.
Claim to fame: The Disneyland attraction was the first to feature the Disney invention of Audio-Animatronics and was reportedly Walt Disney's favorite.
Continue reading "Modern Retro Disney World: Walt Disney's Enchanted Tiki Room"