Jeff "Beachbum" Berry is extremely passionate about Tiki, tropical drinks and The Mai-Kai. In April, we caught up with the author of such essential Tiki cocktail bibles as Grog Log and Sippin' Safari in his natural habitat (The Mai-Kai gardens) and posed the following questions.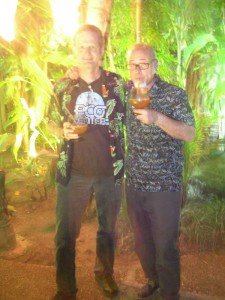 Interview by Jim "Hurricane" Hayward
1. If you could transport yourself for one night back in time to any Tiki bar or restaurant, what would it be and when?
That would be Don the Beachcomber's in 1934: Ground zero, the big bang, the creation of the Tiki bar as we know it – by Donn, right after Prohibition. I would have loved to have seen what that was like.
2. If Food Network or the Travel Channel came to you and said, "Pitch us a show about tropical drinks," what would you suggest?
I would suggest that they just take their suggestion and shove it. Because none of those channels, none of those hosts, none of that garbage is about what these places are about. What these places are about is "aloha," it's about the spirit of true hospitality, of welcoming, of making you feel important, of making you feel good. All of these TV channels traffic in all of this competition bullshit, where restaurants are not places to go to relax and unwind. Where you get stressed out and compete against your fellow chefs or bartenders. I hate all that. That's the antithesis of the true spirit of hospitality, of genteel camaraderie, of going to a place to exchange confidences and emotions, and happy experiences with people that you either know or you've met at these places. It's not about competition, it's not about who's the best, it's not about some guy with spiked hair telling you about the awesomeness of the food. That's just artificial garbage. … All these people are self-appointed experts. They don't know anything about anything.
Continue reading "Take 5: Jeff "Beachbum" Berry, Tiki cocktail author and historian extraordinaire"