In 64 years, The Mai-Kai has never failed to celebrate the anniversary of its Dec. 28, 1956, opening with its own distinctive flair. This year will be no exception, despite a global pandemic and an unfortunate roof collapse in October that forced the restaurant's temporary closing.
Jump to more features below
Photos: The Mai-Kai's Polynesian Islander Revue
News: Extent of flooding damage, closing detailed
On Monday, the owners of the historic landmark in the Fort Lauderdale suburb of Oakland Park will open up their vast parking lot for Under The Mai-Kai Moon, the 2020 version of the annual Customer "Mahalo" Appreciation Party. The socially distanced event sold out less than a week after going on sale.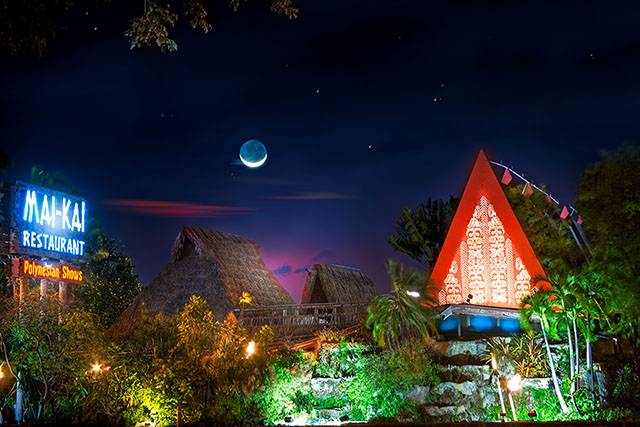 The event is not just a bittersweet celebration. Proceeds will benefit laid-off employees as well as keeping The Mai-Kai in business until repairs are finished. Unfortunately, it could be a long process (see below).
Since 1962, the centerpiece of any celebration at The Mai-Kai has been the Polynesian Islander Revue, the longest-running authentic South Seas stage show in the United States, including Hawaii. Under The Mai-Kai Moon will feature three performances by the acclaimed group, which includes dancers and musicians from islands in every corner of Polynesia.
Cars will be spread out across the 150-space lot behind the restaurant with gaps in between to allow a "tailgate party" atmosphere, except it won't be BYOB. The Mai-Kai will be selling several signature cocktails as well as beer, wine and soft drinks. One or more food trucks will be on hand to provide ample options for noshing.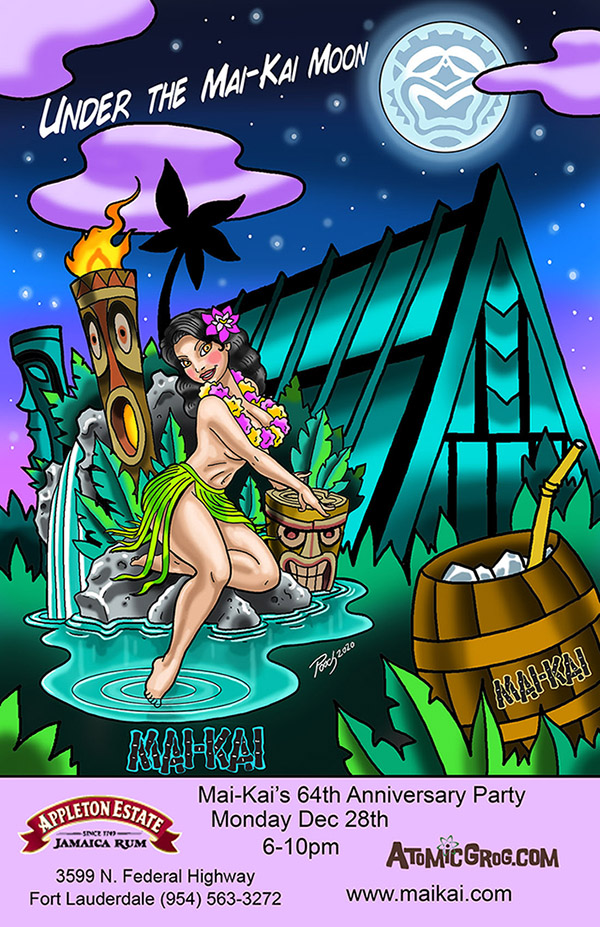 The event will run from 6 to 10 p.m., and vehicles can arrive as early as 5:30. Unlike the recent Hulaween Drive-In Movie party, there's no cutoff time on arrivals. All parking spots will allow views of the performances, and guests can spread out their folding chairs in adjoining empty spaces.
You'll want to be there by 8 p.m., however, to catch the first of three shows by the Polynesian Islander Revue. The performances will be staged on a flatbed truck, which will be moved around to different locations to allow all cars a good view, according to The Mai-Kai's director of public relations, Pia Dahlquist. A DJ will also be spinning tunes to keep the atmosphere lively.
Two of The Mai-Kai's signature drinks – the Barrel O' Rum and Mai Tai – will be sold by the quart and glass. The Vodka Barrel will also be available by the glass along with beer, wine and sodas. There will also be a complimentary champagne toast for everyone at 9.30 p.m.
Continue reading "The Mai-Kai celebrates 64th anniversary under the moon as challenges loom"