Author and cocktail historian Jeff "Beachbum" Berry solidified his standing as the "Indiana Jones" of Tiki mixology with his first branded product, unearthing a long-lost gadget from the catacombs of mid-century bar culture: Beachbum Berry's Navy Grog Ice Cone Kit.
See below: Putting the ice cones to the test | Vintage Navy Grog recipe
Related: Jeff Berry proves he's never too busy to be a 'Beachbum'
Mai-Kai cocktail review: Even landlubbers can appreciate a strong ration of Yeoman's Grog
* Buy the Navy Grog Ice Cone Kit now from Cocktail Kingdom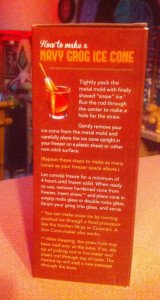 The Navy Grog (aka Yeoman's Grog, Captain's Grog, et al.) "was one of the most popular drinks until the Mai Tai came along," Berry said during a symposium at The Hukilau in June 2013. "It's a lovely combination of three rums, two fruit juices, a little spice, a little syrup." But just as much as its taste, it's distinguished by a cone of ice protruding from the glass, neatly encasing a straw. The cocktail emerged in the early 1940s and was a mainstay of Tiki bars well into the 1970s. But as mixology in general, and Tiki cocktails in particular, devolved during the ensuing decades, the ice cone disappeared.
When Berry began gathering recipes for his first book, this technique had been long forgotten. As far as Berry knew, only the historic Mai-Kai in Fort Lauderdale was still serving a drink with a traditional ice cone (a descendant of the Navy Grog called the Yeoman's Grog) when he put together Grog Log, released in 1998.
Some 15 years and five books later, Berry teamed up with Cocktail Kingdom to create a metal mold that perfectly re-creates a vintage ice cone. The finished product works not only in the Navy Grog, but any drink that fits in an 8-ounce rocks glass as well as a larger Mai Tai glass.
Continue reading "Navy Grog ice cone: Lost art is revived by cocktail enthusiasts and a handy gadget"