Updated November 2016
See below: Our Oh So Deadly review | Ancestor recipe | UPDATE: Tribute recipe
Related: Mai-Kai cocktail guide
Oh So Deadly is a deceptive name since the cocktail is actually from the mild section of The Mai-Kai's extensive menu. It packs intense flavors, however, ranking it among the best of the mild drinks.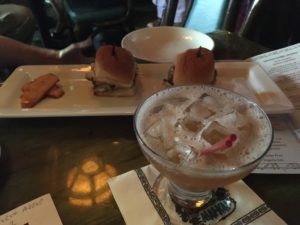 Until recently, we were convinced that cinnamon was a featured ingredient. When this guide was launched in 2011, Oh So Deadly was among 10 cocktails that we thought contained cinnamon syrup, a key secret weapon of Tiki bar pioneer Don the Beachcomber. Many of The Mai-Kai's best drinks are direct descendants of Beachcomber classics from the 1930s through 1950s, when original mixologist Mariano Licudine tended bar at Don the Beachcomber restaurants in Hollywood, Calif., and Chicago. In this case, Oh So Deadly can be traced back to Never Say Die.
In 2012, we posted our take on Oh So Deadly featuring cinnamon and considered this among our better tributes. However, in June 2015 we learned that cinnamon syrup is not featured in any of the current cocktails. Manager Kern Mattei and owner Dave Levy assured me that it's not used anywhere on the menu, though the cinnamon sticks used for garnish in several of the drinks can give you that illusion. This caused a minor stir on Tiki Central, where Mai-Kai cocktail fans debated the revelation.
The distinctive juices, rums and syrups used at The Mai-Kai have always given the cocktails a unique flavor that's nearly impossible to duplicate. The phantom cinnamon flavor in drinks such as Oh So Deadly just reinforces that fact. The juices come fresh-squeezed from South Florida groves, the rums include bold Jamaican and Demerara brands, and the syrups are house-made following mysterious recipes that only Levy knows.
More recently, the recipe was tweaked to add falernum, which gives it an added boost of flavor. This Caribbean syrup features many exotic flavors, including almond, ginger, cloves, and lime. It's featured in multiple drinks on the menu, including Cobra's Kiss, Mai-Kai Swizzle and S.O.S. Oh So Deadly contains a healthy dose of falernum, making it perhaps the best showcase of all.
What also sets it apart from many of the other mild drinks is the inclusion of two of The Mai-Kai's most distinctive rums (Demerara and dark Jamaican). The mild cocktails typically contain light and gold rums that don't impart as much flavor. Oh So Deadly is an exception to that rule.
Continue reading "Mai-Kai cocktail review: A delicious and Oh So Deadly treat"