Updated July 2018
See below: Our S.O.S. review | Ancestor recipe | Tribute recipe
Related: Mai-Kai cocktail guide
Most classic Mai-Kai cocktails can be traced back to tropical drink pioneer Donn Beach (aka Don the Beachcomber), and the S.O.S. is no exception. Most are easy to spot due to the similar names (Cobra's Fang = Cobra's Kiss, Pearl Diver = Deep-Sea Diver). But others are a little harder to trace.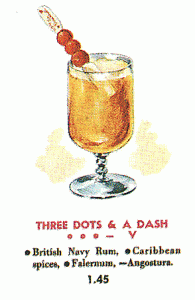 The clue to the origins of S.O.S. is actually the garnish: the distinctive three speared cherries. In reviewing old Don the Beachcomber menus, it's hard to miss the classic Three Dots and a Dash, a tribute to Americans fighting overseas. "Three dots and a dash" was Morse code for "victory" during World War II, when Donn Beach created the drink. Beach served in the Army Air Corps and was awarded the Purple Heart and Bronze Star.
Thanks to tropical drink historian Jeff "Beachbum" Berry and his 2007 book, Sippin' Safari, we also have the recipe to compare. Mai-Kai mixologist Mariano Licudine, who knew Donn Beach's recipes well from his days slinging drinks at Don the Beachcomber in Los Angeles and Chicago, simply changed the name to S.O.S. and tweaked the complex recipe to make it a bit more user friendly.
The result is a highly recommended cocktail from the mild side of The Mai-Kai's menu, full of nuances yet still not too overpowering. Be sure to pick up the expanded and updated 10th anniversary edition of Beachbum Berry's Sippin' Safari, featuring many new and historic recipes, a new hardcover design with additional photos, plus forward and afterward that chronicle the years leading up to the Tiki revival plus the influence the book has had over the past decade.
July 2018 update: The S.O.S. was one of three cocktails featured at The Hukilau in Fort Lauderdale in June in Hurricane Hayward's Okole Maluna Cocktail Academy class, "How to Mix Like The Mai-Kai." In the sold-out event, students learned tips and techniques for turning their home bars into a Tiki cocktail paradise by exploring the key elements of Mai-Kai cocktails.


(Atomic Grog photos from The Hukilau's Okole Maluna Cocktail Academy at the Pier Sixty-Six Hotel & Marina on June 8, 2018)
After explaining the importance of fresh Florida juices, Hayward demonstrated how to make the S.O.S. tribute recipe while the class received sample drinks. The juices and syrups, along with a simplified rum profile, give the S.O.S. an altogether different flavor than Three Dots and a Dash, the students learned. The juices take a more prominent role, and the S.O.S. is a great spotlight for the fresh Florida orange juice used in many Mai-Kai drinks.
See photos from the class: Facebook | Flickr
Continue reading "Mai-Kai cocktail review: Patriotism never tasted as good as the S.O.S."