See below: Jump to the photo gallery
Related: Surf's up: The story behind Longboards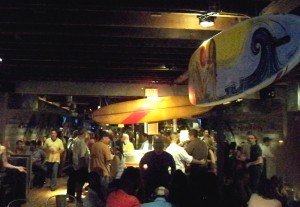 Even on-and-off rains throughout the night couldn't douse the good vibrations permeating the 500 block of Clematis Street on Saturday night during the grand opening party for the surf-themed Longboards restaurant and raw bar.
Longboards was packed to the gills all night as the free food and drinks flowed from this cool raw bar and restaurant that took over the dormant space formerly occupied by Ray's Downtown. The surf theme was carried through with great effect, from the dozens of surfboards gracing the walls and ceilings, to the surf videos on TVs and a big screen, to the "beach" area on the back patio shared with the neighboring Lounge (we can't wait to see what's to become of the "VIP" trailer).
Continue reading "Clematis Street rides a new wave with the opening of Longboards"