The Mai-Kai in Fort Lauderdale, one of the best places in the world to sip rum and tropical cocktails, will be the perfect site for a special tasting event on Thursday, Sept. 27.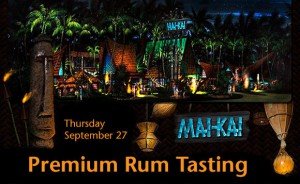 From 7 to 9 p.m. in the legendary Polynesian restaurant's Molokai lounge, guests will sample two top-shelf rums, served both neat and in vintage cocktails. The featured rums are Fortuna 8 from Nicaragua, and Dos Maderas PX from Barbados and Guyana. Of course, you also have the option of sampling other selections from The Mai-Kai's premium rum list and acclaimed assortment of nearly 50 classic cocktails.
Presented by Robert A. Burr, organizer of the annual Miami Rum Renaissance Festival, this exclusive opportunity is limited to the first 40 guests. The cost is $20 per person in advance and $25 at the door. The price includes the four drinks: One cocktail and one neat featuring each of the two rums. Click here to make advance payment and reservations. Click here for the Facebook event.
Continue reading "A great pairing: The Mai-Kai to host premium rum tasting"