2014 Miami Rum Festival recaps:
Upstart spirits share spotlight with major players | Cocktails reach new heights
It's an exciting time to be a connoisseur of rum and rum cocktails. There's no doubt that cane spirits are growing in popularity and respect, best evidenced in South Florida by the rise of the Miami Rum Renaissance Festival. The event expands every year, showcasing a never-ending supply of new and classic rums.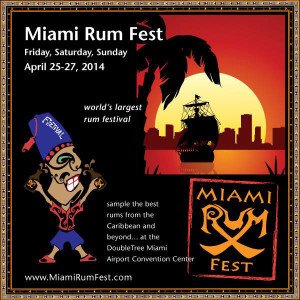 2014 Miami Rum Renaissance Festival: Friday, April 25, through Sunday, April 27, at the Doubletree by Hilton Miami Airport Convention Center. Tickets, hotel and more info at MiamiRumFest.com and Facebook.
Previous: Rum festival expands, introduces Miami Cocktail Week | 2013 recap
Now in its sixth year, the event is expected to attract at least 80 rum producers showcasing more than 200 rums from more than 30 countries. Expanded to include more than 50,000 square feet of exhibition space, it's possible the event could attract upwards of 15,000 attendees. It's considered to be the world's largest rum festival.
So, in honor of six years of rum-fueled fun (and education), here are six of the best reasons to attend next month's festivities:
Continue reading "Six reasons to look forward to the sixth annual Miami Rum Fest"