Updated May 2019
See below: Our 151 Swizzle review | Ancestor recipe | Tribute recipes
Related: Lemon Hart 151 returns | Mai-Kai cocktail guide
The 16 deadly drinks in the "strong" section are no doubt the stars of The Mai-Kai's legendary cocktail menu. There's a reason they comprise 13 of the Top 20 in our rankings. They're by far the most inventive, mysterious and flavor-packed drinks on the menu.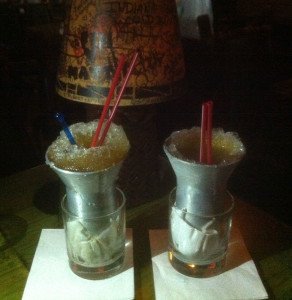 Just be careful when imbibing. The Mai-Kai doesn't use the word "strong" lightly. Most contain at least 3 ounces of rum, some the higher-proof variety. Among these, there are "strong" drinks and then there are "STRONG!" drinks. In the latter category, one of the first cocktails that comes to mind is the classic 151 Swizzle.
Like many Mai-Kai drinks, this deliciously dangerous concoction dates back to Tiki originator Don the Beachcomber and has been on the Fort Lauderdale restaurant's cocktail menu since its opening in 1956. It has become an iconic standard at the world's top Tiki bars, such as the Tiki-Ti in Los Angeles. At Hale Pele in Portland, The Mai-Kai gets a shout-out in the menu description, and the presentation is very familiar.
Martin Cate, one of the world's top rum and Tiki cocktail authorities, considers the 151 Swizzle his favorite drink on The Mai-Kai's menu. [See interview] "When it's made perfectly, it's a wonderful drink," he said. "That to me is my mothership." At his acclaimed Smuggler's Cove in San Francisco, he serves a souped up version called the 2070 Swizzle, which he calls "my giant killer." [See recipe]
Revealed in Jeff "Beachbum" Berry's groundbreaking 1998 cocktail guide, Grog Log, the original Don the Beachcomber recipe is no secret (see below). As cocktail sleuth Berry pointed out in the book, it was originally served in a metal cup with a flared top, "but good luck finding one." The Mai-Kai, of course, follows tradition and has always served its 151 Swizzle in a frozen metal cup.
Finding the correct cup outside of the handful of bars mentioned above, however, has been extremely difficult. You could always find close approximations on eBay, but they fall short of the sleek, flared design of the original cup. Berry took matters into his own hands in May 2015, when he released a new line of Tiki barware via Cocktail Kingdom, including a Swizzle Cup. [See story]
Beyond the cup, The Mai-Kai's version of the 151 Swizzle is unlike any other. Like many Mai-Kai drinks, it's based on the Don the Beachcomber version but was given a unique twist by original owner Bob Thornton and mixologist Mariano Licudine, who learned his craft from Donn Beach. I've taken a stab at re-creating the same flavor profile and have posted an evolving "tribute recipe" below. Like Thornton, current owner Dave Levy (Bob's stepson) likes to tinker with the recipe from time to time, especially when changes are made to the rums.
The recipe grew out of discussion on The Grogalizer, a site highly recommend if you're a fan of classic Tiki cocktails. Developed by The Swank Pad's Tim "Swanky" Glazner, The Grogalizer is a database of hundreds of recipes from all of Beachbum Berry's books, plus a few select others. The site allows you to rate the drinks, see how other mixologists rank them and share comments on each.
Sign up (it's easy) and keep track of your progress through all the great recipes in these books. It's also an easy way to keep track of all the various bar ingredients you'll need to re-create these classics, which include many in this guide. After compiling your online bar, you can figure out which drinks you can make with which ingredients as well as resources for buying hard-to-find stuff. In September 2016, Glazner released his long-awaited book, Mai-Kai: History and Mystery of the Iconic Tiki Restaurant, an essential addition to any Mai-Kai fan's collection.
Continue reading "Mai-Kai cocktail review: Robust flavors and potency are hallmark of 151 Swizzle"