Updated Sept. 24, 2020
With bars and restaurants across the country (and world) forced to close due to coronavirus restrictions, many establishments near and dear to our hearts are going through rough times. Even with many reopenings in May and June, severe restrictions are keeping business to a minimum as the pandemic still ripples across the country, and some are even experiencing a second shutdown.

We feel strongly about supporting all of the owners, managers and employees as they face severe turbulence in their chosen profession. Please do all you can to help them out by whatever means possible. One easy way for all of us to do this is to frequent their online stores, buy merchandise and gift cards, and put some cash back in their coffers. Also note that many areas of the country have expanded rules to allow take-out and delivery of alcohol as well as food, so check with your local establishments for more info. It may be their lifeline.
Many establishments have offered food and inventive cocktails to go. These include Archipelago (Washington, D.C.), The Bamboo Club (Long Beach, Calif.), Death or Glory (Delray Beach, Fla.), Hidden Harbor (Pittsburgh), The Jungle Bird (Sacramento, Calif.), The Kon-Tiki (Oakland), Lono (Hollywood, Calif.), Lost River (Detroit), Lun Wah (Roselle, N.J.), Max's South Seas Hideaway (Detroit), Strong Water (Anaheim, Calif.), The Tiki Terrace (Des Plaines, Ill.), Ventiki (Ventura, Calif.), and The Hub Bar (Tampa). The Mai-Kai in Fort Lauderdale has ramped up their offering from gallons of signature cocktails to wine and a extensive menu of hot appetizers and entrees. Call your local establishments to check, and visit this Facebook group for more info on who's offering take-out and delivery services.


The Mai-Kai re-releases signature rum, plus new glassware and spirits menu
The Fort Lauderdale restaurant hosts virtual seminar with The Real McCoy Rum creator Bailey Pryor. Also check out our 12-year-old rum showdown plus info on the summer cocktail menu.
* Cocktail quarts join gallons as The Mai-Kai expands takeout menu
Below you will find links to many of the Tiki bars and restaurants across the country with merchandise and gift cards for sale online. Below that are links to crowd-sourced fundraisers for employees along with other organizations that are working feverishly to aid bar and restaurant workers. It's sad, but we're also compiling a list of bars (still small, fortunately) that have announced permanent closings.
We also remind you to continue to support the many artists and merchants who now depend on direct sales to customers to survive. You can find links to many of them in the right rail of this blog post. With events being closed and postponed, they rely even more on a steady stream of online income. Some of the online events held around the world also include marketplaces and ways to make donations to Tiki establishments


UPDATED: The Tiki Times: Exclusive 2020 events guide
The Tiki Times calendar features live online meet-ups, interviews and happy hours, plus benefits helping those in need.
SUPPORT TIKI BARS ONLINE
Following are links to bars and restaurants in the greater Tiki scene offering online sales during these trying times. If you find any broken links, please let us know and we'll update. Also, please send us any additions to this list via email or as a message on our social media pages (Facebook | Twitter | Instagram). There's also a new Facebook group to join and add comments, find more ways to help.
NEW indicates listings newly added to this page, not necessarily new stores or merchandise.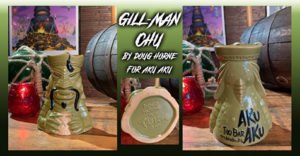 Aku Aku, Orlando – A small and inviting mid-mod Tiki oasis near downtown, Aku Aku has had its ups and downs during the pandemic. They rolled out a robust takeout program, then got the go-ahead to reopen the bar to customers in early June. However, they were forced to shut down again at the end of the month due to Florida's out-of-control outbreak. In early July, a new Kickstarter campaign was launched to sell the new Gill-Man Chu Tiki Mug, designed by Doug Horne and manufactured by Tiki Farm. Supply is limited, so reserve your mug now. Additional Kickstarter tiers include T-shirts, signed mugs and prints, plus a special hand-painted mug.
NEW: Bahi Hut, Sarasota – This historic (est. 1954) but underappreciated Tiki landmark took a while to ramp up online merch, but in September finally launched an online shop. Signature "Big Tim" mugs ( created by Robo Tiki) are now available in sets of two, with more merchandise coming soon. Recognized as the oldest Tiki bar in Florida, Bahi Hut is also site of the annual Tiki Fever event, which unfortunately had to be postponed this year. The bar remains closed due to COVID-19 restrictions.
Beachbum Berry's Latitude 29, New Orleans – The bar and restaurant owned and operated by author and Tiki revival pioneer Jeff "Beachbum" Berry and his wife Annene Kaye is well represented in the BeachbumBerry.com store, including syrups and barware. While you're there, pick up the Bum's books so you can make the hundreds of tropical classics at home while we wait for our favorite bars to reopen.
Daiquiri of Hope: Beachbum's Special Daiquiri
Chopper, Nashville, Tenn. – This new robot-themed Tiki bar has gift cards available online along with its to-go service. The bar reopened June 10 with a new summer menu and social distancing rules.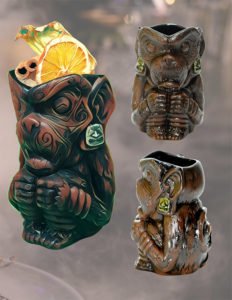 Esotico Miami – In addition to a wide selection of "Tiki Away Cocktails," this tropical hideaway in the Magic City led by noted Tiki mixologist Daniele Dalla Pola offers unique custom bar tools and mugs. Esotico also has a GoFundMe page that benefits its employees. The restaurant is scheduled to reopen indoor dirning under social distancing restrictions on Aug. 31. Esotico has offered outdoor dining as well as takeout, curbside pick-up and delivery throughout the pandemic as long as Miami has allowed it.
False Idol, San Diego – Consortium Holdings, one of the partners (along with Tiki bar guru Martin Cate) in this over-the-top throwback to classic Tiki hidden inside the Craft & Commerce bar, offers False Idol mugs and aloha shirts for sale online. Gift cards are also available. In June, Craft & Commerce announced the reopenings of many of its venues, including False Idol.
Forbidden Island, Alameda, Calif. – You can buy apparel, mugs, and gift cards directly from one of the Tiki revivals's first shining beacons. Forbidden Island also has a GoFundMe page for its staff. After being closed for more than four months, Forbidden Island opened a socially-distant Tiki garden and patio for limited hours in late July.
Foundation Tiki Bar, Milwaukee – Grab a Rum Barrel mug, a Mai Tai glass and a few other items from this long-running Tiki revival hotspot.
UPDATED: Frankie's Tiki Room, Las Vegas – A wide variety of mugs, glassware and apparel fill the online store of this beloved Tiki bastion in Sin City. You can also pick up gift certificates and a copy of the 2013 book, Liquid Vacation, which features recipes for 77 of the cocktails served at Frankie's. Frankie's reopened to the public on June 3, but it was forced to close again in late July due to local restrictions. Frankie's reopened again on Sept. 21.
Fuchsia Tiki Bar, New Paltz, N.Y. – This small tropical escape hidden away in Ulster County, around 70 miles north of the Big Apple, is plugging away with merchandise, gift cards and cocktails cocktails to go. On June 25, Fuchsia opened for indoor dining with limited seating capacity. On July 6, new T-shirts went on sale in the online store.
The Grass Skirt, San Diego – This fun Tiki hangout hidden inside Good Time Poke in the scenic Pacific Beach neighborhood has a plethora of merch: Mugs, bowls and glassware; plus a variety of shirts and pins. Also, a portion of gift card purchases go toward helping the staff. The Grass Skirt reopened on May 29.
Hale Pele, Portland, Ore. – The Pacific Northwest's long-running Tiki paradise has an array of merch in its new online store, from mugs to glassware to shirts to pins to gift cards. There's also a virtual tip jar for the staff. While you're there, sign up for the email blast to get news and updates.
Hidden Harbor, Pittsburgh – The web store at this popular Tiki revival craft cocktail bar offers gift cards, plus exclusive mugs and other merchandise (while supplies last). Sign up for their newsletter and be the first to know about new offerings. Hidden Harbor reopened with limited outdoor sidewalk seating beginning June 12.
Hula Hula, Seattle – The longtime kitschy karaoke and Tiki bar offers a wide selection of apparel, including multiple styles of shirts and hats. On June 20, Hula Hula reopened for food, cocktails and karaoke under the state of Washington's guidelines.
The Inferno Room, Indianapolis – Check out the online store for mugs, pins, and hats. On June 8, The Inferno Room reopened at 50 percent capacity.
Kon Tiki, Tucson, Ariz., – The venerable restaurant, one of the few Tiki temples dating back to the mid-century, offers a selection of mugs and apparel in its online store. There's also a staff GoFundMe page. On May 11, the restaurant reopened its dining room in addtion to offering take-out.
Kowloon, Saugus, Mass. – This historic Asian restaurant with Tiki flair has a full-blown online gift shop filled with mugs and bowls, shirts, hats and plushes. You can also buy gift certificates. Kowloon reopened with outdoor seating on June 9. On June 25, the restaurant added drive-in movies and car-hop service for guests to enjoy from their cars along with an outdoor Tiki bar and live music.
Laki Kane, London – The acclaimed craft Tiki bar from mixologist and author Georgi Radev has an online shop featuring a nice selection of mugs, plus the bar's own spiced dry rum. Also, guests who already created a custom rum can reorder a bottle. Note that shipping is available only within the UK. Laki Kane reopened on July 4 by reservation only under strict new guidelines.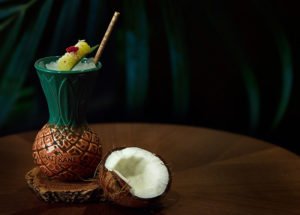 NEW: Last Rites, San Francisco – Dubbed "Polynesian noir," this unique and modern take on Tiki with a backstory revolving around a plane crash has had to battle its own takedown by coronavirus. While the bar remains closed, you can buy gift cards and make donations to help the staff.
Lono, Los Angeles – There are quite a few items to choose from in the online store for the Umbrella Hospitality Group, which owns this Hollywood Boulevard haunt. You can pick up a gift card, plus signature mugs, glassware, pins, and hats. A selection of cocktails are also available for pickup and delivery.
Lost Lake, Chicago – This award-winning craft cocktail bar sadly had to lay off its entire staff, so they created a GoFundMe page with 100 percent of the virtual tips going to their team members. Donors received a special newsletter containing food and drink recipes to make at home, plus other special features. They also received a membership card for priority seating and "special treats" when Lost Lake returns. The bar took the first step in June, when laws were changed to allow takeout cocktails along with food. Lost Lake offers both delivery and a walk-up window.
Lost River, Detroit – The Web store of this rum-focused tropical neighborhood bar on Detroit's Eastside features gift cards, plus a wide assortment of merchandise (tons of mugs and glassware, plus shirts and pins). There's also an option to "tip your bartender." According to a Facebook post, Lost River is planning on reopening in August (subject to change).
The Mai-Kai, Fort Lauderdale – The Mai-Kai Trading Post is the historic restaurant's longtime online version of its vast on-site gift shop, offering custom mugs, apparel, jewelry, Tikis, artist prints, menus, and more. Also online, gift certificates and vouchers can be purchased in multiple demoninations. You can also join The Mai-Kai Club, a loyalty program that entitles you to 25 to 50 percent off food, drinks and merchandise. Click here for more info and join the club for just $20 by mail or, for the first time this year, online. The Mai-Kai's bar and dining rooms reopened to the public under social distancing rules on May 29.
TAKE-OUT SPECIALS: Expanded to-go menu including cocktails, wine, appetizers, entrees


Hurricane Hayward on Inside the Desert Oasis Room
Listen to the "Covid Chronicles" episode recorded live with Adrian Eustaquio as The Atomic Grog blogger makes his way to The Mai-Kai to pick up Gallons to Go. Also available on iTunes, Spotify and Google Play.
Max's South Seas Hideaway, Grand Rapids, Mich. – Featuring an in-house ceramic studio along with one of the most ambitious build-outs since Tiki's mid-century heyday, this acclaimed new restaurant originally sold exclusively to its on-site guests. Now, however, they continually stock a vast online store with limited-edition mugs, bowls, clothing, and other collectible merchandise. Gift cards are also available. There's also a GoFundMe page to aid employees. The restaurant reopened on June 15 and had a special mug release launch on Father's Day. Since then, they've also ramped up their to-go offerings, which now include 26 different canned cocktails, from Mai Tais to Painkillers to Zombies and more.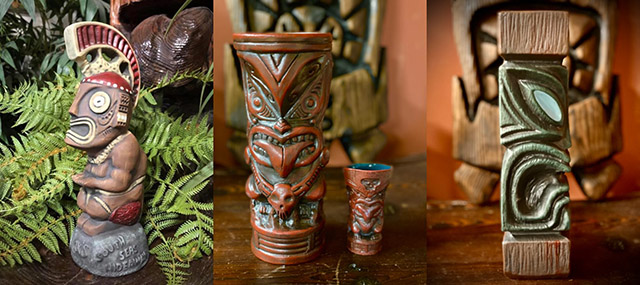 Continue reading "Support Tiki bars now: Visit their online stores, contribute to fundraisers"