UPDATES: Get the latest news on Trader Sam's and the Polynesian refurbishment
Bonus cocktail recipe: The Backscratcher at the Polynesian Resort's Tambu Lounge
Reports have recently surfaced that indicate the eventual Orlando location of Trader Sam's Enchanted Tiki Bar may not be the revamped Downtown Disney complex, as indicated earlier this year, but rather Walt Disney World's iconic 39-acre Polynesian Resort near the Magic Kingdom theme park.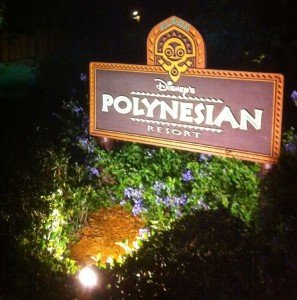 In March, Disney Springs was officially announced as the successor to Downtown Disney, the massive shopping and entertainment district on Disney World property but outside its theme parks. The 120-acre lakefront site is expected to expand from 75 to more than 150 stores, restaurants, bars and more. Slated for completion in 2016, the refurb will create a replica of a 19th century Florida waterfront town. [See The Atomic Grog's full report here]
Disney released elaborate conceptual artwork and many details on the theming of Disney Springs, but little info on what retailers or restaurants would be part of the new development. This is understandable since many deals are likely still being negotiated, and the exact locations of various businesses are still being fleshed out. But this didn't keep the rumor mill from churning, especially when images leaked out online that show dozens of logos of potential venues.
On this list was the distinctive logo of Trader Sam's, already a must-see destination for Disney and Tiki fans after only two years at the Disneyland Hotel in Anaheim. The bar features classic Polynesian decor, cocktails and food plus an extra helping of Disney Imagineering magic. The theming evokes both classic attractions (Jungle Cruise, Enchanted Tiki Room) and a beloved, defunct Downtown Disney cabaret (the Adventurer's Club). So this potential location made some sense. But was it really a good fit considering the overall theme?
Continue reading "Trader Sam's Enchanted Tiki Bar one of many changes likely coming to Disney's Polynesian Resort"