Check out our calendar for all the major events across the world of Tiki culture, updated continually throughout the year.
JUMP BELOW: Ongoing and special online events | Live and rescheduled events
Social media: News and updates on Facebook and Twitter
Photos and announcements on Instagram and Pinterest
UPDATES: Support Tiki bars online – Buy merch, contribute to fundraisers
2020 recap: Take a look back at the top events and news stories UPDATED
2021 EVENTS CALENDAR
Updated Jan. 26, 2021
CORONAVIRUS UPDATES: We're sorry to see events canceled and postponed, but we're trying to keep up with all the changes and list them below. Please check directly with the event if you have specific questions or concerns. And please email us if you know of any additional updates. Mahalo!
See below: Photos, video recaps of past events
Looking for more events? Check out the Tiki Trail
ONLINE EVENTS CALENDAR
ONGOING EVENTS
Various dates – Spike's Breezeway Cocktail Hour hosted by Matt "Spike" Marble of The Hula Girls. Pre-parties on Instagram Live, episodes on YouTube.
Tuesdays – Tiki By the Sea industry discussions with special guests.

Tuesdays – Tiki Trail Live on Zoom.
***********************************************
UPCOMING LIVE EVENTS
2021 calendar coming soon
Ongoing – Mermaids and Aquamen Burlesque Shows at The Wreck Bar at the B Ocean Resort in Fort Lauderdale featuring Marina the Fire Eating Mermaid.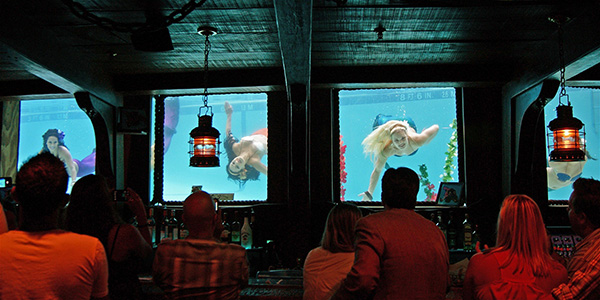 Make our calendar better
Feel free to share events via email or Facebook message (special events only, no regular band gigs or general bar promotions).
Looking for more events? Check out the Tiki Trail
***********************************************
2021 PAST EVENTS
Jan. 10 – Filipino Bartenders' Influence on Tropical Drinks, hosted by Adrian Eustaquio of Inside the Desert Oasis Room for Tiki Oasis TV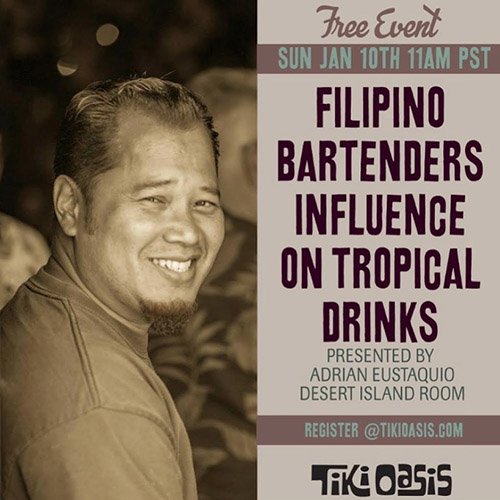 Jan. 17 – Tiki Music & Culture Vol. 2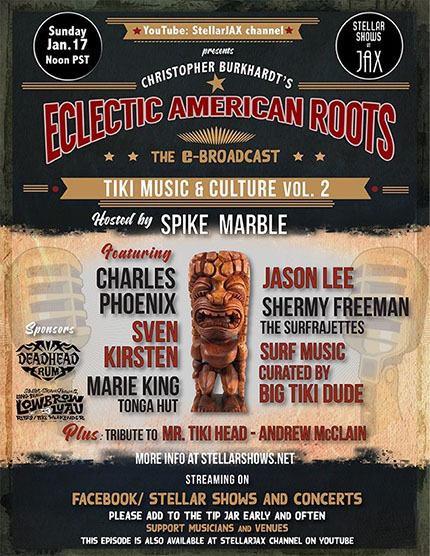 Jan. 22 – Tiki Fever Mug Release Party at Bahi Hut in Sarasota.
***********************************************

2020 EVENTS ARCHIVE
It was a year we'd rather forget, but there were still many cool events, both virtual and in-person. Take a look back at the top happenings, featuring artwork and links plus photos and video.
SEE THE FULL LIST

NEW: Year in the rearview: The Top 9 Tiki stories of 2020
Not all the news was negative in a year many would rather forget. See The Atomic Grog's picks for the news highlights of 2020.
***********************************************

2019 EVENTS ARCHIVE
Check out photos and video plus links and coverage of top happenings around the globe, including Miami Rum Congress, Inuhele in Atlanta, Arizona Tiki Oasis, Tiki Caliente in Palm Springs, Miami Rum Renaissance Festival, The Hukilau in Fort Lauderdale, Tiki Kon in Portland, the Surf Guitar 101 Convention in California, Tiki Oasis in San Diego, the Hi-Tide Summer Holiday: Asbury Park, plus many more!
SEE THE FULL CALENDAR HERE
***********************************************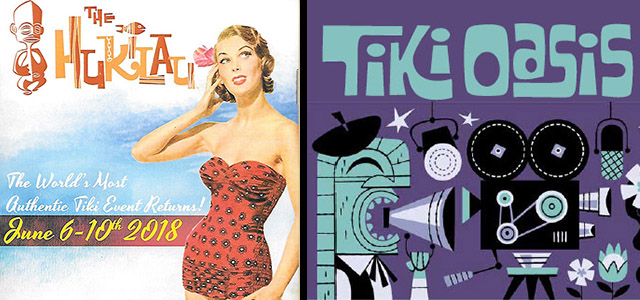 2018 EVENTS ARCHIVE
In 2018, The Atomic Grog consolidated previous news and events coverage into a comprehensive 12-month calendar that offers dates, links and previews of all the major Tiki and rum events, plus a touch of modernism, surf music, Disney and other happenings of interest to the Tiki community. We've archived the official artwork and links to the official sites. Following events, the calendar was updated to include images and videos culled from social media, along with some of our own photos and relevant press coverage. We've archived this full year of coverage for posterity.
SEE THE FULL CALENDAR HERE
***********************************************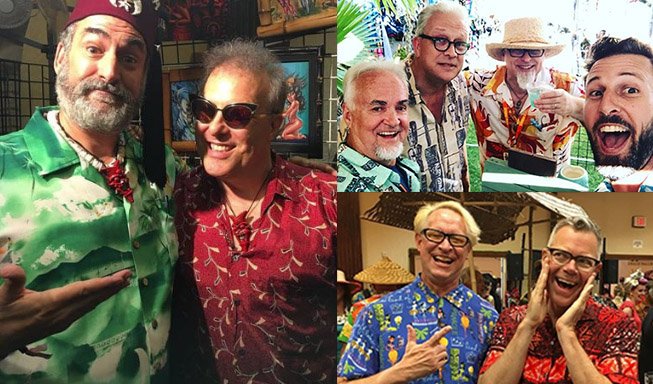 2016-2017 NEWS & EVENTS ARCHIVE
In 2016 and 2017, we covered many of the major Tiki events across the country, featuring photos and social media coverage along with the latest news in the Week in Tiki (later the Month in Tiki).
January 2016: New Tikis to rise at The Mai-Kai, Lost Lake honored, Smuggler's Cove book release, Tiki in South Beach, plus more!
January 2016: The Mai-Kai mugs and history book, The Art of Tiki updates, Shag events and art, plus more!
February 2016: Aloha to 5 new Tiki bars across the U.S., Shag at Modernism Week, Plantation Pineapple rum, plus more!
February 2016: Rum and Tiki event roundup, new Tiki bars in D.C., S.F., photos and event recaps
March 2016: Trader Vic's Portland closes, The Hukilau and more event updates
March 2016:
Lost Lake fire and more Tiki bar news, event previews, Lemon Hart rum returning?
April 2016: The Hukilau, Tiki Caliente and more upcoming events; Miami fest's award-winning rums; Tiki bar openings and closings, and more!
April 2016: New Beachbum Berry glassware, 'Sippin' Safari' 10-year anniversary edition; plus event and Tiki bar news, more!
May 2016: Recap Tiki Caliente; preview Tiki Kon, Tales of the Cocktail and Tiki Oasis; plus Tiki bar news and more!
February 2017: Bar openings and closings, cocktail competitions, Modernism Week
March 2017: Shag art shows, Tiki bars and festivals, surf rock and more
April 2017: Surf and rockabilly, Miami Rum Festival, Chicago Area Tiki Tour
May 2017: Tiki Caliente and lots more summer kickoff parties
June 2017: Summer season heats up with The Hukilau, Ohana: Luau At The Lake, Tiki Kon and more
July 2017: Tales of the Cocktail takes over
August 2017: Tiki Oasis, surf guitar and hot summer events
September 2017: Texas goes Tiki, Deep South surf rock, rum fests from coast to coast
October 2017: Historic art show in L.A., world's biggest rumfest in London, Circa Caliente in Palm Springs, Halloween happenings
November 2017: Rum fests, bar tours and art shows across the globe
December 2017: Spirited holiday happenings in California and beyond
***********************************************
2015 NEWS ARCHIVE
Thoroughout 2015, The Atomic Grog spotlighted the latest news and information on the Polynesian Pop revival and the wide world of retro-themed entertainment. We reviewed and recapped events held every week of the year. This feature, originally known as The Week in Tiki, covered all the major happenings across the world, with a focus on our home base, Florida and the U.S. East Coast.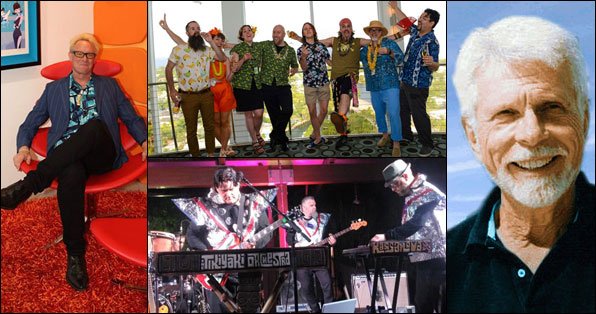 The Year in Tiki 2015
Legends lost, but revival becomes renaissance with new bars, music, art and more
***********************************************
SPECIAL SPOTLIGHTS
History is a big part of today's Tiki scene. Legends of the past inspire and provide a template for a new generation of creative individuals. Included in our weekly/monthly profiles are artists, musicians and Tiki locations no longer with us (noted in italics).
Artist | Band/music | Bar | Website | Rum | Cocktail
***************************************
ARTIST
May 2016
April 2016
* Paul Roe
March 2016
February 2016
January 2016
December 2015
November 2015
* Munktiki
October 2015
* Gecko
* Pooch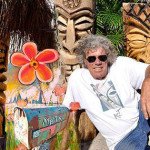 September 2015
August 2015
* The Pizz
July 2015
* PopTiki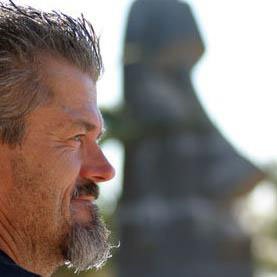 June 2015
* Squid
* VanTiki
May 2015
* Miss Fluff (Claudette Barjoud)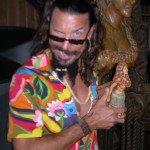 April 2015
* Thor
March 2015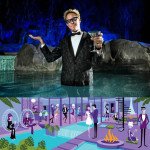 February 2015
* Shag
* LeRoy Schmaltz of Oceanic Arts
January 2015
* Surf Soul Tiki (Jeff Chouinard)
* Bosko
***************************************
BAND/MUSIC
May 2016
April 2016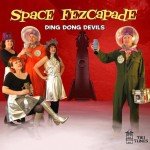 March 2016
* Jason Lee and the R.I.P. Tides
February 2016
January 2016
December 2015
November 2015
October 2015
September 2015
* 9th Wave
August 2015
July 2015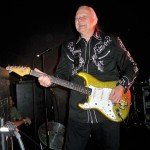 June 2015
May 2015
* El Capitan & the Band with No Name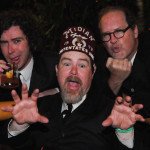 April 2015
March 2015
* Kenny Sasaki & The Tiki Boys
February 2015
* Koop Kooper's Cocktail Nation
January 2015
***************************************
BAR
May 2016
* Tonga Hut (Palm Springs)
April 2016
* Trader Vic's (Emeryville, Calif.)
* Don the Beachcomber (Chicago)
March 2016
* La Mariana Sailing Club (Honolulu)
February 2016
* The Happiest Hour and Slowly Shirley (New York City)
January 2016
* The Rum Line (Miami Beach)
* Fort Defiance (Brooklyn)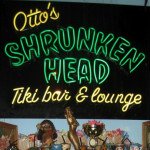 December 2015
* Trader Sam's Enchanted Tiki Bar (Anaheim)
November 2015
* Foundation Tiki Bar (Milwaukee)
* Porco Lounge & Tiki Room (Cleveland)
* The Golden Tiki (Las Vegas)
October 2015
* Otto's Shrunken Head (New York City)
* The Shameful Tiki Room (Vancouver)
September 2015
* Bootlegger Tiki (Palm Springs, Calif.)
* Kreepy Tiki Lounge (Fort Lauderdale)
August 2015
* Tonga Hut (Los Angeles)
* Chef Shangri-La (Chicago)
July 2015
* Grass Skirt Tiki Room (Columbus, Ohio)
* Bali Hai (San Diego)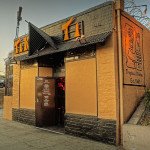 June 2015
* The Molokai lounge at The Mai-Kai (Fort Lauderdale)
* Tiki-Ti (Los Angeles)
* Don the Beachcomber (Huntington Beach)
May 2015
* Trader Vic's (Atlanta)
* Forbidden Island (Alameda, Calif.)
* Psycho Suzi's Motor Lounge (Minneapolis)
* The Wreck Bar (Fort Lauderdale)
April 2015
* Kon Tiki (Tucson)
* Lost Lake (Chicago)
* The Broken Shaker (Miami Beach)
* Longitude (Oakland)
March 2015
* The Castaways (Miami Beach)
* Smuggler's Cove (San Francisco)
* Tambu Lounge (Disney's Polynesian Village Resort)
* Three Dots and a Dash (Chicago)
* Tonga Room (San Francisco)
February 2015
* Aku Aku (Orlando)
* Trader Vic's (New York City)
* Frankie's Tiki Room (Las Vegas)
* Hale Pele (Portland)
January 2015
* Latitude 29 (New Orleans)
* The Kahiki (Columbus, Ohio)
* Hala Kahiki (Chicago)
***************************************
WEBSITE
May 2016
April 2016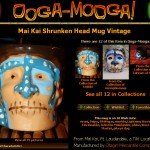 March 2016
February 2016
January 2016
* Poly Hai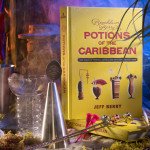 December 2015
November 2015
October 2015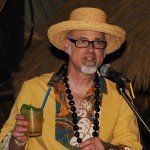 September 2015
August 2015
* Punch
July 2015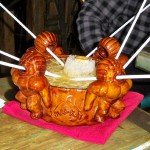 June 2015
May 2015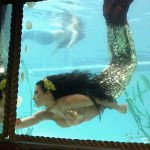 April 2015
March 2015
* Digitiki and The Quiet Village
* Marina the Fire Eating Mermaid
* Tikiman's Polynesian Village Resort Pages
February 2015
* Critiki
January 2015
***************************************
RUM
May 2016
* Santeria
April 2016
March 2016
February 2016
* Plantation Pineapple Stiggins' Fancy
* Flor de Caña Grand Reserve 7
January 2016
* Ron Matusalem Gran Reserva 15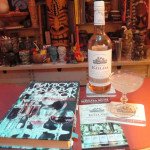 December 2015
November 2015
October 2015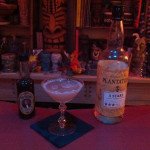 September 2015
August 2015
July 2015
June 2015
May 2015
* Wicked Dolphin Florida Spiced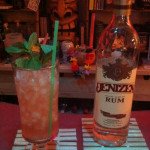 April 2015
* Plantation Barbados 5-year-old Grande Reserve
March 2015
* Smith & Cross Traditional Jamaica Rum
February 2015
* Tanduay
January 2015
* Appleton Estate V/X (aka Signature Blend)
***************************************
COCKTAIL
May 2016
April 2016
March 2016
February 2016
January 2016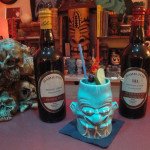 December 2015
November 2015
October 2015
September 2015
August 2015
July 2015
June 2015
* Tahitian
May 2015
April 2015
March 2015
* Red Tide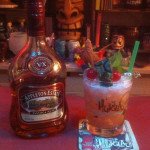 February 2015
January 2015