NEW: Retro Rekindled: Skinny Jimmy Stingray to talk classic surf, perform at The Mai-Kai


South Florida guitarist Skinny Jimmy Stingray will be joined by The Atomic Grog's Hurricane Hayward for a lively discussion about his winding road from punk to instrumental surf at a special Retro Rekindled monthly community gathering at The Mai-Kai on Fort Lauderdale on Sunday, Dec. 15. >>>> Click here for full details on the event
Hear The Rums of The Mai-Kai symposium on the Inside the Desert Oasis Room podcast


Mahalo to Adrian Eustaquio and Inside the Desert Oasis Room for documenting the June 9 presentation featuring Hurricane Hayward and Matt Pietrek of Cocktail Wonk live on stage at The Mai-Kai during the closing festivities of The Hukilau 2019.
Click here to listen now or subscribe on iTunes and other podcast platforms
The Atomic Grog presents new class and symposium at The Hukilau


Hurricane Hayward of The Atomic Grog took guests on an virtual journey to the Caribbean to learn about the key rums and styles that have dominated The Mai-Kai's acclaimed cocktails for more than 60 years. He was joined by rum expert Stephen Remsberg for an Okole Maluna Cocktail Academy class at Pier Sixty-Six hotel on June 8, and by Cocktail Wonk writer Matt Pietrek for an on-stage symposium at The Mai-Kai Grand Finale on June 9.
See the event preview | Full recap coming soon!
Get detailed reports and photos on Tiki Central
Photos, recap: How to Mix Like The Mai-Kai cocktail class at Hukilau 2018
Special event: 'Demerara Rum – The Mai-Kai's Secret Weapon'

The Atomic Grog was pleased to present a special happy-hour talk during The Mai-Kai Takeover event on Jan. 19, presented by the Magical Tiki Meet-Up and Retro Rekindled. Click here to check out our full event recap, including photos and highlights of our Demerara rum discussion.
Updated July 6, 2019
The Atomic Grog is a blog and promotion company that specializes in Tiki culture and its music, art and cocktail scenes. Founded by journalist Jim "Hurricane" Hayward in April 2011, The Atomic Grog features regular updates on events and concerts, cocktail recipes and reviews, plus special features on retro culture.
Hayward has been an editor, web producer and writer at The Palm Beach Post for more than 30 years, earning his nickname by virtue of both his potent tropical concoctions and his role in the newspaper's online coverage of tropical weather since the mid-'90s.
The Atomic Grog is an outgrowth of Hayward's Slammie Productions (est. 1992), South Florida's longest-running indie concert promotion company. Concerts in recent years have included legendary surf guitarist Dick Dale, psychobilly pioneers the Nekromantix, ska veterans Voodoo Glow Skulls and The Toasters, plus punk patriarchs The Adolescents and The Queers. Slammie has been a driving force in the local music scene, booking early shows by Dashboard Confessional, Further Seems Forever, New Found Glory, Marilyn Manson, Nonpoint, and many others. Hayward and Slammie also had a hand in booking such top national acts as A.F.I., Blink 182, Deftones, Fall Out Boy, Fugazi, Iron Maiden, Korn, My Chemical Romance, NOFX, Pennywise, Slayer … the list goes on. The company's signature event in the 1990s was the South Florida Slammie Awards, which ran for eight years and honored the area's massive (at the time) local scene. Through the blog, Hayward hopes to use The Atomic Grog as a vehicle to bring more retro-themed surf and rockabilly shows to South Florida.
But The Atomic Grog is about much more than the music. As the site's banner states, it's about "events, music, art, cocktails and culture." Since 2008, Hayward has been involved with The Hukilau, the largest Tiki-themed event on the East Coast, as a coordinator, official blogger, symposium host and cocktail class instructor. The Fort Lauderdale event is a whirlwind of live music, informative symposiums, cocktail classes and seminars, VIP meet-and-greets, artists, vendors, and more. In 2016, Hayward moderated a historic gathering of Tiki revival pioneers, and in 2017 he presented a special interactive slideshow on the history of The Mai-Kai's cocktail menu. In 2018, his Okole Maluna Cocktail Academy class, How to Mix Like The Mai-Kai, quickly sold out.
Hayward's involvement in The Hukilau, which draws hundreds of revelers annually from around the world, opened his eyes to the much wider Tiki scene and its many diverse, creative and fun-filled festivities. He's also become known for his tropical drink mixology, thanks in large part to the influence of South Florida's iconic Mai-Kai restaurant. Open since 1956, The Mai-Kai is a mid-century marvel, beloved by Tiki and Polynesian Pop enthusiasts from around the world. The Atomic Grog's Mai-Kai Cocktail Guide is a unique resource for tropical drink enthusiasts who flock to Fort Lauderdale to sample these one-of-a-kind creations. The Okole Maluna Society features in-depth news and insights, plus comprehensive reviews and recipes for nearly every Mai-Kai cocktail, past and present. Hayward's original and re-interpreted recipes have gained a worldwide following and have been featured at bars across the country, from Trader Vic's and Hale Pele in Portland, Ore.; to Hidden Harbor and the Tiki Lounge in Pittsburgh; to Forbidden Island in Alameda, Calif. His recipes have also been featured on such national websites as Uproxx and the James Beard Award-winning online magazine Punch.
A big part of the Tiki scene is the great artwork and artists, which are featured regularly along with The Atomic Grog's unique take on cocktails and culture. The blog offers readers a wild ride on the ever-growing wave of Tiki culture.
Another major area of interest is Walt Disney World and retro Florida. The Atomic Grog has its own distinctive viewpoint on Disney World with a focus on adult-oriented activities such as the food and drinks, plus a fondness for the classic attractions, design, and artwork of the mid-century. All from a Tikiphile's perspective.
Why Tiki? This modern reinterpretation of mid-century Polynesian and Hawaiian kitsch is actually an honest-to-goodness underground movement, driven by the many talented artists, musicians and cocktailians in true do-it-yourself fashion. To borrow from legendary DJ and writer Jay Strongman's introduction to his 2008 book, Tiki Mugs: Cult Artifacts of Polynesian Pop …
Inspired by the rich history of Polynesian Pop, the Tiki community is a very organic underground scene with "an anarchic spirit that is refreshing in these times of bland, corporate, mainstream culture."
We wouldn't have it any other way.
Mahalo!
Hurricane Hayward
MORE SPECIAL FEATURES, PAST EVENTS
The Atomic Grog on Marooned: A Texas Tiki Podcast

Listen to Hurricane Hayward and Texas Tiki and cocktail podcaster David Phantomatic in the Samoa Room at The Mai-Kai as they discuss (what else) the historic tropical drinks and influence of South Florida's Polynesian Palace. The podcast is also available on all major podcasting platforms: Apple Podcasts, Google Podcasts, Spotify, and Stitcher.
The Mai-Kai Walking Tour on Marooned: A Texas Tiki Podcast
It was an honor to participate in The Mai-Kai history tour with carver Will Anders and manager Kern Mattei. It's a real Tiki museum audio walking tour.
Florida bartender wins Chairman's Reserve Mai Tai Challenge at The Mai-Kai

On Oct. 30, 2018, I was one of the judges of the Chairman's Reserve Mai Tai Challenge at The Mai-Kai.
* See the full coverage on the blog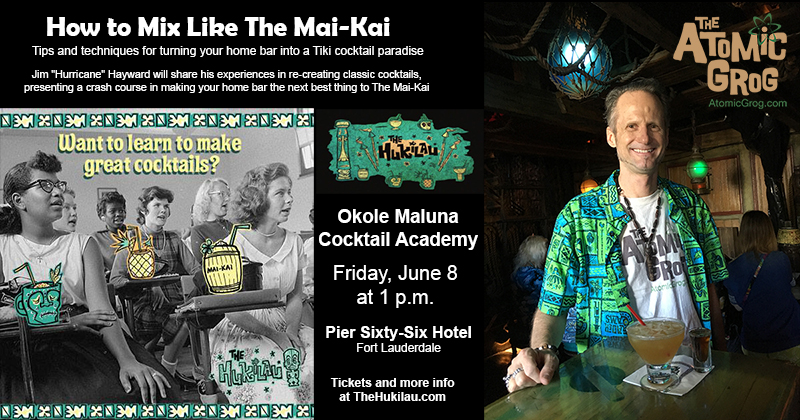 Sold out! How to Mix Like The Mai-Kai: I'm humbled and honored to have the first
Okole Maluna Cocktail Academy class to sell out at The Hukilau 2018 in June!
See the event photos


Hurricane Hayward at The Mai-Kai's 60th annversary celebration in December 2016 in Fort Lauderdale.
* See the full coverage on the blog
More on the Web
* Interview with Hurricane Hayward (Tiki With Ray)
* Recreating The Mai-Kai's Black Magic cocktail (Punch)
* Behind the scenes: The Atomic Grog's Mai-Kai Cocktail Guide (Tiki Central)