2010: A Cocktail Odyssey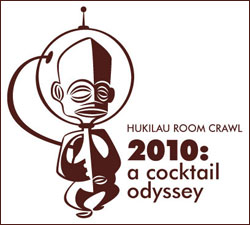 What's a "room crawl"? For the uninitiated, it's simply a very festive, organized series of Tiki-themed room parties hosted by Hukilau participants during scheduled times during the event. It gives hosts an opportunity to show off their mixology skills and imagination in decorating their rooms in their favorite Tiki-inspired decor. All Room Crawl hosts received several donated bottles of the sponsors' products to create their signature cocktails and The Hukilau donated limes, lemons and mint to ensure fresh ingredients for the cocktails.
Participating rooms were:
Tikiwoo's Radiation Spaceport (hosted by Tiki Woo)
Gaughin's Grotto (hosted by The Diabolical Dr. K - Damon Vegas, Dylan Otto and Jonathan Lee Blouk)
Winner: Best Cocktail Creation
Planet of Forbidden Tiki (hosted by The Mira Mar League Of Extraordinary Gentlemen - Icky, CC Rockdog, mixologist Trader Dick and the rest of the MMLEG)
Winner: Best Decorated Room
Look At The Bunny (hosted by The Terrible Four - George, Mark, Marla and Curtis)
The Christmas Island Room (hosted by Blitzed and Vixen)
Macadamia Nut Hut (hosted by Numan and John Mac Nink)
Rooms were judged by Hukilau Room Crawl organizers Jim "Hurricane" Hayward and Mike "Jetsetter" Jones plus vendor coordinator Basement Kahuna. Cocktails were judged on taste, originality, creativity and presentation. Decor was judged on originality, creativity, theming and hospitality. Both winners received a $100 gift certificate from legendary Tiki palace, The Mai-Kai in Fort Lauderdale.
Special thanks to the Go11 Team, who provided all the great photos on this page and somehow found time to host the Cocktail Challenge after-party in their "Spaceport" penthouse. And, of course, a huge mahalo to Hukilau organizer Christie "Tiki Kiliki" White for making it all happen.
Winning drink recipe
Papeete Paralyzer
Created by Damon Bolte (Damon Vegas)
1.5 ounces Benedictine
1 ounce Rhum JM Agricole Blanc
1/4 ounce Falernum
Juice of one lime
1 inch fresh banana
Lemon Hart 151 Demerara float
Lime zest
The build: In a mixing glass pinch one inch of fresh banana and muddle with the juice of one lime. Add the rest of the ingredients (save the 151) and shake well with ice. Strain into a double old-fashioned glass packed with crushed ice. Top with the 151 and garnish with the fresh lime zest.
Master Mixologist Cocktail Challenge
Five competitors, four mystery ingredients, just 20 minutes to make a taste-tempting Tiki drink that will impress our expert judges and earn one winner the title Master Mixologist of Hukilau 2010. This was the challenge thrust upon the contestants in the first annual Master Mixologist Cocktail Challenge.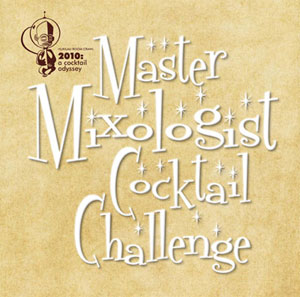 The contest was the highlight of the opening-night party at Hukilau 2010 in Fort Lauderdale on Thursday, June 10. Hundreds gathered at midnight in and around the beachside "Skylounge" penthouse to see this first-of-a-kind competition inspired by such Food Network contest shows as Iron Chef and Chopped.
Conceived by Jim "Hurricane" Hayward and hosted by longtime Hukilau emcee King Kukulele, the Master Mixologist contest proved to be a smashing success. Giving the contest an extra boost was the great lineup of celebrity judges:

Joe Desmond, a master mixologist in his own right and proprietor of the world-famous Rhum Rhum Room in New York City.
Otto Von Stroheim, longtime Tiki cocktail expert and founder/organizer of California's Tiki Oasis event.
And last but not least, Josh Agle, aka "Shag," a California-based painter whose distinctive works have been featured in solo exhibitions around the world and who is considered a pioneer in spurring the resurgence of interest in Tiki culture.
The cocktail creations were judged on creativity, originality, taste, balance and presentation. The judges were also on the lookout for the most inventive use of the mystery items, all of which had to be present in the final product. To win the challenge, contestants were required to present a finished drink plus samples to each of the judges when the clock ran out.
Unveiled seconds before the contest started, the mystery ingredients were:

Seven Tiki spiced rum
Bacardi 8 rum
Trader Tiki's Don's Mix
One fresh Florida orange
The contestants also had at their disposal a fully stocked kitchen of shared ingredients, including a variety of fruit, juices, syrups, liquors and, of course, rum. All the ingredients featured in the contest were pulled from the many recipes featured in the books of Jeff "Beachbum" Berry - some common, some obscure.
The penthouse's centrally located, sunken kitchen was transformed into a mixology "arena" as spectators gathered on all sides to watch the thrilling competition. The five competitors assembled at their workstations with all the tools they needed to create a memorable exotic drink.
The contestants bravely raced the clock and ignored the surrounding chaos. Hukilau organizers and Tiki celebrities were right on top of them in the crowded kitchen as King Kukulele hovered on the counter above offering his distinctive running commentary and zany comments.
Adding to the revelry and confusion, King had pizzas delivered during the middle of the contest and passed out slices to the judges. But the mixologists were unfazed. All five did an amazing job of completing the drinks and samples before time ran out and they were all received warmly, albeit with some criticism, by the expert panel. They all presented professional, fully garnished cocktails in one of the specialty glasses available to them.
The judges rated the drinks on a scale of 1 (lowest) to 5 (highest). Here are the official results, including contestant name, drink name and score.
• Ken MacArthur, "Atomic Rust," 2.7
Ken is a local tikiphile and aspiring mixologist
• Al Nagas, "Aqua Velva," 3.0
According to Señor Al de Negas, he is to the Mai Tai like dice is to Las Vegas
• Samantha Kuras, "Just Drink It," 3.0
Samantha is a professional bartender and a fish-tailed mermaid in Marina the Mermaid's pod
• Ken Kanaka, "Lewa Lumi (A Recipe for Disaster)," 3.3
Ken is a singer-songwriter, ukulele player and rum mixer on the road to stardom without a map
• Grady Johnson, "Hell in a Handbasket," 4.3
Grady has been missing for years on an uncharted island in his mind
We're glad Grady made it to the mainland for The Hukilau, as he brought an uncommon flair to the contest. His complex, flaming concoction, "Hell in a Handbasket," easily edged out the competition to earn him a spot in Hukilau mixology history.
In addition to the glory of being crowned the first Hukilau "Master Mixologist," Grady was awarded several grand prizes: A custom-sculpted, hand-carved muddler by renowned Tiki carver Tom Fowner; and a gift certificate to the Mai-Kai to use during the Hukilau festivities. The winning recipe will also be featured in the program for Hukilau 2011, the 10th anniversary of the Hukilau.
Here are the recipes for the the runner-up and winner:
Lewa Lumi (A Recipe for Disaster)
Ken Kanaka
• 2 ounces fresh-squeezed orange juice
• 1 ounce Bacardi 8 rum
• 1/4 ounce Trader Tiki's Don's Mix
• 2 ounces Seven Tiki spiced rum
• 1/2 ounce fresh-squeezed lime juice
• Dash Angostura bitters
Shake with ice and serve in a cocktail glass. Garnish with a cinnamon stick gently wrapped with a long orange twist.
Hell in a Handbasket
Grady Johnson
Main drink
In a cocktail shaker, combine:
• 2 ounces Seven Tiki spiced rum
• 1 ounce El Dorado 15-year-old Demerara rum
• 2 ounces fresh-squeezed orange juice
• 1 ounce Trader Tiki's Don's Mix
• 1 ounce Trader Vic's macadamia nut liquor
Set aside
Shot
In a second cocktail shaker, combine:
• 2 ounces Bacardi 8 rum
• 1/2 ounce Trader Tiki's cinnamon syrup
Muddle with fresh mint
Set aside
Garnish (assemble handbasket)
• Fresh lemon: Slice in half widthwise. Core flesh from one lemon half, leaving rind intact and about 1/8-inch of flesh
• Fresh orange: Cut in half widthwise. Cut circular slice from center. Cut circle in half, removing flesh from half-circle. Use peel as a handle for lemon basket. Secure with toothpicks and garnish with cherries.
Pour drink
• Shake main drink with ice
• Rim a wide-stemmed glass with brown sugar, fill with ice
• Strain main drink into glass
• Quickly suspend "handbasket" over rim of glass with toothpicks
• Strain shot into basket and float Lemon Hart 151 Demerara rum
• Ignite and serve
To drink
• Blow out flames
• Do the shot
• Cool your jets with the main drink
Welcome to Hell!