From our archives: Enjoy these photos and reviews of some classic Dashboard Confessional shows from the band's early years in South Florida.

More photos below:
• April 2002, Boynton Beach | December 2001, Pompano | August 2001, Boynton Beach
• Also: September 2001, Vacant Andys reunion, Boynton Beach (photos will pop up in new window)

Oct. 1, 2002 - Dashboard Confessional with Hot Rod Circuit, Ash, Honorary Title
Backstage at Coral Sky Amphitheatre, West Palm Beach

Dashboard, Carrabba show off their growth
By Dave Thomas, The Palm Beach Post

It's a rare thing to see a performer grow right before your eyes.

Locals have watched Boca Raton's Dashboard Confessional and its principal member, Chris Carrabba, go from playing solo shows at tiny area punk clubs to Tuesday's full-blown rock concert at Coral Sky Amphitheatre's new backstage.

Dashboard littered its 90-minute set with a number of new tunes that dramatically detail Carrabba's growth as a songwriter. The band started things slowly with a long lead-in allowing the sound man to fix an awful sound system that ruined sets from three promising opening acts. One of the new songs, So Beautiful, featured Carrabba's trademark percussive style of acoustic guitar playing and powerful vocals. Another new track, As Lovers Go, relied a little too much on the songwriter's devotion to Elvis Costello. But it was an untitled number that stood out most. Playing an electric guitar, Carrabba added a dose of his punk upbringing to the brand-new song with feedbacking guitars and heavy drums by Mike Marsh.

Carrabba first incorporated electric guitars into the group during the band's spring tour, instantly making Dashboard more dynamic than in its stripped-down acoustic past. On that tour Carrabba took a crowd favorite, Ender Will Save Us All, and turned it into a rock epic with crashing drums and frenzied playing. On Tuesday night, Ender kept its hard edge but wrapped up concisely after the five-minute mark.

What catapulted Dashboard Confessional to "vital artist" stature Tuesday were the perfected set arrangement and daring encore. The main set saw new songs mixed with fan favorites such as The Good Fight and Again I Go Unnoticed as well as the radio single Screaming Infidelities, which Carrabba prefaced by saying, "This song's on the radio ... We're sorry."

But it was the encore that was a true surprise. Carrabba played all four songs from his band's So Impossible EP in order. From the whispered opening of For You To Notice to the cascading Remember to Breathe and celebratory Hands Down, the romantic story line of the EP was flawlessly recreated live. Hands Down seemed to end precisely at the three-minute mark, as any good pop song should, but Carrabba extended it with an improvisation that featured snippets of lyrics from his career. Inadvertently the move not only highlighted his past and songs unsung that evening but showed some of the repetitiveness in his tear-jerking early work.

The refrain then returned to the up-tempo chorus of Hands Down, ending in triumphant cymbal crashes and guitar flailing. It's rare to see bands of any genre radically changing their time-tested material as Dashboard did Tuesday. Those that do tend to last a very long time.

April 17, 2002 - Dashboard Confessional with The Anniversary, Seafood, The Remedy Session
Club Ovation, Boynton Beach
Photo by Jim Hayward
Slammie Productions

Carrabba, band reaches new heights
By Dave Thomas, The Palm Beach Post

Dashboard Confessional's South Florida homecoming April 17 was arguably one of the rapidly rising band's best shows ever. The notoriously boomy Ovation nightclub sounded crisp and clear for the acoustic punk act as singer/guitarist Chris Carrabba took the stage alone to open the show.

From the first chords of The Swiss Army Romance, the crowd of 1,500 was totally enthralled. As is customary at a Dashboard show, the young fans sang nearly every word as if the tales of heartbreak were their own. Midway through the somber Remember to Breathe the band took the stage - adding keyboards, bass and drums to Carrabba's acoustic guitar. The band turned formerly solo songs such as Turpentine Chaser into rock gems.

As he has earlier on this tour, Carrabba donned an electric guitar for So Impossible and two new tracks that have yet to be released. Unlike Bob Dylan's switch to electric, Carrabba's change went mostly unnoticed by his young followers, who accept his material on blind faith.

The riveting set moved along with one emphatically received song after another. It was clearly evident the crowd and band's momentum were building in tandem. The Brilliant Dance and For You To Notice rolled out of the sound system with clarity the club hasn't experienced since it opened almost two years ago. The band's current single, Screaming Infidelities, appeared near the end of the night and began what would be one of the best closing sets the band has played.

Even with the recognition the MTV song garners, it was followed with the more upbeat and even more radio-appropriate Again I Go Unnoticed. Carrabba's rapid strumming and drummer Mike Marsh's rolling drums accentuated the song's strange blend of dark lyrics and smile-inducing rhythms.
Photo by Jim Hayward, Slammie Productions

The positive vibe flowed through the encore, which kicked off with another of Carrabba's best pop songs, The Good Fight. The singer's vocals dripped with bitter emotion that mixed with the sheer joy of playing in front of so many truly adoring fans. A seemingly spontaneous cover of the Jackson Five's I Want You Back was more proof of how high-spirited Dashboard Confessional's concerts can be. It wasn't a total surprise to hear Marsh sing his own powerful and high-ranging vocals instead of Carrabba's for the brief but smile-inducing interlude.

A broken microphone almost crippled Hands Down, one of the band's recent songs. During mid-verse, Carrabba's mike fell and in a sense of urgency he ran to bassist Dan Bonebrake's to finish. The singer needed to finish the line. Even though his fans were singing along it was vital that he poured out the words himself. "Hands down this is the best day I can ever remember, I'll always remember. The sound of the stereo, the dim of the soft lights, the scent of your hair that you twirled with your fingers."

If Hands Down is one of Dashboard's best radio-friendly songs, Ender Will Save Us All has become the band's trademark closer. Stretching 10 minutes, three times longer than the rest of the band's songs, Carrabba and company went from an acoustic opening to electric sonic wails and feedback.

The singer actually unstrapped his guitar to take the mike, bringing back flashes of his days fronting local emo heroes Further Seems Forever.

The power the guitarless singer exuded rivaled any of today's big names that grace radio and MTV, and a final leap into the crowd cemented the crowd's devotion to their hero.

Carrabba in one song showed the range he and Dashboard Confessional have already mastered and the promise they can become an even greater national act.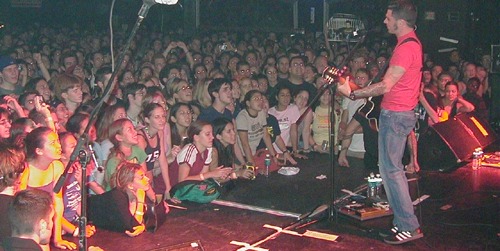 Photo by Jim Hayward, Slammie Productions
Dec. 11, 2001 - Dashboard Confessional, Further Seems Forever, The Rocking Horse Winner, Seville
Club Millennium, Pompano Beach |
See the show poster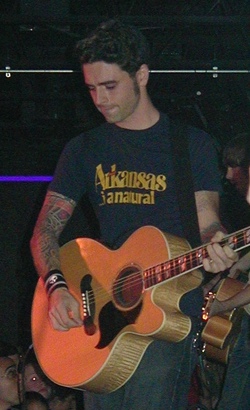 Photo by Jim Hayward, Slammie Productions

Indie concert season ends with a bang
By Dave Thomas, The Palm Beach Post

The last big indie show of the year was also one of the best. Dashboard Confessional's successful cross-country tour made its final stop in the band's backyard before an enthusiastic crowd of nearly 700. The tour, which launched in late October, sold out almost every date in such top venues as Chicago's Metro and Los Angeles' House of Blues.

Dashboard's Chris Carrabba took the stage with only Mike Stroud accompanying him on acoustic guitar as they slowly began the set with the title track from 2001's successful Vagrant Records release, The Places You Have Come To Fear The Most. The full band - featuring guitarist Dan Hoerner of Sunny Day Real Estate along with drummer Mike Marsh and bassist Dan Bonebrake of Seville - kicked in on Saints & Sailors.

The rest of the set was an energetic mix of material from Dashboard's two LPs and also two songs from the upcoming So Impossible EP (due Dec. 18). The band also played an unreleased song, the impressive Knock 'Em Dead.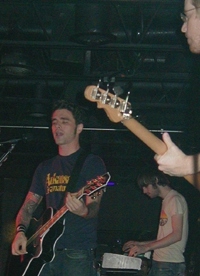 Photo by Jim Hayward
Slammie Productions

The highlight was Ender Will Save Us All (from Dashboard's first release, Swiss Army Romance), with John Owens of Seville singing back-up as Carrabba's distinctive voice filled the room. The serious vibe turned goofy during the "So kiss me hard" line of The Best Deceptions, when Carrabba was the victim of a few well-timed kisses by Owens and Jason Gleason of Further Seems Forever.

The encore featured fan favorites The Good Fight and Again I Go Unnoticed with Carrabba's enthusiastic fans joining in on vocals (as they did much of the night) and members of the bands and crew stage diving.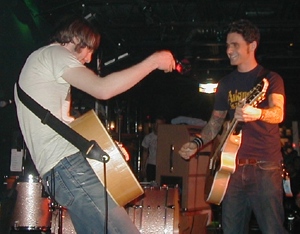 Photo by Jim Hayward, Slammie Productions

Further Seems Forever (Carrabba's old band) preceded Dashboard with new singer Gleason proving to be a worthy replacement. The band tore through material from The Moon Is Down, its Tooth & Nail Records debut LP (which features Carrabba on vocals), and threw in a new song never performed live before. One of the band's original guitarists, Josh Colbert, sat in for a song and the man of the evening (Carrabba) traded lines with Gleason on the set closer, Pictures of Shorelines.

Rocking Horse Winner's set was scaled down to mostly acoustic numbers with guitarist Henry Olmino and singer Jolie Lindholm seated on stools. The duo played new songs that may be included on the band's new record on Equal Vision. After drummer Matt Crum fell ill, Further's Steve Kleisath quickly learned two songs just before showtime. The veteran timekeeper helped Olmino, Lindholm and bassist Jeronimo Gomez rock out to end their set.

Seville got things started with a full-out rock show. Featuring drummer Marsh (who also sings lead vocals) and bassist Bonebrake from Dashboard Confessional, guitarist/vocalist Chris Drueke (formerly of The Agency) and guitarist/vocalist Owens (Anchorman), this South Florida emo supergroup warmed up the crowd with material from their debut EP, Waiting In Seville (Fiddler Records). Seville was the only group on the bill to tour for the entire six weeks with Dashboard Confessional, and members of the crew were ready to celebrate as they tied Owens to his microphone with duct tape. He managed to finish the song, and a good time was had by all - a fun-filled conclusion to the 2001 indie concert season.

Aug. 30, 2001 - Vagrant Tour: Saves the Day, Dashboard Confessional, No Motiv, Hey Mercedes
Orbit Nightclub, Boynton Beach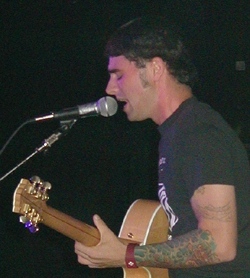 Photo by Jim Hayward, Slammie Productions

Band's homecoming is evening's highlight
By Dave Thomas, The Palm Beach Post

Nearing the end of its summer trek the Vagrant America Tour's lineup of pop punk and emotional indie rock bands entertained an enthralled young crowd at Orbit nightclub in Boynton Beach. The audience swelled to its greatest size during hometown heroes Dashboard Confessional's set of acoustic guitar-based rock.

Singer Chris Carrabba took the stage amid loud cheers with his bandmates. First a solo project, Dashboard Confessional grew to include the area's best rhythm players, Dan Bonebrake on bass and Mike Marsh on drums. The group, which now includes a keyboardist, started the set strong and added punch to The Good Fight, Screaming Infidelities and Saints and Sailors. The songs show the strength of Carrabba's writing.

The singer and guitarist remained seated even during the more upbeat selections from Dashboard Confessional's second album, The Places You Have Come to Fear the Most. More impressive, though, is the power Carrabba displayed alone onstage. Such songs as The Brilliant Dance and the album's title track saw the seated singer straining to deliver lines and chords more powerfully than the recorded versions.

Photo by Jim Hayward, Slammie Productions

Part of the group's live tradition is crowd participation with the fans singing every word in perfect harmony. Even with Orbit's loud sound system, the crowd almost matched the volume and intensity of Carrabba's own singing.

Surprisingly, the crowd noticeably thinned after Dashboard Confessional's set and headliners Saves The Day took a half-hour before taking the stage. Their pop-punk-powered songs were well received, with numerous fans stage diving and joyfully moshing. The group's latest album debuted at 100 on the Billboard top 200, almost unheard of for an independent album.

Photo by Jim Hayward, Slammie Productions

The success of the headliners allowed openers Hey Mercedes to impress with an intelligent and somewhat highbrow take on independent rock. With only a four-song EP to its credit, the band was highly scrutinized by the crowd. Bells, from the group's self-titled EP, started the set off with a familiar tune, laced with heavy guitars and precise delivery. But most of the material for the evening was from an upcoming album on Vagrant Records, making it hard for the audience to react.

Punk band No Motiv followed with a more straightforward style but between opener Celebrate and closer Throw in the Towel there was little to differentiate in the muddied set.

The night clearly belonged to Carrabba and his bandmates. Their homecoming show was exactly what the crowd wanted - energetic, emotional and even a little rock 'n' roll.

Links
Dashboard Confessional | Vagrant Records