SLAMMIE PRODUCTIONS was one of the top independent promotion groups in South Florida in the 1990s and 2000s, specializing in cutting-edge alternative rock. Under the direction of music scene veteran Jim Hayward, Slammie promoted such top acts as A.F.I., Blink 182, Dashboard Confessional, Deftones, Fall Out Boy, Fugazi, Iron Maiden, Korn, Limp Bizkit, Marilyn Manson, Megadeth, My Chemical Romance, New Found Glory, Nonpoint, NOFX, Pennywise, Slayer, Sum 41, Taking Back Sunday, The Used, Yellowcard and many more. Signature events have included the South Florida Slammie Awards, La Fiesta De Punk Rock and Freedom Fest. Hayward appeared in the VH1 documentary, Driven: Marilyn Manson, recounting the shock rocker's early days.
• See photos and a list of all the past concerts
NATIONAL ACTS: Slammie and its partners produced dozens of rock, punk and metal concerts from many of the nation's top booking agencies. In addition to those listed above, some of the more well-known artists that have worked with Slammie Productions are: 7 Seconds, Alkaline Trio, Anti-Flag, The Academy Is, The Adolescents, Agent Orange, Agnostic Front, The Aquabats The Ataris, Atreyu, Avenged Sevenfold, Sebastian Bach, Biohazard, Bouncing Souls, Brand New, The Business, The Casualties, Exene Cervenka, Circle Jerks, CKY, Coheed and Cambria, Dick Dale, Dead Kennedys, The Donnas, Dropkick Murphys, The Early November, Earth Crisis, Eighteen Visions Face To Face, Fear Factory, Ace Frehley and Peter Criss, From First To Last, The Get Up Kids, Guided By Voices, Guttermouth, GWAR, Gym Class Heroes, H2O Hatebreed, KMFDM. Lagwagon, Lars Frederiksen, Life of Agony, Machine Head, The Mad Caddies, Ministry, MxPx, Nekromantix, No Use For A Name, The Queers, Reggie & The Full Effect, Rise Against, Rollins Band, Rufio, Saves the Day, Say Anything, Senses Fail, Shai Hulud, Sick Of It All, Silverstein, The Slackers, Snapcase, Something Coroporate, The Starting Line, Story of the Year, Strike Anywhere, Subhumans, Suicide Girls, Suicide Machines, Thrice, Thursday, Underoath, Unearth, Unwritten Law, Voodoo Glow Skulls, Youth Brigade and many more.
• See an alphabetical list of all the bands
SOUTH FLORIDA TALENT: Among the bands that went on to national success while working with Slammie Productions on a local level are Against All Authority, Dashboard Confessional, Further Seems Forever, Genitorturers, Marilyn Manson, New Found Glory, Nonpoint, Poison The Well and Puya.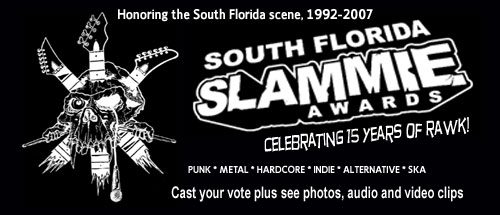 SHOWCASES: Slammie Productions developed several signature events that spotlighted South Florida talent. The South Florida Slammie Awards (1992-1999) was Florida's longest running original rock awards showcase and has featured such top local artists as Marilyn Manson, Nonpoint, Darwin's Waiting Room, Puya, Endo, The Genitorturers, Jack Off Jill, Collapsing Lungs, Further Seems Forever, Strongarm and Shai Hulud. La Fiesta De Punk Rock (2000-present) showcases the area's growing punk scene and has been one of the area's premiere local events, featuring performances by New Found Glory, Against All Authority, Glasseater and other up-and-coming bands. Freedom Fest (2000-2001) was a charity/benefit event that rose to the occasion for a 50-band showcase that raised money for victims of the World Trade Center attack.
• More on the South Florida Slammie Awards
THE PROMOTER: Jim Hayward, a South Florida resident since 1975, founded Slammie Productions in 1992 as a vehicle to promote the Slammie Awards and top local and national talent. Previously and through the late '90s, he was a personal manager of several artists, including the legendary local group Raped Ape (later Paingod). He sat on management panels at the Southeast Music Conference and other industry events and produced and released several independent CDs that were distributed internationally. Hayward has also been a professional journalist for 40 years and has worked at such publications as The Palm Beach Post and The Miami Herald. As a music writer in the late 1980s, he covered the local and national rock scenes and interviewed artists such as Aerosmith, Metallica, The Scorpions, The Cult, Heart, Judas Priest and many others. Hayward has been an editor and web producer for The Post for nearly 35 years.
A lifelong student of retro pop culture, "Hurricane Hayward" started The Atomic Grog in 2011, creating both a blog and production company dedicated to all things Tiki, Polynesian Pop and retro. Since then, most of his efforts have been directed toward his interests in Tiki events, music, art, cocktails and culture.
• Atomic Grog biography | JimHayward.com