SOUTH FLORIDA

AWARDS
1,100 PACK THE EDGE FOR GENITORTURERS, '95 SLAMMIES
Photo gallery

More than 1,100 fans of the South Florida alternative, punk and metal scenes packed The Edge in downtown Fort Lauderdale on July 3, 1995, for the fourth annual South Florida Slammie Awards - a marathon six-hour concert that featured blistering sets from five area bands and one of the best South Florida performances ever by I.R.S./Shock Therapy recording artists Genitorturers.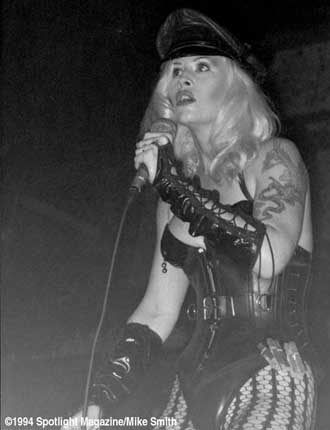 Gen and The Genitorturers


There was still a huge crowd on hand well past 2 a.m. as Genitortuers, an outrageous shock-rock band from Orlando, played new songs from their upcoming album as well as old favorites such as House of Shame and 120 Days from their debut album 120 Days of Genitorture. Some in the crowd said the Genitorturers sounded tighter and better than they ever had before, ripping through the hard-edged metal tunes while vocalist Gen and various leather-clad associates performed uncensored scenes of bondage, S&M and piercing.

For the first time ever, there was a tie for the Band of the Year award, also known as The Grand Slammie. Amboog-A-Lard and Raped Ape (who are changing their name to Paingod) received the same number of votes and each received a heavy, ceramic Slammie skull with engraved nameplate in the forehead. Both have been the most consistently popular South Florida metal bands over the past three years and both will have songs on the upcoming Metal Massacre XII compilation album from Metal Blade Records. The national release helped break such legendary groups as Slayer and Metallica. Amboog-A-Lard also added to its cache of awards by taking the Metal Band, Lead Guitarist (Dan Fontana) and Bassist (Bobby Blanton) honors.

Smite - who won the award for New Band - kicked off the Slammies shortly after 8 and had most of the half-full house immediately moving toward the stage. The young band's tuneful alternative/punk songs came across even more powerfully through the massive PA on hand for Genitorturers. As part of its award, Smite gets 10 hours of studio time at Gled Recording.

Puya and Strongarm shifted the Slammies into overdrive with intense hardcore punk performances. Puya - who won the award for Hard Alternative Band - impressed many in attendance with its punk-metal-jazz-funk-Latin fusion and aggressive stage performance. Strongarm bludgeoned the crowd into submission with its heavy hardcore tunes and slamming stage presence. A gutsy performance was turned in by vocalist Jason, who injured his knee early in the set but continued to belt out the group's positive message with conviction. In addition, the Rhythm Guitar award went to Strongarm's Josh.

Anger kept the momentum going with its bruising hardcore tunes played with the precision of a jackhammer. The group played mostly tunes from its debut album on Germany's SPV/Steamhammer Records, whipping up a massive mosh pit. L.U.N.G.S. brought a heavy dose of hip-hop to the Slammies for the first time, inviting guest rappers on stage and showing off their new direction after having recently dropped the Collapsing Lungs moniker.

The South Florida Pioneer Award was presented posthumously to Fred Zakrie, a longtime supporter of local music and proprietor of Zack's Rock Shop for more than 30 years. Kristi Zakrie was on hand to accept the award as the Slammies saluted her father, who died late last year.

Load, the hardcore Miami punks who have performed twice at the Slammies, won awards for Punk Band and Local Release for their 12-inch vinyl album Load. For winning Local Release, Load gets 100 free duplicated cassettes from Natural Sound. Jack Off Jill, who played a raucous set the night before the Slammies during a pre-party at Squeeze, also won two awards: Vocalist (Jessicka) and Drummer (Tenni Ah-Cha-Cha). Jessicka also gets a $100 gift certificate from Outrageous Tattoos.

The only band not on hand to accept their skulls was Marilyn Manson, who won two awards for their debut album on Nothing/Interscope Records: National Release (Portrait of an American Family) and Single (Lunchbox). The band is filming a new video in New Orleans, where they plan to relocate.

Hundreds of votes were tallied from open ballots distributed in area independent record stores and regional magazines for months prior to the awards. The awards were presented by area musicians (Jason Lederman of Machine, Steve Rullman of The Unseelie Court), DJs (Glenn Richards and Chris LeLugas of WVUM), journalists (Dennis Walkling of Jam magazine, Jay Greenwald of The Voodoo Highway, Paul Miller of Pulp) and other music industry professionals (Jsin Myers of Fantasma Productions, Helaine Blum and Lydia Ojeda of the Florida Music Association, Lindell Trocard of Blue Note Records, Rat Bastard of Sync Studios and Esync Records, Gary Stryder of Gled Recording Studio). The Grand Slammie was presented by Joe "Catman" Catalano, formerly of The Cellblock, who hosted the evening's activites and spun all local music between bands.

Many concertgoers left with CDs, T-shirts and other merchandise that was donated by sponsors and thrown out to the audience between sets. The sponsors who provided goods were ABCD's Music, Blue Note Records, CD Source, Iguana Records, Music Box, Pavement Music, RED Distribution, Sound Splash, Sugar Daddy's and Y&T Records. Other sponsors included Pulp and Voodoo Highway magazines.

The Slammie Awards expanded to a second night with a special pre-party July 2, at Squeeze in downtown Fort Lauderdale featuring the first annual Slammie Survival Seminar, The Pit movie premiere and a four-band showcase.

The seminar, subtitled "How to thrive in the hard music underground without getting burned or selling out", featured more than an hour of spirited repartee from panelists Crime (L.U.N.G.S. vocalist), Rat Bastard (Sync Studios, Esync Records), Jay Greenwald (Voodoo Highway magazine), Jsin Myers (Fantasma Productions), Steve Rullman (WPBR-AM, The Wormhole, The Unseelie Court) and Daryl Scott (L.U.N.G.S. manager). Glenn Richards, Squeeze DJ and host of WVUM's local show, had his hands full keeping the rowdy panelists (Bastard most noteworthy) and patrons in line. The freewheeling discussion ranged from what constitutes a "sellout" to dealing with indie and major record labels.

After the seminar, the back room at Squeeze was packed for the world premiere of The Pit, a short film produced by the Florida State University Film Conservatory and featuring music from SFSA: South Florida Slammie Awards Vol. I, a 19-band CD released in December. The film, a surreal narrative about two young people who meet in a mosh pit, received a huge round of applause as the credits rolled.

Following the film, The Unseelie Court, Cell 63 (in their farewell show), Radio Baghdad and Jack Off Jill brought the informative and entertaining evening to a slamming climax with high-powered sets of spirited alternative and punk in Squeeze's front room.