SOUTH FLORIDA

AWARDS
1,200 ATTEND '94 SLAMMIES AT THE EDGE
Photo gallery

Nothing/Interscope recording artists Marilyn Manson headlined the third annual South Florida Slammie Awards on Sunday, July 3, 1994, at The Edge in Fort Lauderdale before more than 1,200 underground music fans.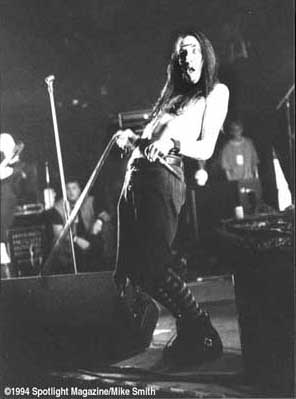 Marilyn Manson


The Mansons - who were celebrating the release of their debut album, Portrait of an American Family - received the Grand Slammie (the Band of the Year award) before performing an intense 45-minute set to close the evening.

Performing 30-minute sets during the 5 1/2-hour, all-ages show were Pompano Beach hardcore band Tension, Miami alternative quartet The Holy Terrors, Fort Lauderdale punk/alternative band Jack Off Jill, popular Miami punk band Load and West Palm Beach heavy groove band Raped Ape.

The performing bands won nine of the 15 awards, which were presented between sets by local music industry VIPs, DJs, musicians and journalists. The awards are heavy ceramic skulls with the winner's name engraved on a plate in the forehead. More than 500 ballots were received by the organizing committee and counted just days before the event.

In addition to the Grand Slammie, Mr. Manson was voted top vocalist and will receive a free tattoo from sponsor Outrageous Tattoos. Load took home three awards and were their usual chaotic selves onstage. They scored one of the most well-received sets of the night and won awards for National Release (the Sleestack 7-inch), Single (Pastor's Day) and Punk/Hardcore Band.

Other multiple award-winners were Atlantic Records group Collapsing Lungs, who are on tour supporting their Colorblind EP. The Broward rap-core group won for Hard Alternative Band and Drummer (Chris Goldbach). Broward alternative thrash act Amboog-A-Lard came back strong with the Local Release (A New Hope) and Thrash Band awards. For winning Local Release, the band gets 100 free duplicated cassettes from The Audio Craft Co.

Opening band Tension, which played to a receptive 500-or-so slammers even at 8 p.m., was awarded the Slammie for New Band and will recieve $500 in recording time from sponsor Gled Recording. Raped Ape, which whipped up the biggest slam pit of the night, nabbed the bassist award (Tommy Buckley). Jack Off Jill, who ended up in a heap on the front of the stage after their frenetic set, took home the rhythm guitarist award (Michelle Inhell).

The first South Florida Pioneer Award, honoring scene supporters from at least 10 years ago, went to Open Books and Records, a recently closed North Miami Beach store. The award was presented by Jeff Lemlich, author of Savage Lost, the authoritative history of South Florida garage bands.

The Lead Guitarist winner was Paul Masvidal of Cynic, the Roadrunner Records band now on a major U.S. tour, while Malevolent Creation won for Death Metal.

Between bands, hundreds of dollars in merchandise - T-shirts, stickers, CDs, tapes, etc. - donated by sponsors was given away. Those sponsors include RED Distribution, Far Out Records, Y&T Records, Music X-Change, Inquisition Records, Record Haven, Sound Splash, Zack's Rock Shop, A.R.T. Records, Nothing/Interscope Records, WVUM-FM and Metalzine.

Other sponsors donated ad space or air time and other special services. They include South Florida Music Spotlight, Unloved Promotions, Irate Radio, WLRN-FM, WOWL-AM, Lizard's Eyelid, D.B.N., Ripples and Boxhead Productions. In addition, several activist groups - Including Rock Out Censorship and Refuse & Resist - were on hand providing information.