SOUTH FLORIDA

AWARDS
New blood, old blood unite at Slammies
Groovenics, Nonpoint dominate awards
Collapsing Lungs reunite
Photo gallery

More than 400 people packed Fort Lauderdale's Fu-Bar on Thursday, Dec. 30, for the 8th annual South Florida Slammie Awards, a raucous and chaotic local music party that proudly rocked in the new millenium.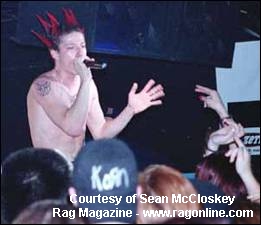 Karl Bernholtz, The Groovenics


The highlight of 1999 was a surprise reunion by former Atlantic Records recording artists Collapsing Lungs, performing together for the first time in five years. Also delivering high-energy, crowd-pleasing sets were newly signed Roadrunner hard-rock band Crease, popular genre-bending punk/metal band The Groovenics, newly signed Tooth & Nail emo band Further Seems Forever and two up-and-coming alternative/metal bands, Darwin's Waiting Room and Lost.

The leaders of the new metal scene - The Groovenics (Band of the Year and Vocalist) and Nonpoint (Album of the Year, Guitarist, Drummer) - dominated the awards for the second year in a row. Lost took home the New Band award while Zelick of Endo won for Bassist.

Fort Lauderdale's Lost opened the show with a intense five-song set of new metal, it's young female fans packed up against the front of the stage. Combining rap vocals with more soulful singing and a dynamic approach to metal, Lost covers all the bases.

Darwin's Waiting Room hit the stage with a fury, it's dual vocalists forming a full-frontal rap-metal assault. Featuring samples, funky bass/drums and offbeat rhythms, DWR is forging a fresh path in a saturated genre.

Next up was emo-core band Further Seems Forever, featuring former members of Slammie veterans Strongarm ('95, '97) and longtime pop-punk band Vacant Andys. The band's six atmospheric indie pop-punk songs had a enough power to keep the Slammie crowd satisfied and added some much needed variety to the proceedings. FSF recently signed with Tooth & Nail Records, Strongarm's old label.

Collapsing Lungs, who signed with Atlantic shortly after performing at the '93 Slammies, were a special treat - the band was a major influence on many of the current crop of rap/metal bands. The reunion was a last-minute decision and was confirmed only hours before the show. The cancellation of Where Fear and Weapons Meet, who were unable to return from a tour in time to perform, opened up a time slot for the South Florida industrial rap-core pioneers. "They taught us how to play," said Matt Swig of the Groovenics in introducing the band. "If it weren't for Collapsing Lungs, me and the rest of the Groovenics would not be here," added Josh Mullenix.

The band (minus vocalist Brian Tutunick but boasting the remainder of the original lineup) hit the stage with their signature song, Crackerjack. "We haven't seen each other in years and had a one minute practice," said vocalist Crime Cassara. DJ Embryo kicked off "Head Crack", a Ministry-esque stomper that was always a highlight of the Lungs live show. "Just a little taste of the old school," Cassara said. The band closed with a freestyle industrial rap jam session, featuring the precision drumming of Chris Goldbach and guitar riffing of Pete Gross.

Immediately after their performance, Embryo and Crime presented the Album of the Year award to Nonpoint. In introducing the New Band award, Pete Carmichael of The Groovenics said: "This is a real important award. It's for all the bands who bust their ass." Lost picked up the skull and a loud round of cheers from their fans in attendance.

The Groovenics grabbed the spotlight from Collapsing Lungs with their usual bravado, turning the stage into a high-energy rap-metal-funk-punk explosion. Award winning vocalist Karl Bernholtz, his multi-colored hair teased into enormous pointy spikes, was in fine form - commanding the stage with his presence and wide range. The band showed why it won the Band of the Year award, performing all its crowd favorites - including the powerful Windchill, the hilariously funky Booty Barn and rap-funk cover of Def Leppard's Pour Some Sugar On Me. They were joined by Nonpoint's Elias on She's a Freak, the crowd also providing backing vocals. The band cruised through a crowd-pleasing eight-song set and collected its seventh and eighth awards, pulling it to within one of Marilyn Manson in second place on the all-time awards roll (more impressive considering there were more award categories during Manson's local days).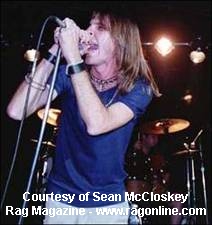 Kelly Meister, Crease
Newly signed Roadrunner Records artists Crease closed the show with a tight set of their radio-friendly hard rock, including 94.9 Zeta favorite Frustration. Toast, host of Zeta's local show and Slammie master of ceremonies, introduced the band as some of the younger fans filed out. Toast exhorted the crowd to stay, but Crease's old-school rock was met with a flat response, a anti-climatic ending to an otherwise raucous ninth Slammie Awards show.
The '99 Slammies were sponsored by: Altarnative.com, Altered State Tattoo, Blue Note Records, Concrete Marketing, Conquest Music Group, Exposure Magazine, Florida Crossover Syndicate and Crossover Fest 2000, Guitar Center, TheHoneycomb.com and Honeycomb Radio, Lack of Sleep Records, Music X-Change, Natural Sound, NSU Radio X 88.5 FM, Rock Docs Inc., Sonicsmoke.com, Streetwise Marketing, Universal Music, Victory Records, WVUM 90.5 FM and WZTA 94.9 FM.
The Slammie Awards are presented by Slammie Productions in association with Chaos Productions. The two promoters have presented national underground punk, metal and hardcore club concerts in South Florida since the mid-90s.