SOUTH FLORIDA

AWARDS
500 pack Squeeze for 6th Slammies
6 band, 6-hour slamfest rocks packed house Sept. 13
Photo gallery

The South Florida Slammie Awards, scaled back for its sixth installment to the cozy Squeeze nightclub in downtown Fort Lauderdale, proved to be an eclectic, marathon 6-hour show for the more than 500 local music fans packed into the venue on Saturday, Sept. 13, 1997.

After three years at the cavernous Edge, the Slammies moved down the street due to the lack of a major headlining band. But the irreverant awards show and concert was no less exciting than years past, featuring some surprise winners, several vintage performances and an incendiary incident on stage. Local music fans, bands and supporters mingled throughout the night and a general mood of cooperation prevailed.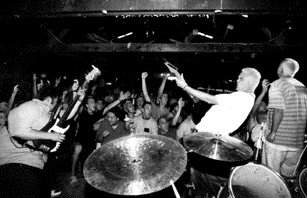 Strongarm


The Groovenics (winners of the Local Release and Bassist awards) kicked off the festivities around 7:30 and immediatly got the crowd moving. In true Slammie tradition, the intensity level never let up until well past 1 a.m. when the show finally ended with a rousing set by Tooth and Nail recording artists Strongarm (featuring award-winning drummer Steve Kleisath). In between, the crowd was treated to a teeth-rattling set by Miami sludge-core masters Cavity, an uplifting hardcore set from Broward County's Shai Hulud (also featuring Kleisath) and a Slammie first, a graceful set of traditional ska by King 7 & The Soulsonics.

Punk rock ruled the night's big awards with The Grand Slammie for Band of the Year going to Against All Authority and National Release going to The Crumbs for their Lookout Records release It's Hot Down Here. Load and Jack Off Jill were multiple-award winners. Guitarist Jeff Tucci, who plays in both bands, had his hands full accepting the new skull trophies for himself, JOJ vocalist Jessicka and Load (for their Lumberjack Death Luge single). The New Band award went to metal band Creative Pain.

It wouldn't be the Slammies without a little controversy. Playing third, Brutal Mastication nearly incited a riot and ended up cutting their set short when fights broke out on and around the stage. After a few scary moments, order was quickly restored and King 7 put the show back on track.

As usual, the Slammies were assisted by many sponsors who donated goods and services to the cause. All the award winners walked away with additional prizes, from studio time to tape duplication to a free tattoo. Concertgoers left with thousands of dollas in prizes, mostly CDs and tapes. The 1997 sponsors were: Blue Note Records, Sound Splash, Uncle Sam's Records, Y&T Records, Music X-Change, Music Box, Universal Music Group, Conquest Music Group, Century Media Records, RED Distribution, Concrete Marketing, Rag magazine, Natural Sound, Beach Sound, Tapeworm Studios, Music Arts Enterprises and Altered State Tattoo.