SOUTH FLORIDA

AWARDS

Puya headlines 7th annual hard-music showcase
MCA recording artists cut their teeth in South Florida scene

The South Florida Slammie Awards returned to its roots for 1998 with a little help from Puya, the genre-bending Latin quartet from Puerto Rico that called Fort Lauderdale home in the mid-'90s. Puya headlined the '98 Slammies on Thursday, Dec. 17, at Fu-Bar in Fort Lauderdale.

Now signed to the giant MCA label after moving to Los Angeles, Puya recently released a three-song EP in advance of its full-length debut. Puya previously performed at the 1995 awards and also appeared on SFSA: South Florida Slammie Awards Vol. 1, a compilation CD released in '94.

The Groovenics (Band of the Year, Local Release, Bassist and Vocalist) and Nonpoint (Guitarist and Drummer) established their dominance of the local scene by sweeping six of the eight awards. The other winners were Jack Off Jill (National Release for Sexless Demons and Scars) and A New Found Glory (New Band).

Because of the small capacity of Fu-Bar, admission was limited to ages 18 and older, resulting in the smallest crowd in Slammie history (around 350). But it was also one of the most rocking (and drunken) Slammies in history.

As beer bottle lie strewn about the stage, Puya tore through an incredibly tight and emotional set comprised of new tunes from its upcoming major-label debut as well as old favories from its South Florida heyday.

Opening with Union, from the band's 1995 self-titled CD release in South Florida, Puya hit the stage with fury. "This is for all the old-timers out there," vocalist Sergio Curbelo said. Later, Curbelo thanked the fans for "keeping the scene alive." Then he added, "We're back home. We love you."

Playing without the usual horn section but with a third percussionist on congas (Curbelo also plays various percussion instruments), Ramon Ortiz (guitar), Eduardo Paniagua (drums) and Harold Hopkins (bass) played with power and precision. Puya's music is funky and heavy, the Latin salsa flourishes adding dynamics and variety. The vocals switched effortlessly from Spanish to English to Spanglish.

The crowd stuck around well past 1 a.m. to groove with Puya, chanting for an encore. Puya didn't disappoint, closing with the old favorite Chisme from the '95 CD as well as the band's first demo tape in '94.

Sharing the stage with Puya were some mainstays of the South Florida hard-music scene.

Creative Pain (last year's New Band winner), opened the night with a heavy dose of hardcore-meets-thrash with death metal and rap thrown in for good measure. Next was Miami's Endo, who awoke the crowd with its heavy, groovin' hard rock/metal with rap style hardcore vocals and heavy, slammin' grooves.

West Palm Beach new-school metal band Gonemad, a hard-working quintet who have already recorded three CDs and toured the East Coast five times in just over two years, showed the holiday spirit with its Santa attire. The group seamlessly combined hip-hop grooves with heavy rock and hardcore aggression, resulting in a huge overall sound. Elias from Nonpoint joined Gonemad on stage for Direct Approach, a song from the new Gonemad album Planet 9.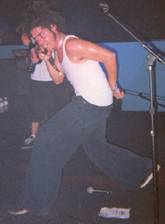 Elias of Nonpoint


Groove-metal powerhouse Nonpoint (who played the '96 showcase, then completely overhauled its membership and sound, resulting in five nominations this year) got the biggest crowd reaction besides the headliners. Nonpoint, which also has roots in Puerto Rico, was joned onstage by members of Puya (and old Nonpoint members) for their final song, sung in Spanish. Nonpoint's music hits hard: heavy, jagged riffs (from guitarist Dru Goldman) with funky basslines (K.B.) and jackhammer drumming (Robb Rivera) topped by the rage-filled but soulful vocals of Elias. When Karl Bernholtz of The Groovenics won the Vocalist award, he split it with Elias (literally), drawing a line down the center of his skull trophy. Other Groovenics winners were bassist Pete Carmichael and the CD Wedgie Fever.

Venerable Miami pop-punk band Quit (who pulled out of the '93 show because of an injury and broke up shortly thereafter only to recently reform) was not appreciated by the metal-oriented crowd during its short set. Miami's Load (who opened the first Slammies in 1992, returned in '94 and are now the all-time champion in awards), blasted through a short set of drunken punk while fighting with each other onstage, a Load tradition. The band proved to be just as ornry as ever, lashing out at the audience and each other. "Just play the song, dumbass," vocalist Bobby Johnston told bassist Tony Qualls at one point. Later, guitarist Jeff Tucci grew frustrated with Johnston, telling him to "shut the fuck up." In other words, classic Load.

Winners received the traditional heavy ceramic Slammie skull and some winners received bonus prizes such as studio time and tape duplication. Thousands of dollars in merchandise (CDs, posters, stickers, etc.) was given away as door prizes.