SOUTH FLORIDA

AWARDS
1994 Photo Gallery
July 3, 1994: The Edge, Fort Lauderdale
Marilyn Manson, Raped Ape, Load, Jack Off Jill, Holy Terrors, Tension

Official press release
Attendance hit a all-time Slammie high of 1,200-plus and inspired the cover the the South Florida Slammie Awards Vol. 1 compilation CD.
ATTENTION WEB MASTERS: Please credit
"Marilyn Manson at the South Florida Slammie Awards,
Copyright 1994 Spotlight Magazine / Mike Smith"
on any links to the following photos.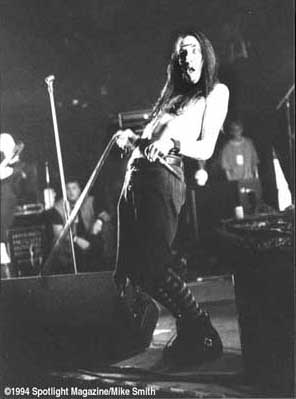 Headliner Marilyn Manson took the stage after winning the award for Band of the Year. Mr. Manson was also voted best Vocalist. (Note the Slammie Skull on the amp below Manson's elbow.)
According to a report in the Fort Lauderdale Sun-Sentinel, "Marilyn Manson closed the show with one of the weirdest performances I've ever seen. (continued)
"What could be weireder than girls locked in a cage banging to get out while a skinny boy in a grim reaper hat and cane screams parts from Willy Wonka and the Chocolate Factory?"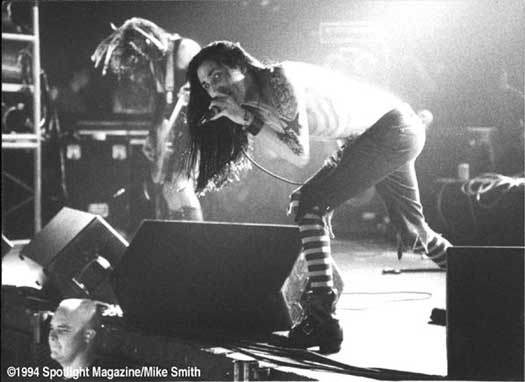 Within two years, Manson achieved superstardom and was booed by the tough audience at the '96 Slammies headlined by Biohazard.
Load made its second appearance and won three awards: National Release, Single and Punk/Hardcore Band. (Note skull to right of singer Bobby Johnston.)