Updated March 1, 2014
See below: Our Mai Tai review | Tribute recipe
Related: The off-menu Suffering Bastard was just a Mai Tai with a kick
What could be Cooler than a Mai Tai history lesson? | Mai-Kai cocktail guide
The Mai Tai has been recognized for more than 50 years as the definitive tropical drink. You'll get some arguments from Zombie fans like myself, but there's no denying that the Mai Tai is one of the world's most popular and distinctive cocktails, period.
Much has been written about how to make an "authentic" Mai Tai, as created by Trader Vic circa 1944. Jeff "Beachbum" Berry has a very concise history lesson and recipe posted here. As the Bum points out, the argument over who really invented the drink persists to this day.
We subscribe to the theory that Victor "Trader Vic" Bergeron created the Mai Tai after tasting a Don the Beachcomber drink with a similar flavor profile called the Q.B. Cooler. Donn Beach, who created the Tiki bar concept in 1934 in Los Angeles, also had a drink called the Mai Tai Swizzle, but it was gone from the menu by 1937. It's widely accepted that Vic frequented Don the Beachcomber before opening his first Trader Vic's in Oakland. Could he have lifted the name from one drink and the flavor profile from another in creating his Mai Tai?
It's entirely possible, but that has nothing to do with The Mai-Kai, or its drink called the Mai Tai. The Mai-Kai already serves a descendant of the Q.B. Cooler called the K.O. Cooler (See our previous review). If you're looking for the taste of an authentic Trader Vic's Mai Tai, try the K.O. Cooler.
The Mai Tai served at The Mai-Kai is one of many variations created in the wake of the success of the original drink. You'll find some good examples from vintage Tiki restaurants in Beachbum Berry's cocktail guides, such as the Bali Hai Mai Tai, Damon's Mai Tai, Kon-Tiki Mai Tai and Surf Room Mai Tai. You'll find bad examples at hundreds of bars across the country.
The Mai Tai has not been spotted on any Mai-Kai menu through 1966. But it was there in 1970, perhaps added due to customer demand as the drink's popularity reach its peak. Regardless, it seems more like an original creation by Mai-Kai mixologist Mariano Licudine than a spinoff of the Donn the Beachcomber or Trader Vic classics. More sweet than sour, with a familiar Mai-Kai rum profile.
Regardless of its origin, The Mai-Kai's Mai Tai is one of the Fort Lauderdale Polynesian palace's most popular drinks and has become a classic in its own right. At first taste, it may seem simple, but it's actually one of the more complex drinks on the menu.
There could be as many as three juices, four syrups, two rums, a liqueur, bitters and club soda in this sweet but potent concoction. It took several years before I even attempted a tribute recipe, and my initial attempts were a bit too simplistic. Finally, a fairly accurate tribute recipe was posted in April 2012, coming close as I was ever going to get. Or so I thought.
Fast forward to early 2013 and the eye-opening discovery of the many "lost cocktails" that disappeared from the menu over the years. Several found their way back to the bar and were enthusiastically greeted at special events over the prior six months. One such welcome yet unexpected return was a drink that never appeared on a Mai-Kai menu yet was almost as famous as the Mai Tai.
The Suffering Bastard, invented in Cairo in 1942, was so popular in the mid-century that it became one of the most-requested drinks at every Tiki bar, whether it was featured on the menu or not. Just as the popularity of the Mai Tai forced bars to either copy Trader Vic's classic or create their own version, so did the Suffering Bastard.
The original Suffering Bastard is nothing like a tropical drink you'd find at The Mai-Kai. It includes gin, brandy and ginger beer. But many mixolgists took the drink in radically different directions. Trader Vic's version is basically a souped-up version of his Mai Tai with more rum.
According to manager Kern Mattei, The Mai-Kai's Licudine stole a page from Vic's playbook and made his version of the Suffering Bastard a slight variation of his own unique Mai Tai, adding the distinctive cucumber garnish instead of the pineapple spear, flowers and mint. We were privileged to sample the revived Bastard on three separate occasions and can confirm this as 100 percent true.
Repeated examinations of both the Suffering Bastard and Mai Tai also revealed a great depth of flavors, which I've attempted to re-create with the updated tribute recipe below.
The official menu description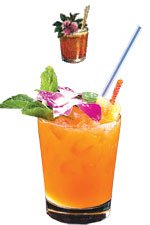 MAI TAI
The celebrated drink of the islands, made smoother here by the subtle introduction of Appleton 12 year old Jamaican Rum.
Okole Maluna Society review and rating
Size: Medium
Potency: Strong
Flavor profile: Pineapple juice, Appleton dark rum, sweet syrups, falernum.
Review: Very sweet but nicely balanced by the aged rum and complexity of the falernum, an exotic lime/almond/ginger syrup from the Caribbean.
Rating: 3 1/2 out of 5 stars
(see how it ranks)
Ancestry: There were so many mid-century variations of the Mai Tai, it's impossible to know exactly what inspired this version. But we know that Mariano Licudine was a Don the Beachcomber alumn so we're fairly certain there's some influence from Donn Beach's classic repertoire, namely the falernum.
Bilge: The garnish (fresh mint, pineapple spear, and edible orchid) is one of the most elaborate of all the Mai-Kai cocktails. The menu description is one of three to tout Appleton Estate Extra. The venerable Jamaican brand is one of the most high-profile rums on The Mai-Kai menu. Here's a list of other Mai-Kai drinks believed to contain Appleton rum. Note that "Mai-Tai" is hyphenated on The Mai-Kai's menu, but we're sticking with the traditional spelling in this guide to avoid confusion.
Agree or disagree? Share your reviews and comments below!

Tribute to The Mai-Kai's Mai Tai
By The Atomic Grog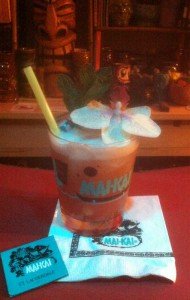 * 1/2 ounce fresh-squeezed lime juice
* 1/2 ounce fresh-squeezed orange juice
* 1 ounce all-natural pineapple juice
* 1/4 ounce rich honey mix
(2 parts honey to 1 part water; mixed, then chilled)
* 1/4 ounce falernum
* 1 ounce Appleton Estate Extra dark Jamaican rum
* 1 ounce Appleton Special gold Jamaican rum
* 3-4 drops of Pernod
* Dash of Angostura bitters
* Dash of grenadine
* 1/4 teaspoon fassionola (see below)
* 1 1/2 ounces club soda
Pulse blend with 1 heaping cup of crushed ice for 5-7 seconds and pour into a double old-fashioned glass. Garnish with mint springs and flowers.
As stated above, this is not at all like a classic Mai Tai from Trader Vic's, but it's a great balance of many juices and flavors that also features a fine rum. Highly drinkable and a bit dangerous since it does pack a deceptive punch.
Notes and tips for home mixologists
* It goes without saying that fresh fruit and juices are crucial. Only the pineapple juice doesn't need to be hand-squeezed, but be sure to pick up an all-natural carton in the refrigerated juice aisle (no cans).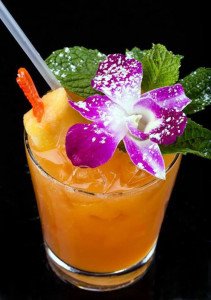 * The rich, sweet flavors of this drink had us stumped during our initial attempts at a tribute. The falernum was a no-brainer, and my bottle of Fee Brothers falernum did the trick. My initial recipe also featured rich sugar syrup, but something was missing. Changing this to honey mix, a Mai-Kai staple, was the first step. If your palate is attuned like mine, you may taste slight honey notes in this drink from time to time. But something was still off. And the color of my tribute was more yellow than the reddish orange of the real deal. That most likely meant grenadine and/or fassionola. And as I learned during my detailed review of the Cobra's Kiss and several other drinks, this obscure bar syrup was a secret weapon for adding intense fruity flavors as well as a healthy dose of color.
* The recipe also uses a few other elements to balance the sweetness. Bitters and Pernod traditionally serve this purpose nicely and work well here. And the club soda keeps the drink from becoming too intense, infusing a slight effervescence.
* The Mai Tai is also a great showcase for Appleton's 12-year-old rum, which blends nicely with the sweet juices. I also used Appleton gold, but you're welcome to use other brands to compliment the dark rum. Something from the Caribbean would be best to fit the bill. The Mai Tai is that perfect drink to sweep you away to an exotic island.
Okole maluna!