Updated July 2015
See below: Our Yeoman's Grog review | Ancestor recipe | Tribute recipe
Related: Navy Grog ice cone: Lost art is revived by cocktail enthusiasts, handy gadget
Mai-Kai cocktail guide
It goes without saying that The Atomic Grog is a big fan of any traditional "grog," and the Yeoman's Grog at The Mai-Kai is one of the best. But where exactly does the the term "grog" come from? And what's the story behind the Yeoman's Grog?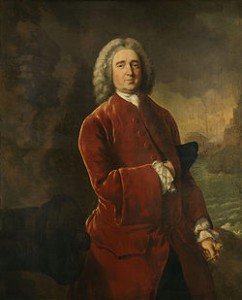 In the British Navy, it became tradition in the mid-1600s to grant all seamen a daily half-pint ration of rum. In 1740, seeking to cut down on rampant drunkenness, Admiral Edward Vernon, nicknamed "Old Grog" because of the cloak made of grogram (a silk fabric) that he always wore, ordered the rum mixed with a quart of water. Some years later, when it was proven that citrus fruit prevented scurvy, lime juice was added to the mix. The world's first proper tropical drink was born, named the "Navy Grog" after Old Grog himself.
Roughly 200 years later, when tropical drinks were all the rage, a greatly enhanced version of the Navy Grog was popularized by Donn Beach (aka Don the Beachcomber) and Victor Bergeron (aka Trader Vic). When The Mai-Kai opened in 1956, mixologist Mariano Licudine created the Yeoman's Grog, based heavily on Donn Beach's version, which he knew well from his years working at Don the Beachcomber in Chicago.
But Licudine took the Yeoman's Grog to the next level by lifting the best element of Trader Vic's Navy Grog – allspice liqueur, aka pimento dram. This is one of those special, subtle ingredients we've noted in past reviews (see the Deep Sea Diver and Rum Julep), but it really takes a starring role here. But, as usual, Lucudine gave it his own special touch (see tribute recipe below).
Most current Trader Vic's recipe books refer vaguely to "Navy Grog mix" and attempt to sell you a bottled product. But older reference books (and research by Tiki cocktail historian Jeff "Beachbum" Berry) revealed that allspice syrup is indeed the key ingredient. In lieu of making your own syrup, pimento liqueur (manufactured by Wray & Nephew in Jamaica, and St. Elizabeth in Europe and the U.S) is a fine substitute.
The Don the Beachcomber and Trader Vic recipes are very similar otherwise, with a base of lime juice, grapefruit juice and multiple dark and gold rums. That's no surprise since these Tiki bar pioneers are well known to have borrowed liberally from each other. Often, litigation ensued (see the K.O. Cooler and Mai Tai).
Perhaps the coolest signature touch carried over from Donn Beach's Navy Grog to the Yeoman's Grog is the straw encased in an ice cone. As Beachbum Berry discussed over the years via his books, blog and symposiums, the ice cone was a lost art that The Mai-Kai helped keep alive. In 2013, Berry himself continued the tradition with the release of Beachbum Berry's Navy Grog Ice Cone Kit, the perfect tool for Tiki home bartenders. Check out our review of this nifty gadget, along with more on the Navy Grog:
* Navy Grog ice cone: Lost art is revived by cocktail enthusiasts, handy gadget
**************************
The official menu description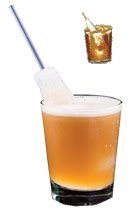 YEOMAN'S GROG

A dry, hardy, full ration of grog, as quaffed by the rugged seamen of the adventurous Clipper ship days.
Okole Maluna Society review and rating
Size: Medium
Potency: Strong
Flavor profile: Dark rums, allspice, grapefruit juice, honey.
Review: Very strong dark rum and allspice notes dominate this rich and rummy creation that combines the best elements of the iconic Navy Grogs popularized by Don the Beachcomber and Trader Vic.
Rating: 4 out of 5 stars (see how it ranks)
Ancestry: The Yeoman's Grog dates back to the original 1956 Mai-Kai menu, no doubt a direct descendant of Don the Beachcomber's Navy Grog (including the signature ice cone). It also contains a nod to Trader Vic's drink of the same name.
Bilge: The Navy Grog was rumored to be Frank Sinatra's favorite drink. And, as Beachbum Berry revealed, it's also the drink that record producer Phil Spector enjoyed at the Beverly Hills Trader Vic's the night he murdered actress Lana Clarkson in 2003.
Agree or disagree? Share your reviews and comments below!

**************************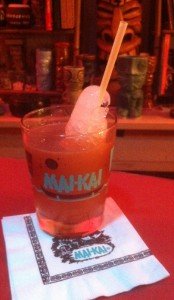 ANCESTOR RECIPE
Navy Grog (Don the Beachcomber, circa 1941)
(From Beachbum Berry Remixed)
* 3/4 ounce fresh-squeezed lime juice
* 3/4 ounce white grapefruit juice
* 3/4 ounce soda water
* 1 ounce honey mix
(equal parts honey and water, mixed thoroughly)
* 1 ounce light Puerto Rican (or Virgin Islands) rum
* 1 ounce dark Jamaican rum
* 1 ounce Demerara rum
Shake vigorously with at least 1 cup of ice cubes. Strain into a double old-fashioned glass with an ice-cone straw (see below).
Navy Grog ice cone
You now have two options for making an authentic ice cone: Buy Beachbum Berry's Navy Grog Ice Cone Kit, or make your own the DIY way. In 2013, Berry joined forces with Cocktail Kingdom to release a nifty stainless steel cone that you can buy online to make perfect ice cones at home. We put the gadget to the test recently with a head-to-head comparison against the pilsner glass method outlined below. Click here to see the full review. We're told that The Mai-Kai has been using a similar contraption for years.
If you have pilsner glasses on hand and don't want to spring for another bar tool, here are the instructions Berry outlined in his first recipe book, Grog Log, in 1998:
* Pack a pilsner glass with finely shaved ice, run a chopstick through the middle to make a hole for the straw, then gently remove the cone from the glass. Freeze the cone overnight. When ready to serve, run a straw through the cone. Sip the drink through the straw.
Berry wrote in Grog Log that he learned how to make an ice cone from veteran Tiki bartender Tony Ramos in the early 1990s. Prior to the book's release, only The Mai-Kai and a few old-school Tiki bartenders regularly made them. In the following years, many of the new wave of Tiki mixologists gave it a try and documented their experiences online. Dr. Bamboo has posted perhaps the most intensive and meticulous research. Click here for his detailed guide and tips.
I didn't have that much trouble making a cone on the first try. I have an old ice crusher that I rarely use that finely chops ice into snow-cone sized pieces. I deviated from the instructions a bit, leaving the ice and chopstick in the glass in the freezer for an extended period. But it was no problem to remove after the glass sat at room temperature for 5 minutes.
But as our recent test revealed, the Navy Grog Ice Cone Kit is superior to the fragile glass, so consider making that purchase if this is a drink you plan on enjoying frequently.
Notes and tips for home mixologists
* Fresh-squeezed lime juice is a must. But white grapefruits aren't easily available, so I usually use a bottled brand that contains 100 percent juice with no added sugar, artificial flavors or colors (such as Ocean Spray or Trader Joe's).
* My rum choices are Cruzan Estate Light, Coruba dark Jamaican, and El Dorado 8. All are among my favorites in their respective categories and blend perfectly in this version of the Navy Grog.
**************************
Tribute to The Mai-Kai's Yeoman's Grog
By Steve Wahlin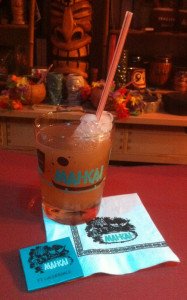 * 3/4 ounce fresh-squeezed lime juice
* 1 1/2 ounces white grapefruit juice
* 3/4 ounce rich honey mix (see below)
* 1/2 teaspoon Don's Spices #2
(equal parts vanilla syrup, pimento liqueur)
* 1 ounce light Puerto Rican (or Virgin Islands) rum
* 1 ounce dark Jamaican rum (Kohala Bay or equivalent)
* 1 ounce Demerara rum (Lemon Hart 80 or equivalent)
* 1/2 ounce soda water
Pulse blend in top-down mixer with 1 cup of crushed ice for 5-7 seconds. Strain into a double old-fashioned glass with an ice-cone straw.
Licudine brilliantly blended the best elements of the Don the Beachcomber and Trader Vic's versions of the Navy Grog. But even then, he didn't just add allspice liqueur. He used a secret weapon: the richer, sweeter Don's Spices #2. At least, this is our theory. The Mai-Kai may have a different formula than equal parts vanilla syrup and pimento dram, but it sure works great in this and several other tribute recipes (see Special Planters Punch, Black Magic and Samoan Grog).
This recipe was the handiwork of Steve Wahlin (aka Quince_at_Dannys on Tiki Central). I had always suggested simply adding allspice liqueur to Donn Beach's Navy Grog to approximate the Yeoman's Grog. But his re-formulation was spot-on. And his inclusion of Don's Spices #2 spurred its addition to more recipes, such as those noted above. Mahalo Steve!
Notes and tips for home mixologists
* The traditional honey mix is simply 1 part honey to 1 part water, mixed until fully liquid. It will keep for weeks in the fridge. But as stated in many past reviews, The Mai-Kai is believed to use a sweeter, more intense 2:1 ratio.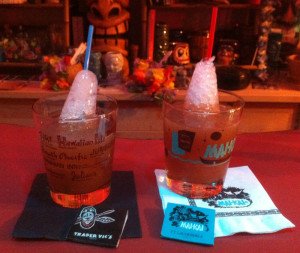 * I've always made my own Don's Spices #2 by combining allspice liqueur (either the Wray & Nephew or St. Elizabeth brand) with vanilla syrup. But trusty Tiki syrup source B.G. Reynolds makes a very good bottled alternative (along with vanilla syrup). B.G.Reynolds' Hand-Crafted Syrups are made in Portland, Ore., by Blair Reynolds, bartender and owner of Hale Pele. They feature all-natural ingredients and flavorings, and are used at Tiki bars around the world. Of course, they're a staple at Reynolds' own bar, which opened in late 2012 and has received nothing but rave reviews since. His menu contains familiar classics you'll find elsewhere in this guide, including the Navy Grog, 151 Swizzle, Three Dots and a Dash, Zombie Punch, Jet Pilot, Shrunken Skull, Cobra's Fang, plus many more. His Navy Grog is very similar to the Yeoman's Grog, featuring both honey and allspice liqueur.
* The Mai-Kai also uses some distinctive rums to give the Yeoman's Grog a unique flavor. Kohala Bay dark Jamaican rum (aka "Dagger") is featured in many of the strong drinks on the menu (see the full list). You can use another dark Jamaican rum (such as Coruba), but it won't have the same funky flavor and 87.6-proof punch. It's become somewhat easier to find lately (including mail order), but availability outside of South Florida is spotty. A good alternative is equal parts of Smith & Cross Jamaican rum and El Dorado 12-year-old Demerara rum. From April 2012 until the fall of 2014, the Yeoman's Grog returned to its original recipe featuring Lemon Hart Demerara rum. Since the interruption in U.S. distribution, El Dorado Superior Dark took its place. But in early 2015, a new Demerara-style rum from Guyana, the 86-proof Hamilton, made its presence felt. The aggressive rum's sweet and smoky flavors are strong, but not too dominant. If you don't have Lemon Hart or Hamilton in your area, use El Dorado 8 any other high-quality 80-proof Demerara rum.
* More on Hamilton, Lemon Hart and Demerara rum at The Mai-Kai
This combination of strong and flavorful rums, bold allspice notes, and rich layers of sweetness create one of the most potent yet smoothly drinkable cocktail experiences available anywhere.
Okole maluna!