Updated December 2018
See below: Our Black Magic review | Tribute recipes
Related: Mai-Kai cocktail guide
The Mutiny is a worthy foe in the battle of the tropical titans
Prior to the opening of The Mai-Kai in 1956, there were perhaps other icy cocktails that employed dark rum and coffee as key ingredients. But none perfected it quite like the Black Magic.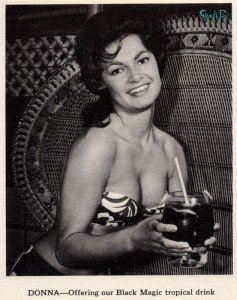 The drink that has spawned dozens of imitators – and even two similar concoctions at The Mai-Kai – has taken on legendary status in the Tiki cocktail community. The Black Magic is the oldest of what some call the "Holy Trinity" of large snifter drinks at The Mai-Kai: The Black Magic, Mutiny and The Hukilau.
One of the keys to this drink is a distinctive dark rum favored by original Mai-Kai mixologist Mariano Licudine: Dagger was a dark Jamaican brand that stopped production some time ago. It became somewhat of a holy grail of Tiki mixologists looking to duplicate the key flavor in many Mai-Kai cocktails, especially the Black Magic.
During a back-bar tour in November 2011, Manager Kern Mattei revealed the secret of how that flavor is preserved: An obscure dark rum called Kohala Bay that was produced by Wray & Nephew, the same company that previously made Dagger.
Needless to say, we immediately went on an intensive search, but short of taking a trip to Jamaica it was nearly impossible to locate. We were told it was being imported only to Florida, and The Mai-Kai was one of only two bars to serve it. After some digging, however, we miraculously found a rare retail outlet that carried Kohala Bay and immediately stocked up. Our discovery of Kohala Bay sparked many other tribute recipes that you'll find in this guide, and also spurred many other home mixologists to seek out the rum. Click here for more on the history of Kohala Bay at The Mai-Kai and check out this Tiki Central thread for the full story of my search.
But all good things must come to an end. Kohala Bay was taken off the market in April 2016 and has not returned. While still seeking out an appropriate dark and funky run to fill the bill, The Mai-Kai switched to Appleton Estate Signature Blend as its dark Jamaican mixing rum. If you're curious about the distinctive flavor of Kohala Bay, we have some recommendations on rum combinations that come close. Here's an in-depth guide.
The name Black Magic comes from the combination of dark rums and coffee, which sets this drink apart from most others from its era. It was reportedly created by Licudine while he was still working for Donn Beach as the No. 2 bartender in the Don the Beachcomber restaurant in Chicago. But even Beach's top men were not given the opportunity to contribute their own creations to his legendary drink menu.
Lured to Fort Lauderdale to run The Mai-Kai's bar and create what would decades later become an iconic menu in its own right, Licudine borrowed heavily from Beach's classics but also added his own flair (Mara-Amu, Derby Daiquiri, etc.). The Black Magic may be his crowning achievement, and it was his first creation to appear on a Mai-Kai menu.
While it's not nearly as complex, an early Don the Beachcomber cocktail from the 1930s called the Jamoca could possibly have influenced Licudine, since he worked at Don the Beachcomber in Los Angeles at the tail end of that decade. As revealed by Tiki cocktail historian Jeff "Beachbum" Berry in his 2007 book, Sippin' Safari, the Jamoca contains 1/2 ounce fresh lime juice, 1/2 ounce coffee syrup, 1 ounce chilled coffee, 1 ounce gold Puerto Rican rum, 1 ounce gold Jamaican rum, and 4 ounces of crushed ice. Blended at high speed for 5 seconds and poured into a specialty glass, it's a coffee-heavy drink that hits few of the nigh notes later achieved by Licudine with the Black Magic. Berry theorized that it may have been an early Donn Beach experiment inspired by turn-of-the-century soda fountain fare. It's historically worth noting, but probably not a true ancestor of the Black Magic. We consider this classic to be a true Mariano Licudine original.
**************************
The official menu description


BLACK MAGIC
The owner's choice. A superbly smooth but forthright blending of fine dark rums and tropical juices, subtly laced with coffee and truly refreshing.
Okole Maluna Society review and rating
Size: Large
Potency: Strong
Flavor profile: Coffee, dark rum, hints of exotic flavors.
Review: Mysterious, sweet and floral. Strong coffee flavors mingle effortlessly with strong rums and undefinable sweet and sour flavors.
Rating: 3 1/2 out of 5 stars (see how it ranks)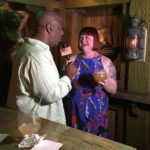 Ancestry: Created by original Mai-Kai mixologist Mariano Licudine, possibly while he still worked at Don the Beachcomber in Chicago in the 1940s and '50s. The Black Magic was not introduced to the world until he created the cocktail menu at The Mai-Kai in 1956. It was the only Licudine original on that first menu. A possible inspiration was Don the Beachcomber's Jamoca, a 1930s-era drink containing lime, coffee and multiple rums.
Bilge: The Black Magic is touted on the menu as "the owner's choice," but according to a 1977 article in The Miami Herald, original owner Bob Thornton's favorite was the Mutiny. The article added that the Black Magic was the favorite of manager Kern Mattei Sr., father of current manager Kern Mattei Jr. It's also been cited as a favorite cocktail at The Mai-Kai by many celebs, including author Jeff "Beachbum" Berry, The Hukilau co-founder Christie "Tiki Kiliki" White, Tiki Oasis co-founder Otto von Stroheim, and South Florida artist Mike "Pooch" Pucciarelli. Perhaps the best modern homage to the Black Magic (and Mutiny) is the Kiliki Cooler, published in Beachbum Berry Remixed and created as a tribute to Tiki Kiliki. It's available on the menu at Beachbum Berry's Latitude 29 in New Orleans as Espresso Bongo.
Agree or disagree? Share your reviews and comments below!

**************************
Tribute to The Mai-Kai's Black Magic
By The Atomic Grog (version 2.5, updated August 2017)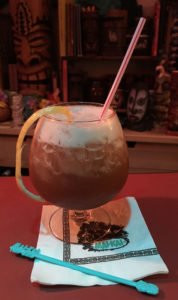 * 1 1/2 ounces fresh orange juice
* 2 ounces fresh lime juice
* 1 1/2 ounces fresh grapefruit juice
* 1 ounce rich honey mix
* 1 1/2 ounces chilled Colombian coffee
* 2 ounces dark rum (Bacardi Black or similar)
* 1 1/2 ounces dark Jamaican rum (Appleton Signature or similar)
* 1 ounce Mariano's Mix #7 (see below)
* 1 teaspoon Don's Spices #2 (see below)
* 1 dash Angostura bitters
Tribute to The Mai-Kai's Black Magic
By The Atomic Grog (version 2.0, updated August 2017)
* 2 ounces fresh orange juice
* 2 ounces fresh lime juice
* 1 1/2 ounces fresh grapefruit juice
* 1 1/2 ounce rich honey mix
* 1 1/2 ounces chilled Colombian coffee
* 2 ounces dark rum (Bacardi Black or similar)
* 1 1/2 ounces dark Jamaican rum (Appleton Signature or similar)
* 1 teaspoon Don's Spices #2 (see below)
* 1 dash Angostura bitters
Blend with up to 1 1/2 cups of crushed ice in a top-down mixer for at least 8 seconds, or until frothy. Pour into a large snifter glass with more crushed ice to fill. Garnish with a lemon peel.
These new versions, particularly the first one featuring Mariano's Mix #7, nail the flavor of the Black Magic you'll taste today at The Mai-Kai.
August 2018 update
Note that in April 2018, The Mai-Kai started using new, heavier goblet-style mugs in place of the old snifter glasses. They're much less breakable and also hold 24 ounces.
Now on The Grogalizer! This recipe and other Mai-Kai tributes have been added to the essential database of Tiki cocktail reviews, including the Beachbum Berry collection plus Smuggler's Cove: Exotic Cocktails, Rum and the Cult of Tiki. Help boost our ratings. It's quick and easy to sign up.
* Go to The Grogalizer now
August 2017 updates
These new recipes contain some major updates that have been in the works for a while. The only difference between the two is the inclusion of Mariano's Mix #7, which returned after a long absence as a secret ingredient in several other cocktails (Bora Bora, Mutiny, et al.). It's the bar team's reinterpretation of an old mix used by Mariano Licudine, possibly even dating back to Don the Beachcomber. Reliable sources tell us that while the ingredients used in the old mix are no longer available, an old member of Licudine's bar staff was called in to help recreate it. We've tasted it many times since it was reintroduced and think we have a suitable substitute (see notes and tips below). Taste for yourself and see what you think. The second version above is based on the drink as it tasted before #7 returned from the vault, substituting extra orange juice and honey.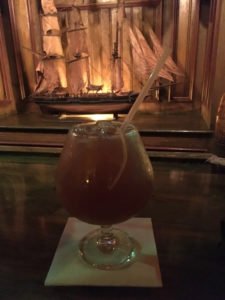 Both are considerably larger than the original tribute recipe below, roughly 12 ounces as compared to around 8. There are several reasons for this. We were told authoritatively that this drink contains 3 1/2 ounces of rum, so we needed to boost the other ingredients as well. Stylistically, it's comparable to the Barrel O' Rum, which clocks in at 4 ounces of rum and more than 12 ounces total. We're told that The Mutiny also has 4 ounces of rum and features the same snifter glass. When snifter glasses are in short supply, both drinks are served in the Rum Barrel mug, filling it to capacity. Both the snifter and barrel mug hold 24 ounces of liquid. It makes sense, then, that the Black Magic (and all of the large snifter drinks) are 12 ounces, plus ice. With that in mind, we think we came up with a great large-format Black Magic for your imbibing pleasure. (Note that The Mai-Kai often uses an alternative snifter glass that doesn't have the same rounded bottom as the original. It's simply a matter of the supply chain running short. This glass has the same volume as the original.)
The other major change that drove this tribute recipe update is the discovery that The Mai-Kai does not use cinnamon syrup in any of its drinks. That means no Don's Spices #2, which was featured in the original tribute recipe below. Also, we learned that The Mai-Kai uses chilled Colombian coffee in the Black Magic and Mutiny, not Kona coffee as originally thought. The Colombian style is the only coffee used in the restaurant, brewed and served hot in many applications (including the Kona Coffee Grog and Tahitian Coffee). No need for a francy gourmet blend. We like this premium ground Colombian coffee from Publix. Also note that Angostura bitters was dialed back. The Colombian coffee provides plenty of bitter backbone.
Despite its inaccuracy, we've left the original tribute recipe below pretty much as first posted, with a few tweaks added over the years. It's a favorite of many, so we didn't want to mess with it. Just know that the above recipes are more comparable to what The Mai-Kai is now serving. But who can't have too many Black Magic recipes?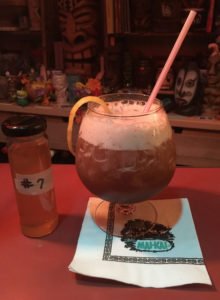 Notes and tips for home mixologists
* There's a lot of juice in this reconfigured recipe, but like the Barrel O' Rum they play a role in balancing the spices and potent rums. The Mai-Kai's juices are unique, coming fresh-squeezed daily from Florida citrus groves. These are flavors that are very hard to duplicate at home, especially in other parts of the country. Pasteurized orange and grapefruit juices that sit on the shelf or in a warehouse are just not going to taste the same. Fresh squeezed is always the best option. Also, Florida juices have their own unique flavor, sweeter than California citrus. Note that white grapefruit is preferred, but when it's out of season The Mai-Kai uses a very pulpy fresh red grapefruit. As for the lime juice, The Mai-Kai is believed to be using a Key lime blend that's very rich and tart. It's another intense flavor that gives the drink extra zing. Click here to see our research on The Mai-Kai's juices and find out our recommendations.
* Always use 2 parts honey to 1 part water in your honey mix for Mai-Kai cocktails. The flavor needs to be rich to hold up against everything else. We prefer orange blossom honey from Florida.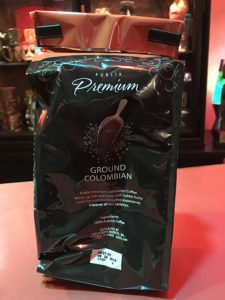 * The coffee, as discussed above, can be simple Colombian coffee and not a Kona or gourmet blend. This makes sense when you think about it. Colombian coffee is typically bolder and darker than Kona, so there's no need to struggle trying to brew extra strong batches to bring enough coffee flavor to the table. I've found that a regular pot of Colombian coffee, chilled for several hours, works fine. If you find it a tad weak, brew it just a little bit stronger. It won't take much. Also, don't bother with commercial cold brews. They may be trendy drinks, but the flavors are too mellow for the purposes of this cocktail.
* The rums listed above have recently been confirmed as those currently being poured. The standard dark Jamaican rum being used in many of the bar's top cocktails is now Appleton Estate Signature Blend, replacing the mysterious Kohala Bay. It doesn't quite have the same proof and funky flavor, but when used with all the other potent ingredients in this drink, it does a decent job. As noted above and below, we've done much research into possible Kohala Bay substitutes if you'd like to experiment. The name Black Magic refers not just to the coffee but also the combination of dark rums, so using a basic black rum as a base is essential. Currently, that's a Spanish-style "black" (Bacardi Black from Puerto Rico). Previously, we believe that Ron Carlos from the Virgin Islands was used. Nothing fancy, obviously. The dark Jamaican rum is what brings the flavor. We've heard that in Licudine's day, Ron Rico (Puerto Rico) made a dark/black rum that was probably commonly used. Feel free to experiment with other black rums, but try to avoid those that bring too much bold flavor. You don't want it overwhelming the other ingredients. It's mainly used here as a base rum. For example, Gosling's Black Seal works OK, while Cruzan Blackstrap tends to step all over the other ingredients.
* Don's Spices is discussed below. It's our attempt to duplicate the sweet and rich allspice liqueur that The Mai-Kai employs. By mixing equal parts allspice (such as St. Elizabeth) and vanilla syrup (as Donn Beach did), it makes for a bigger, bolder flavor.
* Mariano's Mix #7 is our name for what The Mai-Kai simply calls "Number Seven." It's a classic secret mix that dates back to the early days of Tiki and Don the Beachcomber. Look for more on its history in a future article. By using a code name, similar to Don's Spices #2 and Don's Mix (both mentioned elsewhere in this article), Donn Beach was able to prevent most of his bartenders from taking his classic drink recipes elsewhere. That's how the elusive Zombie recipe remained a secret for more than 50 years until Beachbum Berry tracked down some of Beach's key mixologists who still had the institutional knowledge (as well as their little black recipe books).
In the case of #7, not even Berry knows the secret. It was fairly obscure and used sparingly by Beach. We've seen it mentioned in just one old recipe. But original Mai-Kai mixologist Mariano Licudine, who worked at Don the Beachcomber restaurants in Hollywood and Chicago for nearly 20 years, was able to create his own version at The Mai-Kai. You'll find it mentioned in Tim "Swanky" Glazner's 2016 book, Mai-Kai: History and Mystery of the Iconic Tiki Restaurant. It's now being used in in a handful of recipes, including the Black Magic. We're not sure exactly when #7 was retired, but according to The Mai-Kai's managing owner, Dave Levy, it was revived late last summer. If you've been to The Mai-Kai in the past year, you've no doubt tasted it, though you may not have known what it is. The ingredients in the original mix became unavailable, and it's possible it was gone for decades. I don't think I've ever noticed the flavor in the 10+ years I've been studiously enjoying The Mai-Kai's cocktails.
So how has it returned? An old bartender who worked with Licudine comes in periodically to help Levy make this and several other old mixes that have been revived. They're the only two people who know how they're made. Not even The Mai-Kai's bar managers know what they contain. A true throwback to the days of Don the Beachcomber. Levy added that the ingredients are obscure and hard to find. So what does #7 taste like? It's sweet and floral, but also boasts a distinctive anise flavor. An anise liqueur of some sort, perhaps? But we're told it's a proprietary blend, so it's unlikely we'll find the answer in just one bottle.
* Tiki Central: More on the return of secret mixes to The Mai-Kai
After much experimentation, I came up with a close approximation by combining a rich and sweet, non-alcoholic falernum (such as Fee Brothers, which The Mai-Kai uses in many other cocktails) and Sazerac's vintage replica of the original Herbsaint recipe. This 100-proof version has a more gentle, floral anise flavor than other similar liqueurs, such as Pernod or absinthe. Both of these ingredients are filled with spices and herbs, from the falernum's almond and ginger to Herbsaint's star anise. While I'm fairly sure this isn't exactly what The Mai-Kai is using to make #7, it does come close to the same flavor. Here are the exact proportions that I use …
Mariano's Mix #7
* 1/4 teaspoon of Herbsaint
* 1 tablespoon falernum
Combine and keep at room temperature in a glass bottle. Simply scale up to make larger batches, 1 teaspoon Herbsaint per 2 ounces of falernum, for example. If you can't find Herbsaint and must use Pernod, just scale back to around 3/4 ounce in the Black Magic. It should linger lightly in the background and not be too dominant.
While these new tribute recipes veer away somewhat from the richness of the original, we feel that they come closer to what you'll taste today at The Mai-Kai, particularly the version featuring Mariano's Mix #7.
For posterity, here's our original tribute recipe, posted in 2012 and updated in 2014 …
**************************
Tribute to The Mai-Kai's Black Magic, v.1
* 3/4 ounce fresh-squeezed orange juice
* 3/4 ounce fresh-squeezed lime juice
* 3/4 ounce white grapefruit juice
* 3/4 ounce rich honey mix
   (2:1 honey to water, mixed and cooled)
* 1 1/2 ounces strong Kona coffee,
   freshly brewed, then chilled
* 1 1/2 ounces Coruba dark Jamaican rum
* 1 1/2 ounces Kohala Bay dark Jamaican rum
   (substitution suggestion below)
* 1/2 ounce Don's Mix
   (2 parts grapefruit juice to 1 part cinnamon syrup)
* 1 teaspoon Don's Spices #2 (see below)
* 2 dashes Angostura bitters
Blend with up to 1 1/2 cups of crushed ice in a top-down mixer for around 5 seconds, or until frothy. Pour into a large snifter glass with more crushed ice to fill. Garnish with a lemon peel.
There have been many Black Magic tributes, from Beachbum Berry's Kiliki Cooler (from Remixed) to Colonel Tiki's Dark Magic. The recipe above first appeared on the Tiki Central message board but we don't think it's an authentic Black Magic recipe. But it's pretty darn close. We tweaked a few of the ingredients and proportions and fine-tuned the rums, with a little help from some experts (see below).
Notes and tips for home mixologists
* Invest in a top-down mixer if you don't have one already. It's essential in getting the right consistency, and that frothy head, on this drink. See past reviews of the Mai-Kai Special, Moonkist Coconut and Shark Bite for other examples.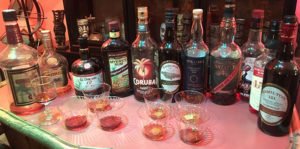 * We're not going to leave you hanging without a proper substitute for Kohala Bay. Our top recommendation is equal parts (3/4 ounce) Smith & Cross Jamaican rum and El Dorado 12-year-old Demerara rum. Click here to see other possible substitutes. Additionally, it mixes nicely with the sweeter Corbua Jamaican rum to give this Black Magic tribute a distinctive taste.
* Strong Kona coffee, freshly made, is preferred. Trying brewing it up to double the normal strength. If that's too intense, just dial it back a bit.
* A bottled Don's Mix is made by B.G. Reynolds (now known as Paradise Blend), along with cinnamon syrup and other classic ingredients. You can also make your own cinnamon syrup (and Don's Mix) with little fuss, as I often do. Recipes are easily available in Beachbum Berry's books or online.
April 2014 update
For years, I used straight allspice dram (aka pimento liqueur) in this recipe with no complaints. This Jamaican herbal liqueur with a rum base has bold and spicy allspice flavors, perfectly accenting many sweet tropical drinks. It's a great old-school ingredient used in many Don the Beachcomber recipes and carried over to The Mai-Kai by Mariano Licudine.
But recent efforts at decoding several other Mai-Kai cocktails, including the recently posted new tribute to the Samoan Grog, have given me pause for thought. Perhaps Lucidine also employed the obscure Don's Spices #2, a mix of equal parts vanilla syrup and pimento liqueur that was revealed by Beachbum Berry in his excellent 2007 book, Sippin' Safari.
A 1-teaspoon dose of Don's Spices #2 makes perfect sense in the Black Magic tribute. It keeps the same proportion of allspice dram that was previously called for (1/2 teaspoon), and also adds another subtle layer of flavor and sweetness. And it also could explain the reports of people tasting hints of vanilla in the drink. (The Kahuna Black Magic, a tribute by Basement Kahuna posted on The Grogalizer, includes the vanilla liqueur Cuarenta y Tres, aka Licor 43.)
You can again turn to the world's premiere source of authentic Tiki cocktail syrups, B.G. Reynolds, for a bottled version of Don's Spices #2 (known as Tiki Spices). My preference is to make my own Don's Spices #2 fresh using vanilla syrup and one of the pimento liqueurs I have in stock. Currently, that's the hard-to-find Wray & Nephew's Berry Hill brand from Jamaica and the more easily available St. Elizabeth Allspice Dram. Note that The Bitter Truth's Pimento Dram is relatively new to market, and by all accounts also a fine product. (2017 update: Hamilton Pimento Dram is another highly recommended new product.) And, of course, hardcore Tiki cocktail enthusiasts may want to take a crack at making their own. There are quite a few recipes floating around on various sites as well as Tiki Central.
Postscript
After the Black Magic tribute recipe above was published, it became a favorite on the Tiki Central message board and was featured by other cocktail bloggers such as Tiare on A Mountain of Crushed Ice. On his 5 Minutes of Rum podcast, Kevin Upthegrove even created a tribute to The Atomic Grog's tribute to the Black Magic. More recently, it has been featured at modern neo-Tiki bars such as Hidden Harbor in Pittsburgh:

And Lucky's Cane & Grog, also in Pittsburgh: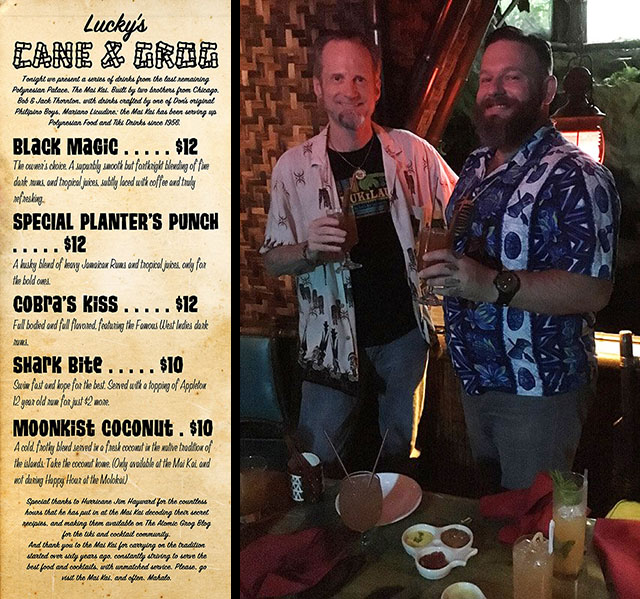 Hurricane Hayward (left) with Lucky Munro in The Molokai bar at The Mai-Kai in September 2017.
In August 2017, this review, recipe and research were included in an article on the Punch website ("Recreating the Mai-Kai's Bizarre Black Magic Cocktail"). The story also quotes Beachbum Berry and The Mai-Kai's Kern Mattei. The article tells "the story behind one of tiki's strangest classics, and the lengths that bartenders have gone to recreate it." We're honored to have been able to bring this beloved cocktail to a larger audience. Mahalo to everyone who enjoys our interpretations of this Mai-Kai classic.
The latest take on the Black Magic comes from The Inferno Room in Indianapolis, the newest Tiki palace in the Midwest: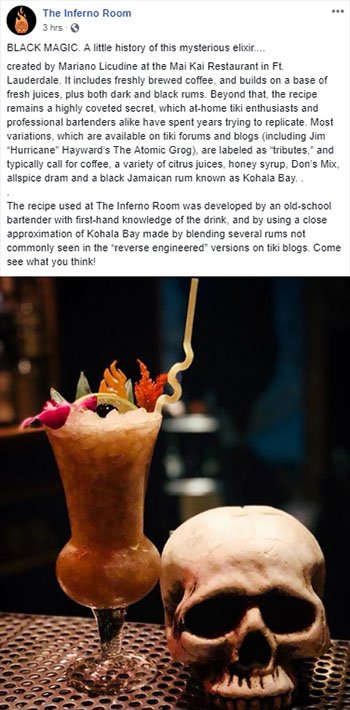 Okole maluna!