See below: Our Big Bamboo review | Official Mai-Kai recipe
Related: Mara-Amu is a second generation classic | Mai-Kai cocktail guide
Discover a fruitful and delicious tropical drink family tree
This is the 52nd and final weekly review in our yearlong series exploring the cocktails at Fort Lauderdale's legendary Mai-Kai Polynesian restaurant. We'll be reviewing more "retired" cocktails, plus continually revising the guide so be sure to check back.
Of all The Mai-Kai's legendary tropical drinks, one of the very best was never available to the general public. Rather, the Big Bamboo was a reward for members of the Okole Maluna Society, whose challenge was to try every cocktail on the extensive menu.
Okole Maluna (or Bottom's Up) was a club The Mai-Kai created in its early years to promote The Molokai bar and gain customer loyalty. You got a special menu on which you could chart your progress, and a membership card when you checked off every drink. (Click here for more on this menu from The Swank Pad).
So it's appropriate that the final cocktail review of this 52-week journey through the current Mai-Kai menu should be the Big Bamboo. The Mara-Amu is a descendant of this vintage cocktail, containing many of the same ingredients, but it's just a bit simpler and milder. Perhaps in honor of its heritage, the Mara-Amu is the only Mai-Kai drink that comes with a complimentary Tiki mug.
Also notable is the fact that both are the original handiwork of Mariano Licudine, The Mai-Kai's mixologist who created the drink menu when the restaurant opened in 1956. The vast majority, however, were Licudine's take on classics by tropical drink pioneer Don the Beachcomber, whom he worked for during the prior decades. Many of these drinks and recipes remain exactly as he envisioned them.
Tropical drink guru and author Jeff "Beachbum" Berry wrote about the Okole Maluna Society in his excellent chapter on Licudine and The Mai-Kai in his book Sippin' Safari: "You were eligible to join after you'd ordered every one of the 48 drinks on the menu, whereupon you received a personalized bamboo cup filled with a Mariano original called the Big Bamboo – a 'secret' drink which he only made for Society members."
So assuming you've done your duty and sampled all the other drinks on the menu, you're now an approved member of the Okole Maluna Society and eligible to enjoy this lost classic.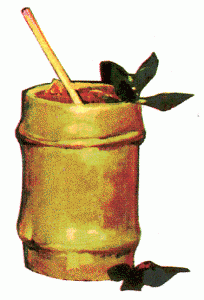 BIG BAMBOO

Okole Maluna Society review and rating
Size: Medium
Potency: Strong
Flavor profile: Gold and dark rums, passion fruit, lime, bitters.
Review: Very well balanced, sweet and full of big flavors similar to Don the Beachcomber's 1950 Zombie.
Rating: 5 out of 5 stars (see how it ranks)
Ancestry: The Big Bamboo was a special Mai-Kai cocktail available only to members of the Okole Maluna Society after they had ordered every other drink on the menu. It evolved into the milder Mara-Amu, which remains a favorite on the menu.
Bilge: There's little information about the special Big Bamboo mugs. Mai-Kai historian Tim "Swanky" Glazner provided the photo at right that shows the case where they were kept. Aside from the photo and artwork above, we've been unable to find a trace. It joins the long list of sought-after Mai-Kai collectibles. If you find one, please let us know.
Agree or disagree? Share your reviews and comments below!
OFFICIAL MAI-KAI RECIPE
Big Bamboo
(From Beachbum Berry's Sippin' Safari)
* 1/2 ounce fresh lime juice
* 1/2 ounce orange juice
* 1/2 ounce grapefruit juice
* 1/2 ounce passion fruit syrup
* 1/2 ounce dark Jamaican rum
* 1 ounce gold Cuban rum
(or sub Virgin Islands rum)
* 2 dashes Angostura bitters
* 4 ounces (1/2 cup) crushed ice
Put everything in a blender and blend at high speed for exactly 5 seconds. Pour into a bamboo mug or tall glass. Garnish with a mint sprig.
From the personal notebook of Mariano Licudine, circa 1960.
We like to make a larger version by just doubling the proportions. For a slightly modified version, check out Chemistry of the Cocktail.
Notes and tips for home mixologists
* As usual, fresh juices are essential. Squeeze your own limes and oranges. I prefer all-natural white grapefruit juice with no sugar added. The Ocean Spray brand is widely available.
* You can create your own passion fruit syrup by making a simple syrup with passion fruit pulp. Click here for a recipe. Among the better bottled brands on the market are Fee Brothers, B.G. Reynolds and our favorite, Aunty Lilikoi.
* Pick a high quality dark Jamaican rum, such as Appleton Estate Extra, to make this cocktail really shine. But others such as Coruba and Myers's also work fine. You're probably out of luck outside of Florida, but if you really want an authentic experience, hunt down a bottle of Kohala Bay. It's the direct descendant of the Dagger brand that was probably featured in the original. It adds an extra kick of flavor that elevates this drink even higher. Click here for the story of Kohala Bay and Dagger.
* Of course, real Cuban rum is contraband in the United States thanks to the longtime embargo, but in the years prior to Fidel Castro's rule this superb rum was featured at The Mai-Kai. If you can track down a bottle, by all means use it. My supply is dwindling, so I may need to resort to a gold Virgin Islands rum such as Cruzan Estate Dark. Also recommended are Flor de Caña from Nicaragua and any high-end gold Puerto Rican rum, such as Bacardi Añejo, Bacardi 8, or Barrilito 3 Star. If you have any questions about the quality or taste of rums, a great resource is Robert Burr's Rum Guide on the Gifted Rums website. It lists well over 300 rums on an ever-growing list arranged by style, with detailed tasting notes, country of origin and more.
* Inspired by the artwork included in Sippin' Safari and shown above, I included a garnish of fresh mint, which adds a great additional element with the smell arousing the senses and enhancing the drink. One other tip: Gently slap the mint against your hand to release its aromatics before inserting into the glass.
We hope you've enjoyed this weekly journey through The Mai-Kai's incredible cocktail menu. We'll be featuring more classic "retired" recipes and reviews in the coming months. So keep checking back, and as always …
Okole maluna!