A new icon will great guests at today's 60th anniversary celebration at the historic Mai-Kai in Fort Lauderdale. Looming 12 feet tall in the outdoor Tiki garden is Hiroa Nui, a new carving by a local artist who has spearheaded a resurgence of traditional artwork at the acclaimed Polynesian restaurant.
SPECIAL EVENT: The Mai-Kai's 60th Anniversary Symposia Series & Customer Celebration Party – Wednesday, Dec. 28. Featuring presentations by authors Sven Kirsten and Tim "Swanky" Glazner brought to you by Tiki Kiliki Productions. Plus enjoy dinner shows, live music, and food and drink specials all night. Doors open at 1:30, symposia begin at 2, happy hour at 3:30, signings at 4, live music at 6, dinner shows at 7 and 9:30. Symposia tickets are sold out. For dinner reservations, call (954) 563-3272. [Facebook event]
Related: The Mai-Kai turns 60 with special history presentations, celebration
Hiroa Nui was installed in The Mai-Kai's outdoor Tiki garden on Dec. 26. (Photo by Will Anders)
The Tiki, carved out of Florida oak, is 7 feet tall with a 2-foot base and stands on a 3-foot pedestal that once contained other notable Tikis over the years. It's in the perfect spot for a photo op in front of the restaurant's distinctive sign as guests wander through the lush tropical garden. "I wanted to set it up so you can get that magic picture with The Mai-Kai sign," Anders said.
Past coverage: 'King Kai' leads procession of new Tikis into The Mai-Kai (June 2016)
Hiroa Nui was installed on Monday, Dec. 26, after just 30 days of work by the diminutive but immensely talented carver. The work was done mainly with a chainsaw and angle grinder, Anders said, with some detail work done by chisel. The hard wood was "pretty formidable to chisel," he said.
Anders was inspired to create the traditional Tahitian carving by an old Tiki that once stood in a similar position in the garden. Photos are rare, but it was most famously pictured in the 1963 Mai-Kai calendar along with Mireille Thornton after she became choreographer of The Mai-Kai's Polynesian Islander Revue, the longest-running authentic South Seas stage show in the United States, including Hawaii. She married owner Bob Thornton in 1974 and took over after his death in 1989.
A native of Tahiti, Mireille is kept the South Seas tradition alive for the past three decades while at the helm of the restaurant along with her son, managing owner Dave Levy. Anders, along with other Florida artists such as Tom Fowner and Jeff Chouinard, have recently contributed massive new carvings in the traditional styles of Polynesia.
Check back for the full story on the installation of Hiroa Nui.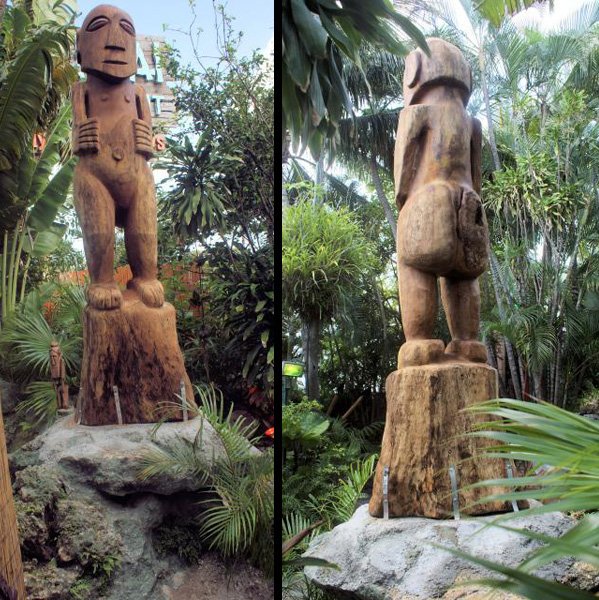 Tiki Central: See more photos, info on the installation of Hiroa Nui