Updated November 2015
See below: Our Pina Passion review | Ancestor recipe
Related: What says 'Tiki' better than a drink served in a pineapple?
Mai-Kai cocktail guide
One of the most iconic images of the tropical drink is a vessel made from a hollowed-out pineapple. This over-the-top cocktail experience has been perfected at The Mai-Kai with the classic Pina Passion.
Like the majority of cocktails on the menu at the Fort Lauderdale Tiki mecca, the Pina Passion owes its existence to tropical drink pioneer Donn Beach, aka Don the Beachcomber. His Pi Yi is the obvious ancestor, with the same combination of pineapple and passion fruit juices complementing an exotic mix of sweet syrups and rums. Below you'll find an authentic Pi Yi recipe.
But Don the Beachcomber and The Mai-Kai weren't the only Polynesian Palaces serving up some tasty cocktails in pineapples. You can find quite a few in Jeff "Beachbum" Berry's essential Tiki cocktail guides. In a February 2012 post in honor of Tiki Month, The Atomic Grog weighed in with two of our favorites, plus a comprehensive guide to turning a pineapple into the ultimate Tiki mug.
**************************
The official menu description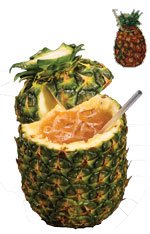 PINA PASSION

Icily refreshing. A thirst-quenching concoction of rums and juices, served in a fresh pineapple you can take home.
Okole Maluna Society review and rating
Size: Medium
Potency: Medium
Flavor profile: Pineapple, passion fruit, gold rum, bitters.
Review: A perfect combination of sweet and tart juices, with a touch of rum and addictive underlying creamy sweetness balanced by a dash or two of bitters.
Rating: 3 1/2 out of 5 stars (see how it ranks)
Ancestry: Another drink dating back to opening day in 1956, the Pina Passion is the Mai-Kai's version of Don the Beachcomber's Pi Yi.
Bilge: Hawaii still dominates the U.S. market, but China is the world's leading pineapple producer. Florida also produces pineapples, but not enough to be considered a market leader.
Agree or disagree? Share your reviews and comments below!

ANCESTOR RECIPE
Pi Yi
(By Don the Beachcomber, from Hawai'i – Tropical Rum Drinks & Cuisine)
* 3/4 ounce fresh-squeezed lime juice
* 1/2 ounce honey cream mix (see below)
or rich honey syrup
* 1/2 ounce fassionola (see below)
or real pomegranate grenadine
* 1 ounce passion fruit juice
* 3 ounces fresh pineapple juice
* 1 ounce gold Puerto Rican or Virgin Island rum
* 1 ounce dark Jamaican rum
* 2 dashes Angostura bitters
* 1 dash falernum (Fee Brothers recommended)
Blend with 1/2 cup of crushed ice for 15-20 seconds. Serve in a hollowed-out pineapple. Our Mixology Monday post during The Pegu Blog's Tiki Month provides a step-by-step guide to turning a fresh pineapple into a drinking vessel (see photo below).
I made a few slight tweaks to the recipe from the Hawai'i book, plus some substitution recommendations below. Regardless, the Pi Yi is remarkably similar to the Pina Passion with just a darker rum and perhaps a different syrup or two, but with the same flavor profile and the same smooth and creamy texture.
Notes and tips for home mixologists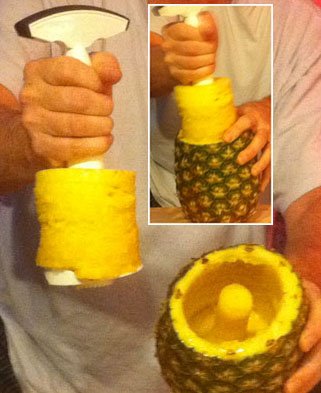 * Honey cream mix pops up from time to time in old Don the Beachcomber recipes (see Hidden Pearl and Mystery Gardenia). Combine equal parts of sweet, unsalted butter and honey after heating them separately in the microwave. Whisk until blended and use immediately. A rich honey mix (2:1 honey to water) is fine as a substitute, just not quite as creamy (or authentic).
* Fassionola was discussed in depth in our Cobra's Kiss review. It's an intensely fruity syrup (mainly orange and cherry) found mostly in old-school recipes. One of our readers suggested a very viable alternative to this hard-to-find ingredient: Mix equal parts grenadine and Smucker's Red Raspberry Syrup. It provides the same flavor burst and added color.
* Passion fruit juice is typically easy to find in Florida (Ceres is a good brand), but other areas of the country may not be so lucky. Canned passion fruit nectar (such as the Goya brand), which has added sugar and is a bit more intense, might be more readily available. There are a lot of sweet flavors at play here, so you may want to adjust to suit your tastes.
* Rums can also be adjusted to boost the intensity. The Mai-Kai likely uses a combination of light and gold rums, with the latter adding just a hint of flavor. The Pi Yi recipe calls for darker rums, which are necessary to cut through this drink's fruity flavors. But the lime and bitters keep everything in balance, making this a fine addition to the great tradition of hollowed-out pineapple drinks.
Okole maluna!