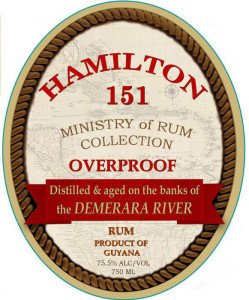 APRIL 2015: The new Hamilton rums from Guyana, which closely approximate the taste of Lemon Hart's famous Demerara rums, have begun widespread distribution across the U.S. with their new labels. It appears that the supply will not be interruped, and The Mai-Kai will continue to use these rums in all the classic cocktails we know and love (see the list below). Lacking Lemon Hart, you can (and should) immediately start using the Hamilton 151 and 86 proof rums from Guyana in all the recipes below.
COMING SOON: A full update with reviews and tips, plus improved recipes.
FEBRUARY 2015: In late January, The Mai-Kai received an initial supply of Hamilton rums from Guyana, both 151 and 86 proof, and began mixing them in cocktails that previously called for Lemon Hart 151 and 80. The results were overwhelmingly positive. However, due to a switch in labels that has interrupted bottling, it may take some more time before distribution is fully implemented. Until then, the rum should be considered still in test mode at The Mai-Kai. Stay tuned for updates.
Tiki Central updates: Lemon Hart | Hamilton rums | Mai-Kai cocktails
NOVEMBER 2014: As of Oct. 31, it was confirmed that Lemon Hart Demerara rum was no longer being featured in cocktails on the regular menu at The Mai-Kai due to the lack of distribution in the U.S. In place of Lemon Hart's famous 151 rum, the bar is featuring Gosling's Black Seal 151 rum from Bermuda. Drinks that call for an 80-proof Demerara rum now contain El Dorado Superior Dark from Guyana.
Extensive taste tests are still ongoing, but after a review of 10 of the 11 drinks that previously contained Lemon Hart, we're happy to report that none suffers the slightest decline in taste or quality. All 11 reviews and recipes (see links below) will be updated soon with the new information, but in the meantime we're offering this advice: If you still have a stock of Lemon Hart at your disposal, by all means continue to use it. If you don't, the Goslings and El Dorado products are fine substitutes. If your preference is a different 80-proof Demerara rum from El Dorado, that's fine too. Unfortunately, there are no other easily available dark 151 rums on the market. That may change soon, however, so stay tuned to this space.
OCTOBER 2014: In May 2014, U.S. importer Ed Hamilton announced that Mosaiq, the Lemon Hart brand owner, has decided not to bottle any more Lemon Hart 151 until at least the middle of 2015. This spurred a run on the current supplies, with many U.S. bars as well as home consumers stocking up for a possible shortage. The Mai-Kai purchased all the available stock, but by October was running low and has decided to once again retire Lemon Hart from its cocktails. We'll be updating this story and all the recipes, but in the meantime you can get the latest news and info on our Tiki Central thread.
See below: Mai-Kai Lemon Hart cocktails | "Dagger" cocktails | Appleton cocktails
Related: Cocktail flights soar at Mai-Kai Mixer, reveal revolutionary use of rums
Mai-Kai Cocktail Guide | Exclusive tour of The Mai-Kai's bars and kitchen
Lemon Hart tops The Atomic Grog's list of favorite rums
Lemon Hart Demerara rum, one of the most ballyhooed spirits in the history of tropical cocktails, returned to the bars of The Mai-Kai in Fort Lauderdale in late April 2012, just two months after being made available in Florida by its new importer. Manager Kern Mattei made the announcement to his staff during the last weekend in April, returning many classic drinks to their original recipes.
The triumphant return of this iconic rum elevated some of the Tiki drink mecca's most popular cocktails to even greater heights. The Atomic Grog's Mai-Kai Cocktail Guide was quickly updated with all the new Lemon Hart drinks.
Since the dawn of the modern Tiki cocktail revival in the 1990s, no other spirit has attained such mythical status as the once obscure and nearly extinct Lemon Hart 151 Demerara rum. It was a crucial ingredient in many of the most beloved tropical drinks during Tiki's heyday, including the Zombie, but it was nearly forgotten when the South Seas craze of the mid-century died out.
Distilled in Guyana, the rum can be traced back to 1804. Mr. Lemon Hart was one of the first rum suppliers for the British Navy. Critics hail its heavy, complex taste and layers of flavors including caramel, burnt sugar, molasses, tropical fruits, cinnamon, baked apples, and toasted oak.
* Official Lemon Hart site
But by the mid-1990s, even The Mai-Kai in Fort Lauderdale – one of the last bars in the world to serve the original secret recipes of Prohibition-era rum-runner and Tiki bar pioneer Don the Beachcomber – had discontinued using the hard-to-find Lemon Hart. In the ensuing years, tropical mixology has enjoyed an ongoing renaissance, pushed to even greater heights by a booming classic cocktail revival.
Rum cocktails don't come any more classic than those served at The Mai-Kai. Over the past 15 years, as devotees flocked to one of the last grand palaces built during Polynesian Pop's heyday, they fell in love with the menu's 50 concoctions that serve as an intoxicating time machine to another era. Word quickly spread, and The Mai-Kai rose to become one of the elite bars of the Tiki revival. Users of the Critiki website consistently rate it near the top in drink quality, among other categories.
But something was missing from some of The Mai-Kai's very best cocktails. As more and more classic Tiki drinks regained popularity, one ingredient stood out: the mysterious Lemon Hart 151. More than 25 recipes in Jeff "Beachbum" Berry's books call for it by name, and the tropical drink guru has called it his favorite rum. The 80-proof version became even harder to find. But the brand was still out there, and more and more home mixologists and craft cocktail bars began embracing it.
(Note: There truly is no substitute for Lemon Hart 151. If it's not distributed in your area, you should be able to order online. The 80-proof version is more scarce, but the El Dorado brand of Demerara rum is a decent substitute. Try the 8- or 12-year-old blends. Or better yet, combine 2 parts El Dorado 5 with 1 part El Dorado 12.)
Mixologists' devotion to Lemon Hart, along with the high quality of the product, likely influenced a small importer named Ed Hamilton (of the Ministry of Rum website) to engineer a deal that kept the brand alive in the United States. In 2009, Pernod-Ricard sold the Lemon Hart brand to a new owner, a Canadian firm that was rumored to be planning to discontinue the 151-proof bottling. The Tiki community was aghast as supplies dwindled and hoarding began, but they flooded Hamilton's Lemon Hart 151 Facebook page with support and requests to bring the brand to their states. Click here for an interview with Hamilton about the Lemon Hart saga.
Slowly but surely, distribution deals were signed and a newly repackaged and re-branded Lemon Hart began hitting the shelves across the U.S. in March 2011. And there was much rejoicing. But not in Florida, where distribution was elusive until March 5 of this year, when it was registered for shipment to the Sunshine State.
Which brings us back to The Mai-Kai, where master mixologist Mariano Licudine's original, 55-year-old recipes featuring Lemon Hart were still safely under lock and key. Plans moved swiftly and 11 drinks that once featured Lemon Hart were quickly returned to their original splendor. The links below will connect you with our reviews and, when available, vintage recipes. Okole maluna!
********************
The Mai-Kai's Lemon Hart cocktails
* Zombie – A great drink has become even greater. The Lemon Hart flavor cuts through very nicely, elevating our top-rated, 5.0 drink to a 5.0-plus.
* 151 Swizzle – Lemon Hart 151 adds a very rich and flavorful component – and darker color – to this potent classic. This is the Swizzle as it was meant to be.
* Special Planters Punch – It's subtle, but a richer, smokier rum taste can be detected from the addition of the 80 proof rum.
* Sidewinder's Fang – The Lemon Hart is subtle is this giant 48-ounce snifter drink designed for two or more. The average customer probably won't notice, but this monster is now much more in line with its ancestor recipe.
* Jet Pilot – This fiery and intense drink is now even deadlier, perhaps the strongest on the menu, with the addition of Lemon Hart 151. Not for the timid.
* Shrunken Skull – When my shot of dark rum appeared with the vintage Abelam mug, I knew immediately that Lemon Hart 151 had replaced the lighter Bacardi in this classic. And the rich, smoky taste now raises this drink to a new level.
* Yeoman's Grog – This descendant of another classic (the Navy Grog) is enhanced by 80-proof Lemon Hart, which combines with Kohala Bay dark Jamaican rum (see below) and powerful allspice notes to create an exotic taste explosion.
* K.O. Cooler – It's a subtle element, but the the rich, smoky flavor is definitely noticeable in this old Don the Beachcomber classic.
* S.O.S. – Another vintage ancestor recipe created by Donn Beach that returns to its roots with great results. Lemon Hart gives the S.O.S. even more flavor and smooths out the rough edges.
* Oh So Deadly – A light touch of 80-proof Lemon Hart (and Kohala Bay) solidify this flavor-packed drink as one of the best on the mild side of the menu.
* Bora Bora – Lemon Hart really helps boost the flavor in this somewhat obscure drink that had previously featured Martinique rum. It leaped up in our ratings and inspired a new tribute recipe.
It's worth noting that this list, expectedly, contains nine of the 16 drinks on the strong menu, but also two mild drinks. And it's no coincidence that the S.O.S. and Oh So Deadly are among the bar's top mild cocktails.
Click here for a review of the Lemon Hart cocktail flights served at the first Mai-Kai Mixer event held June 9, 2012, in The Molokai bar.
Retired cocktails
You can also sample a few recipes for drinks that are no longer featured on The Mai-Kai menu. Both of these have made comebacks at special events, so you never know when they will return for an encore.
Demerara Cocktail | Demerara Float
********************
The Mai-Kai keeps Jamaican 'punch brand' rum alive and well
Lemon Hart isn't the only obscure, distinctive and delicious rum mixed in Mai-Kai cocktails. According to legend, a rum known as "Dagger" was a key ingredient in many Mai-Kai cocktails. But until recently, we didn't know much about this long-defunct product. As it turns out, a rum still exists with a similar flavor profile, but it's very hard to find.
Dagger Punch was a proprietary dark Jamaican rum produced by Wray & Nephew. It was a 97-proof rum with a distinctive funky (in a good way), woody flavor that was very popular in cocktails. But production reportedly ended in the 1950s. So what replaced it? We found out during our November 2011 back-bar tour of The Mai-Kai. General Manager Kern Mattei showed us a bottle of Kohala Bay dark Jamaican rum, reportedly the remnants of the old Dagger brand. Note that both labels use the distinctive "punch brand" designation.
* Listen to a vintage Dagger Punch radio ad from Jamaica
Kohala Bay is distilled and blended in Kingston, Jamaica, at 87.6 proof, not as strong as Dagger but still packing a punch. The label touts that it comes from "the fertile valley of the black river parish of St. Elizabeth, Jamaica. … Here, Kohala Bay is hand-blended slowly, carefully, and in small batches." It's reportedly sweeter, and lower proof, than the original Dagger. But that's a small quibble. It shines in vintage Mai-Kai recipes, keeping them faithful to Mariano Licudine's original vision.
Finding this elusive rum was not easy, however. We discovered that it's imported only to Florida, so we tracked down the importer in March 2011 and discovered that only two bars (The Mai-Kai and a Miami Beach hotel) and one retail outlet had ordered the product. Miraculously, the south Miami package store still had bottles on the shelf, and the owner was happy to order more for us. It's not an expensive rum, so we stocked up. Availability elsewhere remains sketchy, but over the past several years several other southeast Florida retail outlets have made it available and we've seen reports of it being introduced elsewhere. So if you're looking for that truly authentic Mai-Kai rum, you may want to lobby your local liquor store. [Check this thread on Tiki Central for updates on availability.]
Kohala Bay is very similar to a traditional London Dock style of Jamaican rum such as Smith & Cross, but with darker and bolder flavors. You can approach the Dagger/Kohala Bay taste by combining equal parts Smith & Cross and El Dorado 12-year-old Demerara rum. This combination has the same sweet, smooth and earthy notes but lacks just a bit of the intensity and deep flavors of Kohala Bay.
Some of The Mai-Kai's best cocktails contain Kohala Bay. This list is unofficial, but according to our research and some reliable sources, these 11 are the most likely drinks to feature this rare rum:
Zombie*
151 Swizzle*
Special Planters Punch*
Barrel O' Rum
Cobra's Kiss
Mutiny
Jet Pilot*
Yeoman's Grog*
Black Magic
Oh So Deadly*
Bora Bora*
Tiki Swizzle
This list contains nine strong drinks, one medium and one mild. And it's interesting to note that seven of these (* noted) also include Lemon Hart. This is a great combination of potent and flavor-packed rums.
We also featured Kohala Bay in these recipes for retired Mai-Kai cocktails:
Big Bamboo | Demerara Float | Dr. Fong | Hanalei Bay | Suffering Bastard
********************
Appleton: The Mai-Kai's go-to premium rum
Not all the best rums are rare or obscure. Perhaps the most popular and recognized Jamaican rum brand, Appleton, is also the most high-profile rum at The Mai-Kai. It's mentioned by name in four drink descriptions, and it's featured in many others. Bacardi is the only other rum to earn that high-profile privilege, with three drinks on the after-dinner menu.
Appleton has been making hand-crafted spirits since 1749, from standard white and gold to an outstanding variety of aged rums. Here's an unofficial list of the Mai-Kai cocktails that are highly likely to feature flavorful Appleton rums (* = touted on menu):
Special Planters Punch
Shark Bite*
Cobra's Kiss
Rum Julep
The Hukilau*
Mai Tai*
Samoan Grog
K.O. Cooler
Special Reserve Daiquiri*
Deep-Sea Diver
Tahitian Breeze
Mai-Kai Swizzle
Hot Buttered Rum
We also featured Appleton in these recipes for retired Mai-Kai cocktails:
Big Bamboo | Demerara Cocktail | Hanalei Bay | Impatient Virgin
Island Queen | Last Rites | Liquid Gold | Suffering Bastard
For the rum connoisseur
It's no surprise that most of the top-rated Mai-Kai drinks contain at least one of the rums discussed above. They're a huge part of the formula – along with the classic recipes and fresh ingredients – that makes these cocktails classic.
But if you're not a cocktail aficionado, and more interested in sipping fine spirits, The Mai-Kai has updated its spirits menu to include more than 50 rums, from Appleton to Zacapa. Click here for the full story on the new menu and see the rums here.
Okole maluna!
The Mai-Kai
* Official site | Facebook page