Rums of The Mai-Kai: Hamilton rums from Guyana fill the Lemon Hart gap
Updated June 17, 2016
In May 2014, when U.S. importer Ed Hamilton announced that Lemon Hart's brand owner had decided not to bottle any more of the iconic 151 Demerara rum until at least the middle of 2015, he made a prophetic prediction: "I'm working on obtaining another overproof rum that will work in many of the cocktails you love." Boy, did he deliver on that promise.
See below: Current Demerara rum cocktails | "Dagger" cocktails UPDATED
Appleton cocktails | Comparing the 151 rums
Related: Mai-Kai Cocktail Guide | The Mai-Kai launches new cocktail and rum menu
Lemon Hart returning to U.S. market?
In January 2015, Hamilton's Caribbean Spirits brought to market two new rums that will likely make most Tiki cocktail enthusiasts in the United States quickly forget the latest Lemon Hart crisis. Distilled and aged on the banks of the Demerara River, these two new expressions (86 and 151 proof respectively), are a unique blend of rums distilled by Demerara Distillers in Guyana, which produces all of the world's Demerara rums, including Lemon Hart and the distillery's own El Dorado brand.
Demerara rums, particularly the bold and flavorful 151 rum, are the key ingredient in many classic tropical drinks. They have unique flavor notes that shine in Tiki cocktails: Rich and smoky with hints of dark fruit, tobacco, and spice. Hamilton 151 Overproof and Hamilton 86 proof, part of Ed Hamilton's Ministry of Rum Collection, are quickly filling the gap left by Lemon Hart's departure.
The Mai-Kai quickly joined other notable Tiki cocktail bars – Smuggler's Cove (San Francisco), Beachbum Berry's Latititude 29 (New Orleans), Three Dots and a Dash and Lost Lake (Chicago) – in adopting the Hamilton brand as its go-to Demerera-style rum. Berry, also a respected Tiki cocktail historian and author, was recently quoted as calling it "a lovely rum you can sip or use in cocktails." In an interview with Eater.com, he said: "It takes you on this journey, you get tastes that range from cigar to chocolate to caramelized fruit to that charred wood, smoky taste. There are so many things going on. It's a lush, rich pour and reasonably priced. I like that it's 86 proof, which gives a more concentrated taste." Hamilton showed his appreciation for Berry's influence on the rum's popularity by including a shout-out oh the label. [See photo]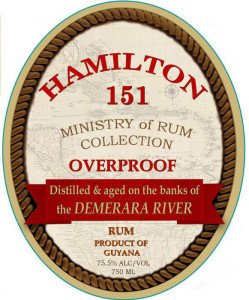 The Hamilton rums from Guyana are a blend of pot and continuous still rums, according to the Caribbean Spirits website. Hamilton said on his Ministry of Rum website that youngest rum is more than 18 months and the oldest is less than 5 years. Demerara Distillers is famous for its wide range of column and pot stills, some dating back hundreds of years. The distillery's historic wooden pot and column stills are the last of their kind operating in the world. Beyond the unique distillery, Demerara rums get their distinctive flavor from the molasses from the venerable Guyanese sugar mill, which contains one of the highest sugar contents of any molasses in the Caribbean.
The rum is imported by Hamilton's Caribbean Spirits in bulk containers and bottled at Five & 20 Distillery in Westfield, N.Y. The first shipments went out to distributors in January 2015. Hamilton personally introducted it to The Mai-Kai at the end of January, and it was almost immediately put into use in all the classic cocktails that formerly contained Lemon Hart (see list below).
After the Lemon Hart supply dried up in late October, The Mai-Kai had been using Gosling's Black Seal 151 rum from Bermuda and 80-proof El Dorado Superior Dark from Guyana. But the Hamilton rums are a clear step up from those and, in some cases, superior to Lemon Hart. The Hamilton rums have the same smokiness and complexity, but also seem to be a little less polished, which can be a good thing in sweet Tiki drinks. The 151 rum especially packs a slightly harder punch, while Lemon Hart 151 is just a bit mellower. In the end, it's a toss-up, but those who prefer their rum to be slightly more aggressive will enjoy mixing with the Hamilton rums.
After the original batch of rum was shipped, however, a legal issue forced Hamilton to change the wording on the labels. A new batch of rum with the current "Demerara River" label did not go out until April, but luckily The Mai-Kai was well stocked and never ran out of its supply. You may notice bottles with the original label in photos on The Atomic Grog and elsewhere. The problem apparently was the use of the trademarked name "Demerara Rum," but it's good to see the issue resolved.
Without further adieu, here are the drinks at The Mai-Kai using Hamilton rums from the banks of the Demerara River in Guyana, either the 151 or 86 proof varieties, or both. The links will connect you with reviews and vintage recipes.
Guyana rum drinks at The Mai-Kai
151 Swizzle (151 proof) – When compared side-by-side to the same drink containing Gosling's 151, the version with Hamilton 151 is decidedly richer, smokier and boasts extra heat. When made right, this potent drink is among the best at The Mai-Kai. Updated tribute recipe.
Bora Bora (86 proof) – The Hamilton version is even better than the Lemon Hart version, with the sharp Demerara flavor standing out. Updated recipe notes.
Jet Pilot (151 proof) – The high-octane Hamilton 151 adds complex smoky flavors and depth to this drink, which became too sweet when mixed with Gosling's 151. Updated tribute recipe.
K.O. Cooler (151 and 86 proof) – A rich and rummy cocktail, thanks to the use of both the 151 and 86 proof, a recent discovery. The Demerara flavors really pop in this early Don the Beachcomber-style classic. New ancestor and tribute recipes
Martinique Milk Punch (86 proof) – A recent switch to Hamilton 86 makes a huge difference in this mild cocktail that like several others on this list formerly featured Martinique rum. The Guyana rum shines through with just the right amount of smoky sweetness to create an outstanding desert or festive holiday drink. New tribute recipe
Oh So Deadly (86 proof) – Another drink that benefits from the Hamilton rum significantly. Rich, sweet and spicy with hints of Demerara rum and sour notes. Updated review coming soon.
Shrunken Skull (151 proof) – The floater of Hamilton 151 makes this drink much smoother and balanced than Gosling's did. Compared head-to-head with Lemon Hart, it's almost impossible to tell the difference. The Hamilton 151 version has just the slightest amount of extra heat. Updated recipe notes.
Sidewinder's Fang (86 proof) – The rum plays a background role in this giant sweet and tart drink for two. Orange juice, lime and passion fruit flavors are the star of this show. Updated review and recipe notes.
S.O.S. (86 proof) – The Hamilton rum adds heft and flavor to this retooled classic (Don the Beachcomber's Three Dots and a Dash). Updated tribute recipe.
Special Planters Punch (151 proof) – Hamilton Overproof adds a lot of smoky flavor and distinctiveness to this drink, which we previously thought contained 80-proof Lemon Hart. Updated tribute recipe.
Yeoman's Grog (86 proof) – An excellent classic cocktail (aka Navy Grog) that a quality Demerara-style rum only makes better. Lime and grapefruit flavors combine with rum, honey and exotic allspice for a unique drink experience. Updated recipe notes.
Zombie (151 proof) – Hamilton 151 fits the Zombie flavor profile better than Gosling's, and it blends much better with the sweet elements in The Mai-Kai's version of the classic. It amps the drink up a notch, making it very smooth and spicy. Updated recipe notes.
Retired cocktails featuring Demerara rum
In addition to the current drinks listed above, you can also sample a few recipes for drinks that are no longer featured on The Mai-Kai menu. Both of these have made comebacks at special events, so you never know when they will return for an encore.
Demerara Cocktail | Demerara Float
NOTES: The Hamilton rums are just becoming available in the U.S., so it may take time reach many markets. The Caribbean Spirits website features a map that shows the distributors for each state where the rums are available. Note that due to industry protocols, Hamilton has no control over which retail outlets carry his products, only the distributors. So if you live in one of the states that has distribution, Ed Hamilton encourages you to lobby your local stores to carry the rums by contacting the appropriate distributor listed. Mail order is also available in the U.S. via such sites as Hi-Time Wine Cellars and Binny's Beverage Depot.
Lemon Hart 151 may still be available in markets outside the U.S. Go to LemonHartRum.com for more info. If you don't have access to the new Hamilton rums and still have an ample supply of Lemon Hart, you'll be fine continuing to use it in all of the above cocktails. Also, there may be other quality Demerara-style rums available on some overseas markets. Consult your local rum shop. If you live in the U.S. and lack both Hamilton and Lemon Hart, we recommend the rums formerly used by The Mai-Kai: Gosling's Black Seal 151 and El Dorado Superior Dark (80 proof). Though not a Demerara rum, Gosling's is dark and smoky with a similar flavor (though not nearly as complex). Also worth mentioning are El Dorado's cask aged 5- and 8-year-old rums, and luxury cask aged 12- and 15-year-old rums. All are worthy 80-proof mixers in a wide range of cocktails, and the luxury rums make nice sippers.
Background: The saga of Lemon Hart 151
Until now, Lemon Hart was the only Demerara brand with a 151 rum that provided the correct flavor profile needed for the original Zombie and many other ground-breaking drinks created in the early days of Tiki by Prohibition-era rum-runner and pioneering tropical mixologist Donn Beach, aka Don the Beachcomber. In fact, if you check most the vintage recipes unearthed by historian and author Jeff "Beachbum" Berry (published in his outstanding books and Total Tiki app), you'll see referenes to Lemon Hart 151 with the disclaimer: "No substitutions." It's too early to make a blanket statement, but it's likely the new Hamilton 151 rum will be an exception to that rule.
"While I didn't try to match the flavor profile exactly to that of the latest batch of Lemon Hart 151, I consider this to be a better substitute for Lemon Hart 151, a view that has been shared by a few people who run Tiki bars," Hamilton wrote on the Tiki Central message board. "This is a blend of aged, up to five years, pot and column still rum from DDL, the distillers of Lemon Hart and all of the El Dorado rums we know and love."
But despite its current popularity among Tiki cocktail enthusiasts, a rum like Hamilton 151 or Lemon Hart 151 wasn't always so easily available. During the dark days of tropical mixology (aka the 1980s), Lemon Hart began disappearing just as quickly as the vintage Tiki bars that served it in cocktails. By the mid-1990s, even The Mai-Kai – one of the last bars in the world to serve the original secret recipes of Don the Beachcomber – had discontinued using the obscure and nearly extinct Lemon Hart 151. In the ensuing years, tropical mixology has enjoyed an ongoing renaissance, pushed to even greater heights by a booming classic cocktail revival.
And with the revival came a new demand for Lemon Hart 151. The El Dorado range of Demerara rums was launched in 1992, but the Lemon Hart brand lagged behind. It seemed to trickle out to consumers in fits and starts. The unique 151 rum attained near mythical status in Tiki cocktail circles and became an endless topic of discussion on Tiki Central. Some shared their discoveries of locations where you could find the rare elixir like modern-day treasure hunters, while others bought cases to hoard as if preparing for the apocalypse. I can't disagree with the mania since I recently placed Lemon Hart 151 at the top of my rum ratings.
Amid this revival, a newly repackaged and re-branded Lemon Hart 151 began flowing into the U.S. again in March 2011, thanks to Hamilton. [See story]. He added it to the small portfolio of rums he had been importing since 2005. His boutique labels garnered him a small amount of acclaim, but by picking up the Lemon Hart mantle in the U.S., he became an instant hero in tropical drink circles.
Both Lemon Hart 151 and a special 80-proof blend returned to the bars of The Mai-Kai in late April 2012, just after a Florida distributor was secured. The reliable flow of Lemon Hart returned The Mai-Kai's cocktails to their original recipes for the first time in decades. The 11 drinks that once featured Lemon Hart were quickly restored to their original splendor. The return of Lemon Hart in 2012 was ballyhooed on this blog, where we noted that the rum elevated some of the Tiki drink mecca's most popular cocktails to even greater heights. [See story]
Thanks to Berry and his research, The Atomic Grog has been able to document in The Mai-Kai Cocktail Guide the direct connection between The Mai-Kai's cocktails and those Donn Beach classics. [See full breakdown] When brothers Bob and Jack Thornton opened The Mai-Kai in 1956, they tapped longtime Don the Beachcomber bartender Mariano Licudine to create their cocktail menu.
The Mai-Kai's longtime managing owner Dave Levy, stepson of founder Bob Thornton, says that the brothers made a concerted effort to not have their cocktails be exact copies of Donn Beach's. He said that Bob Thornton worked with Licudine to tweak and adjust all the recipes, resulting in what some consider a menu even better than the revered Don the Beachcomber. In most cases, the drinks are more accessible and user-friendly. For 58 years now, those iconic drinks have kept regulars and tourists flocking to The Mai-Kai year after year, an attraction arguably second only to the restaurant's legendary Polynesian Islander Revue.
A key aspect of these drinks is the particular rums that impart unique tastes. High on this list are the distinctive Demerara rums with their rich, smoky flavor. When The Mai-Kai's Lemon Hart stock ran dry in October 2014, the bars adapted by swapping out Gosling's Black Seal 151 and El Dorado Superior Dark. The drinks were still the same high-caliber classics. After all, these are iron-clad, time-tested recipes. But some hardcore fans may have noticed an extra punch of flavor missing in some of the cocktails featuring the 151 rum.
The arrival of the Hamilton rums from Guyana now makes any arguments moot. All's right with the world again at The Mai-Kai.
Comparing the 151 rums
So how do the various 151 rums compare in a taste test? As stated earlier, Hamilton is a fine substitute for Lemon Hart, but just how close is it? I compared the two rums head-to-head in a classic Daiquiri recipe to judge how they perform as a mixer in this time-honored classic. The lime and sugar don't obscure the rum, and it's a lot more feasible to knock back three of these cocktails than it is to quaff 151 rum straight. I took this opportunity to also compare the two different versions of Lemon Hart 151: the "red label" that was imported by Ed Hamilton and the earlier "yellow label" that some swear is superior. I know there are shades of difference, so I had to see for myself. I had rated Goslings 151 earlier, so I'm also including that for reference. The ratings are based on the same 1-5 scale I use throughout this guide, with 5 being perfection.
4.7 – Lemon Hart 151 "yellow label" – Dry fruit and spice dominate, with a richness not found in any other 151 rum. Compared to the Lemon Hart red label and Hamilton 151, the yellow label product seems to be a little smoother and more complex, with just a bit more lingering nuances on the taste buds. To me, it tastes like a slightly more mature and polished product. But the difference is indeed slight.
4.5 – Lemon Hart 151 "red label" – Smoky, pot-stilled funkiness makes for a heavy, bold mixing rums that adds punch to any cocktail. Compared to the Lemon Hart yellow label, the newer version of the 151 Demerara rum seems to have a more aggressive nose, and slightly more up-front flavor. As a mixer, it tends to add just a bit more high-proof kick to cocktails.
4.4 – Hamilton 151 – Smoky and sweet with a rich and woody flavor. Similar to, but not exactly the same as, Lemon Hart 151 red label. Hamilton seems to have slightly more sweetness and vanilla, more boozy roughness and slightly less smoky spice. It also appears to have more of the raw "burnt rubber" notes that define 151 rums from Guyana.
2.8 – Gosling's 151 – Sweet and spicy, with burnt caramel and other intense flavors. A high-octane version of the 80-proof Black Seal from Barbados, it features more subtle flavors and a lot more overproof intensity. While not in the same league as the rums from Guyana, it works surprisingly well in complex cocktails in which it needs only to perform a supporting role.
See also: The Atomic Grog's review of Hamilton 86 from Guyana
********************
THE MAI-KAI KEEPS JAMAICAN 'PUNCH BRAND' RUM ALIVE AND WELL
UPDATE: As of mid-April 2016, Kohala Bay ceased distribution in the U.S., reportedly for several months. The Mai-Kai's manager, Kern Mattei, reported that the supply line was cut off at the distillery, and that no new shipments were expected through their distributor. By mid-June, most of the South Florida retail outlets have also run dry. The Mai-Kai has been assured that the outage is temporary, but no ETA on its return. We also received a report that a Miami store expects it to return "before too long." Stay tuned.
Here's our origional report on Kohala Bay:
Demerara rums aren't the only obscure, distinctive and delicious spirits mixed in Mai-Kai cocktails. According to legend, a rum known as "Dagger" was a key ingredient in many Mai-Kai cocktails. But until recently, we didn't know much about this long-defunct product. As it turns out, a rum still exists with a similar flavor profile, but it's very hard to find.
Dagger Punch was a proprietary dark Jamaican rum produced by Wray & Nephew. It was a 97-proof rum with a distinctive funky (in a good way), woody flavor that was very popular in cocktails. But production reportedly ended in the 1950s. So what replaced it? We found out during our November 2011 back-bar tour of The Mai-Kai. General Manager Kern Mattei showed us a bottle of Kohala Bay dark Jamaican rum, reportedly the remnants of the old Dagger brand. Note that both labels use the distinctive "punch brand" designation.
* Listen to a vintage Dagger Punch radio ad from Jamaica
Kohala Bay is distilled and blended in Kingston, Jamaica, at 87.6 proof, not as strong as Dagger but still packing a punch. The label touts that it comes from "the fertile valley of the black river parish of St. Elizabeth, Jamaica. … Here, Kohala Bay is hand-blended slowly, carefully, and in small batches." Besides being lower proof, it's reportedly sweeter than the original Dagger. But that's a small quibble. It shines in vintage Mai-Kai recipes, keeping them faithful to Mariano Licudine's original vision.
Finding this elusive rum was not easy, however. We discovered that it's imported only to Florida, so we tracked down the importer in March 2011 and discovered that only two bars (The Mai-Kai and a Miami Beach hotel) and one retail outlet had ordered the product. Miraculously, the south Miami package store still had bottles on the shelf, and the owner was happy to order more for us. It's not an expensive rum, so we stocked up. Availability elsewhere remains sketchy, but over the past several years several other southeast Florida retail outlets have made it available and we've seen reports of it being introduced elsewhere. So if you're looking for that truly authentic Mai-Kai rum, you may want to lobby your local liquor store. [Check this thread on Tiki Central for updates on availability.]
Kohala Bay is very similar to a traditional London Dock style of Jamaican rum such as Smith & Cross, but with darker and bolder flavors. You can approach the Dagger/Kohala Bay taste by combining equal parts Smith & Cross and El Dorado 12-year-old Demerara rum. This combination has the same sweet, smooth and earthy notes but lacks just a bit of the intensity and deep flavors of Kohala Bay. Check below for other recommended substitutions.
Some of The Mai-Kai's best cocktails contain Kohala Bay. This list is unofficial, but according to our research and some reliable sources, these 11 are the most likely drinks to feature this rare rum:
Zombie*
151 Swizzle*
Special Planters Punch*
Barrel O' Rum
Cobra's Kiss
Mutiny
Jet Pilot*
Yeoman's Grog*
Black Magic
Oh So Deadly*
Bora Bora*
Tiki Swizzle
This list contains nine strong drinks, one medium and one mild. And it's interesting to note that seven of these (* noted) also include Hamilton rums (and previously used Lemon Hart). This is a great combination of potent and flavor-packed rums.
We also featured Kohala Bay in these recipes for retired Mai-Kai cocktails:
Big Bamboo | Demerara Float | Dr. Fong | Hanalei Bay | Suffering Bastard
NEW: Recommended Kohala Bay substitutions
1 – Smith & Cross Traditional Jamaica Rum and El Dorado 12 Demerara rum (equal parts). This remains the preferred substitute. Richer and not quite as fiery as Kohala Bay, but excellent as a mixer in all of the above cocktails.
2 – Smith & Cross Traditional Jamaica Rum and Myers's dark Jamaican rum and Gosling's 151 rum (equal parts). This newly recommended mix achieves the right amount of heat but a slightly different flavor.
3 – Coruba Original Jamaican rum. Very close to Kohala Bay in flavor and body, which makes sense since it likely comes from the same distillery. Probably the easiest substitute, but at 80 proof it lacks some of the punch.
4 – Denizen Merchant's Reserve. Another excellent Jamaican rum with close to the same proof (86). It's not quite as dark but it comes close in flavor and body, though it has a funkier back end.
5 – (Tie) – Bacardi Black and Ron Carlos Black are both used by The Mai-Kai out of necessity. They could not get Coruba from their distributor, and the blends are not feasible considering the high volume of rum they require. Plans are in the works to find a more suitable substitute, but in the meantime you may notice a different taste in some of the cocktails listed above, especially the Barrel O' Rum, Mutiny and Jet Pilot. Bacardi has an overall similar flavor and body, but it lacks the punch (and funk) of Kohala Bay. Ron Carlos is similar, but even more low-key. It's fine as a general mixer (and probably used elsewhere on the menu), but it falls short as a Kohala Bay stand-in. Use either of these only in a pinch.
Not recommended: Myers's and another Jamaican rum, Blackwell, just don't measure up on their own. Myers's has its own distinctive flavor, heavier on the molasses and dark brown sugar. Blackwell also leans toward the dark side, but it has more vanilla and caramel notes leading the way. It's a decent rum, just not the same flavor as Kohala Bay.
********************
JAMAICA'S APPLETON: THE MAI-KAI'S GO-TO PREMIUM RUM
Not all the best rums are rare or obscure. Perhaps the most popular and recognized Jamaican rum brand, Appleton, is also the most high-profile rum at The Mai-Kai. It's mentioned by name in four drink descriptions, and it's featured in many others. Bacardi is the only other rum to earn that high-profile privilege, with three drinks on the after-dinner menu.
Appleton has been making hand-crafted spirits since 1749, from standard white and gold to an outstanding variety of aged rums. Here's an unofficial list of the Mai-Kai cocktails that are highly likely to feature flavorful Appleton rums (* = touted on menu):
Special Planters Punch
Shark Bite*
Sidewinder's Fang
Cobra's Kiss
Rum Julep
The Hukilau*
Mai Tai*
Samoan Grog
K.O. Cooler
Special Reserve Daiquiri*
Deep-Sea Diver
Tahitian Breeze
Mai-Kai Swizzle
Hot Buttered Rum
We also featured Appleton in these recipes for retired Mai-Kai cocktails:
Big Bamboo | Demerara Cocktail | Hanalei Bay | Impatient Virgin
Island Queen | Last Rites | Liquid Gold | Suffering Bastard
The Atomic Grog's Week in Tiki reviews
Appleton Estate 12 | Appleton Estate V/X (aka Signature Blend)
For the rum connoisseur
It's no surprise that most of the top-rated Mai-Kai drinks contain at least one of the rums discussed above. They're a huge part of the formula – along with the classic recipes and fresh ingredients – that makes these cocktails classic.
But if you're not a cocktail aficionado, and more interested in sipping fine spirits, The Mai-Kai has updated its spirits menu to include more than 50 rums, from Appleton to Zacapa. Click here for the full story on the new menu and see the rums here.
Okole maluna!
The Mai-Kai: Official site | Facebook page
More on The Atomic Grog
* Mai-Kai Cocktail Guide | Exclusive tour of The Mai-Kai's bars and kitchen
* Lemon Hart tops The Atomic Grog's list of favorite rums