The concept of a "Polynesian" cocktail is somewhat of a misnomer. While most tropical drinks have names and imagery that recall Polynesia, most are actually Caribbean rum concoctions reinvented by American restaurateurs. One notable exception is the distinctive Doctor Funk, also sometimes known as Dr. Fong.
See below: Ancestor recipes | Tribute recipe | Dr. Fong review
Related: Mai-Kai cocktail guide | More "lost cocktails"
Doctor Funk was an actual person as well as a real Polynesian drink. Born in 1844 in Germany, Dr. Bernhard Funk migrated to Samoa around 1881 and was reputedly the first medical practitioner in the capital city. He became friends with Scottish novelist Robert Louis Stevenson (author of Treasure Island and The Strange Case of Dr Jekyll and Mr Hyde) and was the bedside doctor when Stevenson died in 1894 in Samoa.
Dr. Funk was not only a skilled doctor but also a mixologist of some note. The Doctor Funk was a notorious drink that became known throughout the region. It was mentioned by travel writer Frederick O'Brien (1869-1932) in his books White Shadows in the South Seas (1919) and Mystic Isles of the South Seas (1921). The latter calls the drink "a portion of absinthe, a dash of grenadine – a syrup of the pomegranate fruit, the juice of two limes, and half a pint of siphon water." It was apparently served by the doctor as a "medicinal tonic."
Dr. Funk thrived in Samoa, marrying the daughter of a chief, but health problems caused him to return to Germany, where he died in 1911. After his death, a granite stone was placed in his honor on the shore of the mysterious Lake Lanoto'o in Samoa, where Funk had built a health resort. The secluded lake still contains goldfish, illegally introduced to Samoa by Dr. Funk. For a lot more on the life and times of Bernhard Funk, check out this great research on Tiki Central by Sven Kirsten (bigbrotiki), Tom Duncan (TikiTomD), and many others.
A drink this legendary and rooted in the South Pacific was perfect fodder for Tiki bar pioneers Donn Beach (Don the Beachcomber) and Victor Bergeron (Trader Vic). Both created Doctor Funk cocktails in the 1930s and '40s with pretty much the same flavor profile. But over the years there became so many different versions by Beach, Bergeron and many others, it became impossible to pinpoint a definitive "original" version.
Doctor Funk also inspired variations with similar names, such as Doctor Funk of Tahiti and Dr. Fong. Complicating matters, the drink became synonymous with the (now somewhat politically incorrect) Fu Manchu-style Tiki mug that was widely produced in the mid-century. Restaurants across the country simply invented their own drinks called Doctor Funk or Dr. Fong to go into the mug (see "bilge" at the very bottom of this review).
When The Mai-Kai opened in 1956, the menu included a Dr. Fong cocktail. We can safely assume it was based on the Don the Beachcomber version(s) of Doctor Funk. This is where bartender Mariano Licudine worked for nearly 20 years, mixing the drinks that became the template for most of the original Mai-Kai menu.
Luckily for us, Tiki historian and author Jeff "Beachbum" Berry has published two of Beach's Doctor Funk recipes, which I've included below in an attempt to reinterpret what The Mai-Kai's Dr. Fong may have tasted like. Hopefully this will be as interesting a journey as the one enjoyed by Bernhard Funk.
ANCESTOR RECIPES
Doctor Funk
(By Don the Beachcomber, from Beachbum Berry's Intoxica)
* 2 1/2 ounces dark Jamaican rum
* 2 1/2 ounces fresh lime juice
* 1/2 ounce fresh lemon juice
* 1 1/2 ounces soda water
* 1/2 ounce grenadine
* 1/4 ounce Pernod
Shake everything – except soda water – with 1 cup crushed ice. Pour into 12-ounce chimney glass and top with soda.
Doctor Funk
(By Don the Beachcomber, from Beachbum Berry's Remixed)
* 3/4 ounce fresh lime juice
* 1/2 ounce pomegranate syrup
* 1 teaspoon Pernod
* 1 1/2 ounces light Puerto Rican rum
* 1 ounce club soda
Shake everything – except soda – with ice cubes, then add soda to the shaker and stir. Pour unstrained into a pilsner glass. If necessary, add more ice to fill.
Tasting notes
Published in 2002, the Intoxica version from 1937 is the oldest Tiki-era Doctor Funk recipe I've seen. It's extremely tart (due to the large amount of lime and lemon) and features powerful anise notes from the Pernod. This was most likely Donn Beach's nod to the pre-Tiki original, which by all accounts was simply absinthe, limes, grenadine and water. It's actually quite well-balanced thanks to the dark rum and grenadine (I used Myers's and Fee Brothers, both featuring bold flavors).
Seven years later in Remixed, Berry updated the recipe to a 1953 version that's much more subdued. He wrote that he got e-mails from readers complaining that the earlier version was way too citrusy. This update is indeed lighter and less sour, more attuned to mid-century tastes. I found it quite mild by today's standards and not terribly exciting rum-wise. I actually prefer the Intoxica version slightly, but both could use a few tweaks. And that's exactly what I did below.
Note that Trader Vic also had multiple versions of Doctor Funk, which you can check out on The Webtender Wiki. The common thread running through most of them is rum, lemon or lime, grenadine and anise (absinthe/Pernod/Herbsaint). Click here for an interesting comparison by the Pegu Blog of three Doctor Funk recipes: 1953 Don the Beachcomber, 1948 Trader Vic, and the 19th century original.
Tribute to The Mai-Kai's Dr. Fong
By The Atomic Grog
* 1 ounce light Puerto Rican rum
* 1 1/2 ounces dark Jamaican rum
* 1 1/2 ounces fresh lime juice
* 1/2 ounce pomegranate grenadine
* 1/2 rich honey mix (2 parts honey to 1 part water)
* 1 teaspoon Pernod
* 1 1/2 ounce club soda
Shake everything – except soda water – with 1 cup crushed ice. Pour into 12-ounce chimney glass and top with soda. Stir and add more crushed ice to fill. Garnish with speared red and green maraschino cherries.
The reinterpretation
The older Donn Beach recipe above has a very old-fashioned, 1930s feel and lacks the sweetness of classic Mai-Kai cocktails. The second version was milder and perhaps the basis for The Mai-Kai's drink, but it's hard to know for sure. Licudine worked for Donn Beach from 1939 until moving to Fort Lauderdale to work at The Mai-Kai, so he was familiar with both recipes and probably others.
So I took the best elements of the 1937 and 1953 versions in creating this tribute, as I'm guessing Licudine would have. It also includes The Mai-Kai's distinctive rich honey mix, which adds a savory sweetness to balance the heavy doses of lime and dark rum. Everything here seems to be more in balance with what you typically find in Mai-Kai cocktails – sweet to the initial taste but with strong rum and sour flavors right behind.
And to add another distinctive Mai-Kai flavor, I once again used the hard-to-find Kohala Bay dark Jamaican rum, which was common in the mid-century under the "Dagger" name. (Lacking Kohala Bay, try substituting equal parts Smith & Cross dark Jamaican rum and El Dorado 12-year-old Demerara rum.) It's featured in many current and past classics and nicely accents the Pernod (as it does similarly in the Jet Pilot and Cobra Kiss). You could actually consider this drink a close cousin of the Cobra Kiss. Both contain lime, dark rum, grenadine and Pernod and have a similar flavor and color.
So what happened to Dr. Fong? It could have been too much of an old-school drink, or too similar to others on the menu and removed to make way for some of Licudine's newer concoctions. The true reason remains shrouded in as much mystery as old Doctor Funk himself.
DR. FONG

Okole Maluna Society review and rating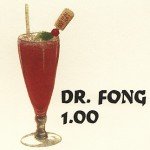 Size: Medium
Potency: Medium
Flavor profile: Lime, dark rum, Pernod.
Review: Sweet and refreshing, with a perfect balance of tart citrus, savory dark rum and sharp anise notes.
Rating: 3 1/2 out of 5 stars (see how it ranks). Like several of the previously reviewed lost classics – Demerara Cocktail, Hanalei Bay and Last Rites – this would rank smack dab in the middle of our rankings.
Ancestry: The Mai-Kai's Dr. Fong was no doubt based on Don the Beachcomber's Doctor Funk, which has a rich and colorful history (see above). It was on the original 1956-57 menu and was still there in 1970. Most likely it was removed in the early '70s when the current mild/medium/strong format was introduced along with some new cocktails, such as Licudine's own Mara-Amu and Mutiny.
Bilge: A cocktail called Dr. Fong is the signature drink at Chef Shangri-La in North Riverside, Ill. This Chinese restaurant with a robust vintage Tiki bar was opened in 1976 by Paul Fong, a chef who had worked at Chicago's Shangri-La restaurant as well as Don the Beachcomber and The Mai-Kai. By all accounts, however, this version of Dr. Fong is more of a tribute to the chef and shows few similarities to either Doctor Funk or The Mai-Kai's Dr. Fong. Chef Fong sadly passed away in May 2012, but his family-run Tiki paradise is still alive and well in the Chicago suburbs and very much worth a visit.
Agree or disagree with this review? Share your comments below!
Okole maluna!