See below: Our Tiki Swizzle review | Official recipe
Related: New cocktail menu unveiled at anniversary party | Mai-Kai cocktail guide
When The Mai-Kai recently rolled out the first major update of its classic menu of tropical drinks in decades, it also made the rare introduction of a new cocktail. The Tiki Swizzle also holds the distinction of being the only drink on the menu to feature spiced rum.
While both of these developments would naturally raise red flags with Tiki cocktail purists, I can assure them that there is no cause for alarm. While it may not rate as high as some of The Mai-Kai's classic cocktails that date back to the early days of Tiki mixology, the Tiki Swizzle holds its own and rates a solid 3 out of 5 stars in The Atomic Grog's ratings.
The drink was actually introduced at The Hukilau in June 2013 at the Kahakai Tiki rum booth, and was promoted in the months that followed on special table cards in The Molokai bar. It proved to be so popular that it muscled its way onto the revamped menu, right alongside the Special Planters Punch and Bora Bora.
It may be the sweetest of all the strong drinks, or the strongest of the sweet drinks, depending on how you look at it. Spiced rum has surged in popularity over the past decade, and it's only natural that The Mai-Kai would create a drink to meet demand. It's sort of a mash-up of the Mara-Amu and Hidden Pearl, and if you fancy those two medium-strength drinks you'll certainly enjoy this entry-level strong drink.
The Mai-Kai was approached by execs from Kahakai (pronounced ka-hiki), and a relationship was formed that includes cross-promotion on the Kahakai Tiki website. You'll find several featured recipes and a promotional video, which you can also check out below.
While Kahakai Tiki also makes fruit, coconut and banana spiced flavors, the Original Spiced Rum is a complex, not-too-sweet blend with hints of cinnamon, nutmeg and other spices. I tasted it neat and was pleasantly surprised by its combination of smoothness and subtle spiciness. It's put to good use in this cocktail, concocted by The Mai-Kai's mixologists.
Kahakai Tiki is not yet available at Florida retail outlets, but you can pick it up in Georgia, Nevada, Mexico, Oregon, and Texas, according to the website. There was also a recent launch party in Chicago, so it may be rolling out elsewhere.
The official menu description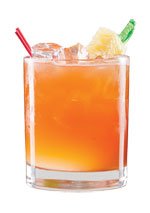 TIKI SWIZZLE
Made with Kahakai Tiki Rum, fresh juices and homemade syrups, this concoction is sure to please.
Okole Maluna Society review and rating
Size: Medium
Potency: Strong
Flavor profile: Lime, passion fruit, spicy rum.
Review: Refreshing and easy to drink for a strong cocktail, with a tart and sweet flavor punch.
Rating: 3 out of 5 stars (see how it ranks)
Ancestry: A new drink introduced at The Hukilau in 2013 as Kahakai Tiki Swizzle, concocted by The Mai-Kai's current bar staff to showcase the new Kahakai Tiki spiced rum.
Bilge: In the past several decades, the only other new recipe to crack the lineup of classic tropical drinks on The Mai-Kai's menu has been The Hukilau, named for the annual Polynesian Pop festival that has called The Mai-Kai home since 2003. The 2014 event, scheduled for June 11-15, will be The Hukilau's swan song. It's a party you won't want to miss.
Agree or disagree? Share your reviews and comments below!

OFFICIAL MAI-KAI RECIPE
(Adjusted by Hurricane Hayward)
TIKI SWIZZLE
* 1/2 ounce fresh lime juice
* 1/2 ounce rich passion fruit syrup
* 1/4 ounce rich simple syrup
* 1/2 ounce club soda
* 2 dashes Angostura bitters
* 1 1/2 ounces Kahakai Tiki Original Spiced Rum ***
* 3/4 ounce Kohala Bay dark Jamaican rum ***
(*** substitution suggestions below)
* 1 cup (8 ounces) crushed ice
Pulse blend at high speed for 5-8 seconds, until frothy. Pour into a specialty cocktail glass or Tiki mug of your choice.
Note that this recipe has changed slightly from the one that was published during The Hukilau (also featured on the Kahakai Tiki website). Reliable sources tell me that the distinctive Kohala Bay was added to give the drink a little more kick, resulting in its placement on the strong section of the menu. I also bumped up the passion fruit syrup a bit to offset the extra rum. The passion fruit taste is up-front, but the dark Jamaican rum subtly lurks in the background along with the spicy Kahakai Tiki.
Notes and tips for home mixologists

* There's an intense sweetness in this drink thanks to The Mai-Kai's distinctive, homemade syrups. Use a rich sugar syrup (2 parts sugar to 1 part water, heated and cooled). It's nearly impossible to duplicate the unique taste of the house passion fruit syrup, but you could try making a rich syrup using 2:1 sugar to fresh passion fruit or frozen pulp. If you must use a bottled product, Trader Vic's Premium Passion Fruit Syrup (double strength) comes quite close to the flavor profile, though I typically frown on its artificial ingredients and high fructose corn syrup.
* Don't skimp on the bitters. It adds a nice dry element to offset the sweetness.
* Since this drink contains not one, but two hard-to-find rums, it could be considered one of The Mai-Kai's most difficult-to-duplicate. However, there are several serviceable substitutes. Kohala Bay appears in many Mai-Kai cocktails, particularly the strong ones [see the full list]. Very dark and bold at 87.6 proof, it works well with the 70-proof Kahakai Tiki. Our recommended substitute for Kohala Bay is a 50/50 mix of El Dorado 12-year-old Demerara rum and the Navy strength (114 proof) dark Jamaican rum from Smith & Cross. I'll admit that my vast rum collection contains few spiced rums, but of those I tried I found that the 80-proof Cruzan 9 comes the closest to Kahakai Tiki's smooth flavor with dominant cinnamon notes. Both eschew the typical cloyingly sweet caramel/vanilla flavors found in most spiced rums in favor of interesting spices, and this helps them mix well in cocktails.


Okole maluna!