This story will be updated with the latest news and updates on The Hukilau as additional info is released.
Since the announcement of the all-new Tiki Tower Takeover lineup last month, the East Coast's largest and longest-running Tiki weekender has been teasing us with lots of new announcements on its Facebook page, including symposium tickets, pop-up bars, and three more headlining bands. The Tiki cocktail summit in the revolving rooftop lounge at Pier 66 is also now sold out. Following a wrap-up of all the recent news.
Jump below: Pop-up bars | Symposiums | Bands | Schedule | Official mug | Tickets
The Hukilau: June 7-11, 2017, at the Hyatt Regency Pier 66 and The Mai-Kai restaurant in Fort Lauderdale. Buy tickets now.
* TheHukilau.com | Facebook: Page and Group | Twitter | Instagram
Previous updates: Tiki Tower Takeover to feature Ian Burrell, international flair
Bars popping up from coast to coast to join The Hukilau
In addition to the sold-out Tiki Tower Takeover's all-star lineup of world-class bars (France's Dirty Dick, Italy's Nu Lounge Bar, Chicago's Three Dots and a Dash, New York City's Slowly Shirley), plans call for high-profile Tiki establishments from across the country to mix up cocktails at several special events during The Hukilau. The Tiki Tower Takeover is sold out, but there will be plenty of opportunities to sample drinks from a wide array of mixologists throughout the long weekend.
In separate announcements March 1 and March 3, these bars from the eastern and western U.S. were confirmed: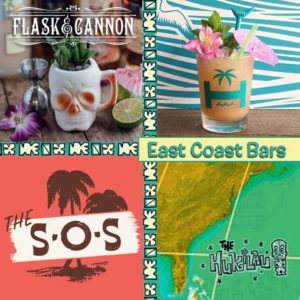 Flask & Cannon from Jacksonville Beach, Fla. – While it may not look like a classic Tiki bar, this 2-year-old craft cocktail oasis certainly can pull off the drinks with the best of them. From a vast spirits selection, to a wide assortment of mugs, to such classics as a flaming Scorpion Bowl, the bartenders at Flask & Cannon put all the pieces together into a perfect modern Tiki cocktail experience. They recently competed in The Art of Tiki, a cocktail throwdown featuring bars from around the country at the South Beach Wine & Food Festival.
Hidden Harbor from Pittsburgh – Part of a new breed of neo-Tiki bars, this modern cocktail haven takes the genre in a new direction for the next generation. Everything Hidden Harbor does pushes the envelope just the right amount, from the molecular mixology of "Weird Science Wednesday," to the brighter decor. That's not to say Hidden Harbor isn't deeply rooted in classic Tiki. The bar staff has a soft spot for authentic Mai-Kai classics on their "Tiki Time Machine" menu, and a 7-foot carving by Crazy Al Evans graces the small space. It's such a fully realized concept, it's hard to believe it's been open only since January 2016.
The S.O.S. Tiki Bar from from Decatur, Ga. – Opening quietly under the radar in November 2015, this small space that supports the attached Victory restaurant has focused on expertly crafted cocktails, to much acclaim. Off the beaten path yet not far from Atlanta, S.O.S. offers a laid-back tropical and Tiki atmosphere (featuring indoor and outdoor seating) to enjoy a wide variety of classic Tiki drinks, plus an array of small bites. Another of the new breed of bars that are taking classic Tiki and adding just the right amount of modern cocktail craftsmanship.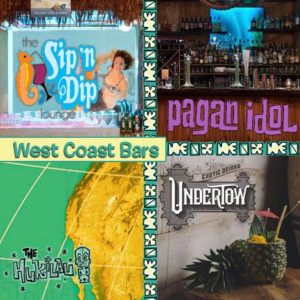 Pagan Idol from San Francisco – Bursting onto the scene in February 2016, this classically themed Tiki haven seems to have nailed every detail: From the drinks, to the decor, to the music, to the staff. Appealing to both hardcore Tikiphiles and San Franciscio's legendary cocktail culture, Pagan Idol is poised to join an elite group of must-see bars across the country. It already cracked the Top 10 in the annual list of the top Tiki bars in the world on Critiki.com.
* Related: Pagan Idol location was once a Tiki Bob's (Critiki News)
The Sip 'n Dip Tiki Lounge from Great Falls, Mont. – The old-timer in the group, this institution at the foot of the Rocky Mountains is one of a select few bars in the world with its own mermaid show. Windows in the bar have provided a scenic view of the aquatic performances in the pool at the attached O'Haire Motor Inn since 1962. A renowned tourist attraction (the tiny Sip 'n Dip has been featured in GQ Magazine), it also has a loyal local crowd that never gets tired of the Tiki-meets-Disney fantasy atmosphere.
Undertow from Phoenix – A true "underground" Tiki bar, this desert oasis is tucked into a small subterranean space beneath Sip Coffee & Beer Garage. But don't let the secret location fool you. Undertow has already made a splash on the Tiki scene after opening in August, hosting events featuring cocktail luminaries such as Martin Cate of Smuggler's Cove and Georgi Radev of Mahiki in London. The elaborate nautical interior decor (created by Tiki Diablo) comes with its own detailed back-story. The drink menu is just as meticulously curated, featuring classic and modern recipes plus custom mugs. Undertow is wasting no time joining the Tiki party at events across the country. Last month, bartender Libby Longlott traveled to the South Beach Wine & Food Festival to compete in The Art of Tiki.
Most of the bars are new to the scene and eager to prove their mettle. This shapes up to be a great opportunity for The Hukilau's villagers to sample some of the best cutting-edge cocktails from a new generation of bars.
The Facebook announcements said the bars will be featured at events throughout the weekend. The big event for the pop-up bars is Friday's Rum Island Pool Party, the sequel to last year's Tiki Road Trip Pool Party. On Friday afternoon, some of these bars will be pouring signature cocktails poolside at Pier 66 while a DJ spins an eclectic mix of exotic tunes and villagers relax between events. The schedule and details will be announced soon. Admission to the party is included in all multi-day passes.
Bars will also pop up at Friday night's High Tide event at Pier 66 in the Panorama Ballroom, which is also included in the price of weekend passes. Some of these visiting bartenders may also participate in special events to be announced. Coming soon: Announcements on rum sponsors, merchandise, plus more.
Now on sale: Ian Burrell teaches rum and cocktails, symposiums, arts & crafts
Tickets to three symposiums plus two arts & crafts classes were made available March 1, including a rum and cocktail history lesson with international rum ambassador Ian Burrell. Previously announced as host of the sold-out Tiki Tower Takeover, the founder of the UK RumFest, will be making a rare appearance at U.S. Tiki event. One other new host (historian Mike Skinner) was announced, along with the three that had been mentioned in our previous news update (Tim "Swanky" Glazner, Tom Fowner and Will Anders). These are the first new options since tickets first went on sale last year. You can order tickets to all of the following now via The Hukilau's TicketLeap page. Prices do not include added fees. All events listed below will take place at Pier 66.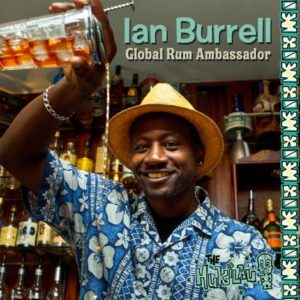 Symposium: The History of Rum in 10 Cocktails with Ian Burrell ($40) – Friday, June 9, at 2 p.m. History doesn't need to be boring. The global rum ambassador will take The Hukilau's villagers on a journey through time via 10 classic cocktails. One of the world's most distinctive spirits spokesmen (and a five-time nominee for brand ambassador of the year), Burrell is sure to entertain as well as educate in this headlining symposium. Of course, guest will be able to drink along with the lessons thanks to cocktails provided by The Hukilau's bar team.
* More on Ian Burrell: Take 5 interview
* At The Hukilau 2011: Rum Rat Pack | Rum Barrel Challenge
Symposium: The Mai-Kai's Untold Stories with Tim "Swanky" Glazner ($20) – Friday, June 9, at noon. Join the author of Mai-Kai: History and Mystery of the Iconic Tiki Restaurant as he leads a panel discussion with current and former employees of The Mai-Kai. Hear the real history from the people who lived it at the historic 60-year-old restaurant.
Symposium: Nautical Tiki with Mike Skinner ($20) – Saturday, June 10, at 11 a.m. The noted Tiki researcher, historian and presenter will share his research into this integral part of Polynesian Pop history. Find out how Poly Pop was influenced by adventures on the high seas and the exploration of the South Pacific. You'll also discover new details on how the legendary HMS Bounty is linked to The Molokai lounge at The Mai-Kai.
Craft class: Weave Your Own Palm Hat with Tom Fowner ($20) – Friday, June 9, at 10 a.m. The South Florida artist and carver returns in 2017 to show villagers how to make a stylish and practical hat, perfect for the Rum Island Pool Party and other sun-drenched festivities.
Craft class: Carve Your Own Pendant with Will Anders ($20) – Saturday, June 10, at 10 a.m. The craftsman responsible for some of the new giant carved Tikis at The Mai-Kai guides guests in creating their own small, wearable icon. The ticket to both craft classes includes all the materials.
Look for at least one other symposium to be added, plus something new for 2017: Cocktail classes hosted by top Tiki mixologists. And you never know what rum events will be added when rum sponsors are announced.
Three bands join entertainment lineup, more to come
Three new bands – two from Florida and one all the way from Brazil – were confirmed in separate announcements over the past several weeks. They join the previously announced Canadian instrumental surf band The Surfrajettes as the major "out-of-town" bands on the schedule. Here's a look at the newly added groups: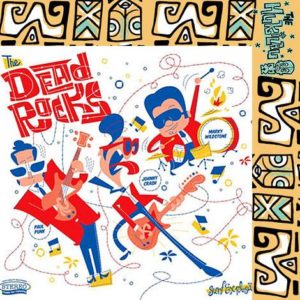 The Dead Rocks – This trio of stylish gents from Brazil has been tearing up the surf scene for more than 14 years, taking their spin on classic instrumental rock worldwide. They've performed in Germany, Argentina, Belgium, Spain, France, Hungary, Italy, England, Portugal and the Czech Republic. The band will be making a rare U.S. appearance and their first at The Hukilau.
The Mermers – This four-piece from Gainesville, Fla., emerged in late 2015, filling a void by specializing in the darker side of surf. Featuring classic instrumentation plus organ and even theremin, the band puts an eerie twist on instro surf. As the Facebook page succinctly puts it: "Think of a black and white horror movie being filmed on the beach, and the soundtrack that would go with it." Performing at the Friday High Tide party in their debut at The Hukilau.
The Stolen Idols – How often do you hear classic exotica, performed live as it should be – with full instrumentation and reverence for the original arrangements? Created by longtime Tiki and exotica devotee Drew Farmer, The Stolen Idols from Tampa are a breath of fresh air in today's music scene. A recent album, Moonlight Offerings, is a 21st century take on the jazz-influenced style invented in the mid-20th century by Martin Denny, Les Baxter and others. The Stolen Idols formed in 2008 and made their debut at The Hukilau in 2009, but they haven't been back since 2010. Catch them at the High Tide event on Friday.
Expect more bands to be added, including some familiar faces from South Florida. We'll update the schedule below when we know exactly where and when each band is playing.
Schedule still in the works, but here's what we know now
Organizers have said the daily schedule will follow roughly the same format as last year. Based on all of the announced performers and info on TicketLeap, we were able to map out this tentative schedule to help those who are planning their hotel and ticket purchases. Please note that all events are subject to change. Exact times have not been listed unless they have been officially announced.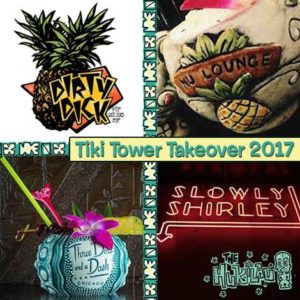 Also worth noting: Not yet confirmed but highly likely to be added is Marina the Fire Eating Mermaid, performing special swim shows at The Wreck Bar in the B Ocean Resort. At the minimum, you could expect Wednesday and/or Thursday special events. Marina and her pod of aquaticats typically perform free shows for hotel guests on Friday and Saturday nights. Last year's Hukilau shows were Wednesday night, plus Thursday and Saturday afternoons.
Wednesday, June 7
* Pre-Party in The Molokai Bar at The Mai-Kai featuring live music (South Seas and Big Kahuna passholders)
Thursday, June 8
* Registration opens, special events to be announced
* 4-7 p.m. – Tiki Tower Takeover (sold out)
* Kickoff Party and Tiki Treasures Bazaar Grand Opening (live music)
* 10 p.m. – The Rat Pack in the Saturn Lounge
Friday, June 9
* Registration and Tiki Treasures Bazaar open
* 10 a.m. – Craft class: Weave Your Own Palm Hat with Tom Fowner
* Rum Island Pool Party
* Noon – Symposium: The Mai-Kai's Untold Stories with Tim "Swanky" Glazner
* 2 p.m. – Symposium: The History of Rum in 10 Cocktails with Ian Burrell
* High Tide Party featuring The Mermers, The Surfrajettes, The Stolen Idols, plus more
Saturday, June 10
* Registration and Tiki Treasures Bazaar open
* 10 a.m. – Craft class: Carve Your Own Pendant with Will Anders
* 11 a.m. – Symposium: Nautical Tiki with Mike Skinner
* 4:30 p.m. – First happy hour at The Mai-Kai
* 5 p.m. – Seating for first dinner show
* 7 p.m. – Second happy hour at The Mai-Kai
* 9 p.m. – Seating for second dinner show
Live music to be announced all night in The Molokai bar and Tahiti dining room
Sunday, June 11
* Noon – The Hukilau Finale at The Mai-Kai featuring live music, "lost cocktails," more to be announced
New Tiki mug design selected
The Hukilau's villagers have answered the call and picked a favorite to become the official 2017 mug, designed by Tiki Tony and produced by Eekum Bookum. Results of an online poll of a dozen different designs were tallied. Which was the winner?
Looks like a new shrunken skull mug is in the works. More to come soon.
Daily tickets, rooms still available
Weekend passes are selling fast – especially those on the top end of the price range that are more limited. Prices start at $159 for the three-day Luau Pass, rising to $179 for the four-day Aloha Pass and $189 for the five-day Big Kahuna Pass. The all-encompassing South Seas Pass is $379, but it gives you access to just about everything. Five-day passes are limited due to the capacity of The Molokai bar at The Mai-Kai, site of the Wednesday night kickoff party. Note: Prices listed do not include added fees.
Click here to order now
The Tiki Tower Takeover is officially sold out, but tickets to the Thursday late-night party featuring the "The Rat Pack in the Saturn Lounge" are still available for $55. "Frank, Dean and Sammy" will be flying in for one night only to serve up martinis, showgirls and more in the Pier Top Lounge.
Saturday night dinner reservations at The Mai-Kai are also filling up fast. The first dinner show seating sold out as of Feb. 22, though there is a waiting list. Seats are still available for the second dinner show and can be booked through The Hukilau website.
Also, don't forget to book your room at Pier 66 while The Hukilau's special rate is still available. The 60-year-old hotel with its vintage 1960s-era tower offers rates ranging from $129 for a standard "double" room in one of the two-story buildings that overlook the marina, to $226 for a tower suite. Click on the "Book Your Room Now" link on The Hukilau website.
Stay tuned for more announcements, including the swim shows and additional symposiums/tastings.
Volunteers are always need to help out with the event and earn free passes. Email volunteer@thehukilau.com to join the team. Vendors are also being sought for the Tiki Treasures Bazaar. Email vendors@thehukilau.com to find out more.
More on The Atomic Grog
* Tiki Tower Takeover to feature rum ambassador Ian Burrell, international flair
* The Hukilau tickets go on sale, co-founder Tiki Kiliki steps down
The Hukilau 2016 photo recaps
Day 1: Pre-Party at The Mai-Kai, The Wreck Bar mermaid show
Day 2: Savage Jungle Swimshow, Tiki Tower Takeover, Kickoff Party and Tiki Treasures Bazaar, Shag's SkyLounge, After Party at Kreepy Tiki
* Full coverage of The Hukilau